A popular holiday destination, Byron Bay in Australia draws millions of visitors each year to the north coast of New South Wales. People come from far and wide to enjoy the reliable surf, the relaxed vibe and the festivals held in town and nearby. With stunning coastal scenery and a beautiful hinterland, there's variety and an opportunity for visitors to enjoy exploring the gorgeous beaches and further inland. Lush rain forests, waterfalls and pretty historic towns can all be found within a half hour's drive of the town centre.
Byron Bay in Australia is certainly popular but is it overrated? I think that depends on why you go and what you're looking for when you visit Byron Bay.
In recent years the town has changed. The new age and surf scene that began in the 1960s still exists but a new upmarket "yuppy" crowd has moved in and the town is geared towards their more expensive "designer" tastes. Wealthy Sydney locals love visiting Byron Bay and it's where many social media "influencers" choose to hang out. Byron Bay is also the home of the famous Aussie actor and heartthrob Chris Hemsworth.
There's certainly a hip and trendy side to Byron Bay in Australia and these days the laid-back new age and surf scene in town seems to take a back seat. But there's still a good selection of cheaper places to stay if you're travelling on a budget.
There is plenty to enjoy in beautiful Byron Bay. Here are 10 things to love about visiting this unique Australian coastal town.
Covid-19 travel restrictions have eased but may still apply to travel in Australia. Check with your local government for the latest information.
*Disclosure* – Some of the links on this page are affiliate links which means I may make a small commission on sales that result from clicks on those links. This does not cost you any extra and helps to keep this website running. Thank you for your support!
10 Things to Love About Byron Bay in Australia
1. The Beautiful Beaches
Blessed with a stunning coastline, Byron Bay in Australia has 5 beautiful surf beaches with crystal clear surf and soft white sands.
Main Beach is one of Australia's most famous beaches. It's the town beach and is popular with swimmers and surfers. There's a park behind the beach where you can relax with a picnic, enjoy the lovely scenery and watch a surfer or two catching a wave.
Clarkes Beach is just a short stroll from Main Beach and only a few minutes from town. It's a pet-friendly stretch of sand and surf that extends to The Pass, a small deep channel of water that separates a rocky outcrop from the beach. Fisherman's Lookout sits at the top of the outcrop at the far end of Clarkes Beach and is accessible at low tide. Clarkes Beach is the calmest part of the Bay and good for swimming, kayaking and beginner surfers.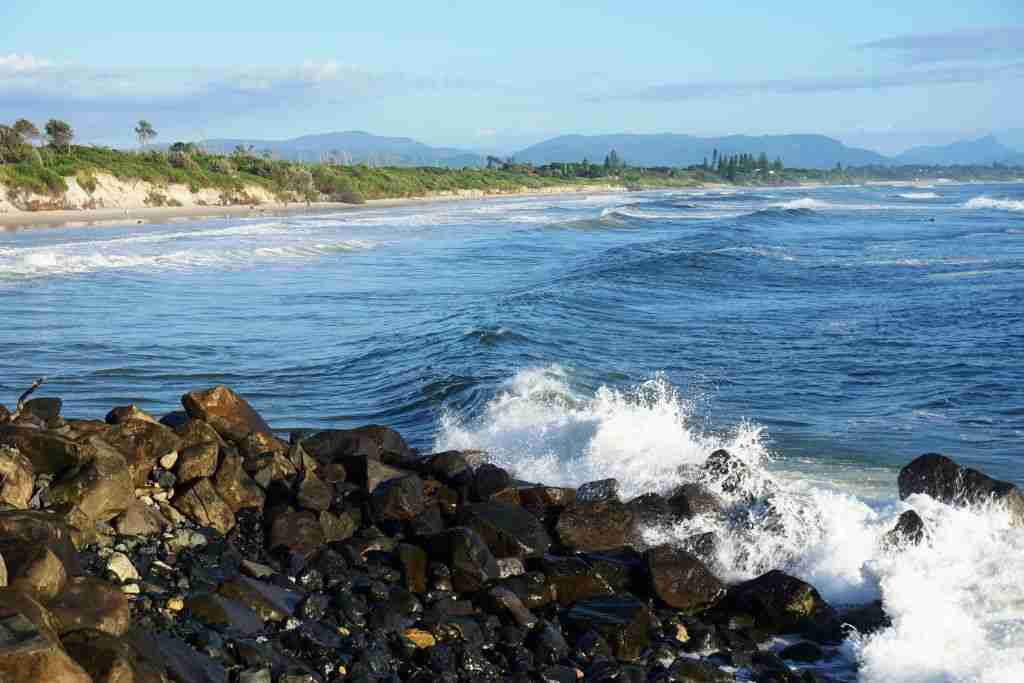 Around 2 kilometres to the east of town is Wategos Beach, located below the lighthouse on Cape Byron in a conservation area. Wategos is a lovely sheltered beach ideal for families to swim, surf and picnic but no pets are allowed here.
Belongil Beach is a beautiful secluded stretch of sand that extends 2.5 km north from the seawall at Main Beach to Belongil Creek. There's a nude swimming area at Belongil and it takes around 10 minutes to walk there along the beach.
Further away from town on the other side of Cape Byron is Tallow Beach, a pristine stretch of sand and surf in the Arakwal National Park. It's a lovely beach for walking, swimming, bird watching and whale watching in the winter months. Tallow Beach is unpatrolled and best for experienced swimmers and surfers as there are strong currents and rips in the area. The most protected stretch of Tallow Beach is Cosy Corner. Tucked beneath Cape Byron and protected from strong winds, Cosy Corner offers ideal surf conditions with a northerly swell.
2. The Laidback Surf Scene
Byron Bay in Australia is famous internationally for its surf and its beautiful beaches. The town became popular in the 1960s with surfers and the relaxed surf vibe is a feature of the town. The surf club has a prominent place on the foreshore behind Clarkes Beach.
People travel from around Australia and all over the globe to surf at Byron Bay. The big swells and consistent sets attract beginners and pro surfers alike, and there are many great surf spots to choose from. But some of the best surfing can be found at the end of Clarkes Beach near The Pass.
Beginners and casual surfers can hire a surfboard and a wetsuit in town and surfing lessons are a great way to introduce yourself to the surf scene when you visit Byron Bay.
The annual Byron Bay Surf Festival brings thousands of people to town. As well as surfers, the festival attracts artists, musicians, filmmakers, activists and water lovers. A highlight of the festival is the international surfing competition held at Wategos Beach.
3. New Age Byron Bay
The New Age, hippy, alternative scene that was once a feature of Byron Bay has largely moved out of town. Nimbin, a small town about an hour inland from Byron Bay is where you'll find the bohemian, eco-friendly hippy culture these days.
While the New Age vibe is much less prominent than it used to be there is still an alternative side to Byron Bay and the town attracts artists, musicians and creative people. Yoga classes are popular and there's a thriving yoga school that offers a range of classes, workshops and retreats. The Byron Bay Yoga Retreat Centre provides simple accommodation in a tranquil, eco-friendly environment on the outskirts of town for yoga and health retreats and for yoga teacher training courses.
For crystal lovers, The Crystal Castle and the Shambala Gardens are just a short drive from Byron Bay. You can wander through the lovely Gardens to a beautiful amethyst cave and enjoy the ambience of the gorgeous giant crystals. Join the daily crystal and sound healing at 12 pm and 3 pm. If you don't have a car you can visit on a half-day tour of Crystal Castle or a full-day tour of the Byron Bay hinterland.
4. The Lighthouse at Cape Byron
One of the most popular things to do when you visit Byron Bay is to walk along the cliff path to the Cape Byron Lighthouse. You'll enjoy stunning coastal and rainforest scenery along the way and when you arrive at the lighthouse there are panoramic views of the coastline and out to sea. The track is 4 kilometres long and loops around the headland past Clarkes Beach, the Pass, Wategos Beach and Little Wategos.
When you reach the lighthouse you can see beautiful Tallow Beach stretching for miles on the other side of the Cape. The Byron Bay lighthouse walk is very popular, even in the early morning. Watching the sunrise over the ocean from the lighthouse at the tip of Cape Byron is a lovely thing to do when you visit Byron Bay but you're sure to have company along the narrow path and at the lighthouse.
If you'd prefer to drive there's a small car park a short walk from the lighthouse. The car park fills up quickly and even at 6 o'clock in the morning, you'll have to feed a parking metre. If you park illegally you risk a fine. If the top car park is full, wait for someone to leave or keep driving. There's another small car park just down the road.
5. Indigenous Culture
Byron Bay is Bundjulung Country and was the home of indigenous Australians for thousands of years. A highlight of my stay in Byron Bay was the Aboriginal Culture Tour with Delta, a proud Bundjulung woman whose family has lived in the area for many generations, Delta shares the stories, food and history of the area and her tour is an informative and enriching experience when you visit Byron Bay.
We met at the end of Clarkes Beach at The Pass early one morning and Delta welcomed me in her native language and explained how important the sacred places are. Now a car park and a boat ramp, The Pass was a place where the local Aboriginal clans would meet, trade and celebrate. For the sacred ceremonies, the men would go to Cape Byron where they had a 360° view of the coast, inland and out to sea. Their ceremonies were held at the place where the lighthouse now stands.
There's a midden at The Pass that is centuries old and tells the story of the local tribes, what they ate and where they gathered. In the rainforest around the car park are a wealth of native trees and plants that the aboriginal people eat as "bush tucker" and use as medicine. I was surprised to see how many colourful berries there are and to learn that delicious macadamia nuts are native to the Byron Bay area.
Delta is from a family of strong women. She impressed me with her deep knowledge, her care for the land and her generosity in sharing the history, stories and culture of her people.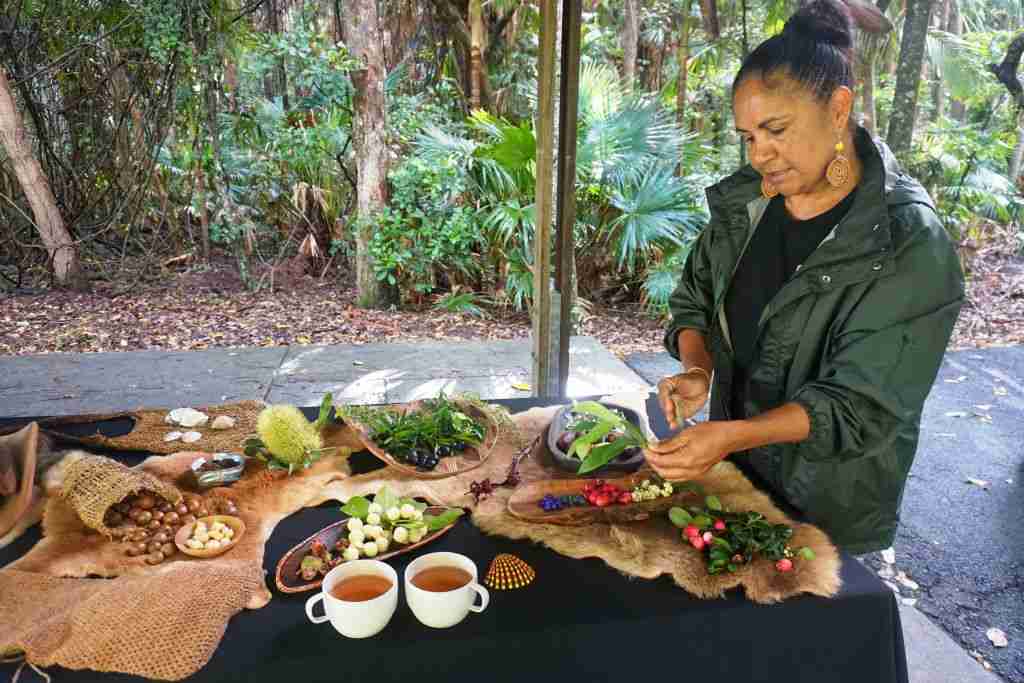 6. Byron Bay Festivals
Byron Bay New South Wales has always been a meeting place for the aboriginal clans and the tradition that began thousands of years ago continues today. Millions of visitors come from far and wide when Byron Bay is hosting one of its many festivals throughout the year.
The crowds arrive, accommodation books out and there are queues of people waiting to order a meal at the pub or buy a coffee. The walk to the lighthouse has constant traffic and the town and its beaches are overflowing.
At Easter, the Blues Festival draws the crowds and in July Byron Bay is packed for the Splendour in the Grass Festival, an annual music and arts event held in the North Byron Parklands.
In September the Byron Bay Surf Festival fills the town and in August it's the Byron Bay Writers Festival. And the list goes on….
TIP: If you don't like crowds, choose your dates carefully and avoid festivals and school holidays when you visit Byron Bay.
7. The Town
One of the things people love about Byron Bay in Australia is the eco-friendly, surfy new age scene. But, in recent years the town has become more upmarket, catering for a "yuppy" crowd who've moved in from the city. if you like to shop there's a selection of designer boutiques and a good choice of trendy cafés. Order an artisan soy café latte at Byron Fresh cafe or grab an early morning coffee by the beach at The Hum, Bagus or Bayleaf.
There are lots of organic fresh juice and acai bars and there's also a selection of more expensive restaurants with multi-award-winning chefs. If a slap-up meal appeals, head to Raes on Wategos. For cheap and cheerful takeaway food and coffee head to the Star Express. It's open 24 hours and you'll find a queue of backpackers waiting outside.
Soak in the new age vibe with yoga, drumming or an art class. Or book yourself a Wellness Retreat to rejuvenate your mind, body and spirit when you visit Byron Bay. There are lots to choose from.
Shopping in Byron Bay
When outdoor activities are not on the agenda, shopping is a fun thing to do in Byron Bay.
You'll find local designer fashion and jewellery shops to browse and lots of eco-friendly gifts to buy. There's a good selection of cafes to choose from when it's time to rest your weary feet.
If you're in Byron Bay on a weekend, head to the local Sunday Markets for a selection of arts, crafts, hippy, bohemian and eco-friendly stalls. The local fresh food market is held on Thursdays and you'll find locally grown and organic produce.
8. Whale watching
Byron Bay in Australia is one of the best places in the world to go whale watching. In the winter months from May to November, humpback whales swim past the coast on their annual migration. Byron Bay is situated on Australia's most easterly point and the whales pass by close to the coast. You can see them up close on a whale-watching tour or from the lookout points on the coast from Fisherman's Lookout or the Cape Byron Lighthouse.
Dolphins & Turtles
Bottlenose dolphins and 3 types of sea turtles live in the clear waters off the coast and are a joy to see when you visit Byron Bay. A half-day kayak with dolphins tour is a great way to meet them up close along with other marine life. The views from the water are stunning. You can see Main Beach, Clarke Beach and the Cape Byron Lighthouse as you paddle around in your kayak and you'll almost always see dolphins swimming nearby.
On a Snorkel tour, you can swim with sea turtles, Manta Rays and Leopard sharks in the marine sanctuary at Julian Rocks. Called "Nguthungulli" by the indigenous Arakwal people, the marine park offers shallow, protected waters and is one of the best diving spots in Australia.
9. The Byron Bay Hinterland
The Byron Bay hinterland includes untouched rainforest with waterfalls, bushwalking tracks and an abundance of wildlife. When you visit Byron Bay, take a tour to see the spectacular Minyon Falls cascade to the rainforest floor in the Nightcap National Park or visit the stunning Killen Falls, just a half hour's drive from Byron Bay. There's a deep plunge pool and a cave at the base of Killen Falls and you can walk behind the cascading water and swim in the deep pool at the base of the waterfall.
On Byron Bay's doorstep.is the Arakwal National Park. Swimming, surfing, wildlife and bushwalking are popular in the National Park.
But you can also go skydiving, take a morning rainforest cruise or a day trip to Bangalow on the Beyond Byron Tour and you'll see another side of Byron Bay in Australia.
10. Nearby Towns
Around Byron Bay New South Wales, there's a selection of smaller towns to discover.
Tiny historic Newrybar founded in 1881, has heritage buildings on the main street, a general store and a pleasant café.
Bangalow is a pretty historic town with lots of boutiques designer clothes and gift shops to browse. Mullumbimby sits beneath the Mullum mountains and hosts the annual Bluesfest. And Brunswick Heads is just across the Bay from Byron with wild surf and sand that stretches as far as the eye can see.
Nimbin, the hippy capital of New South Wales is about an hour from Byron Bay. The alternative culture in Nimbin is fun to experience and it's a lovely drive through green forests and farmland to get there.
Other nearby towns worth visiting are Lennox Head, Ballina, Lake Ainsworth and Tweed Heads on the Queensland border.
What NOT to love about Byron Bay in Australia
It can get overcrowded especially during festivals and school holidays so choose your dates carefully to avoid the masses when you visit Byron Bay.
There are parking metres everywhere in Byron Bay, in the town and at the beach. It feels like a money grab from the local council but it's also a strategy to manage the large number of visitors to the town and encourage people to keep moving. If you park illegally expect to be fined. I met a woman who had just received a hefty parking fine near the cape Byron Lighthouse at 6 o'clock in the morning.
Byron Bay feels a bit like an upmarket Sydney suburb with expensive designer boutiques, restaurants and spas. I couldn't help feeling disappointed that the new age, alternative culture has largely been displaced in the town.
When to Visit Byron Bay
A mild climate all year round means that you can visit Byron Bay at any time. Winter, from June to August, is my favourite time to visit Byron Bay. It's whale-watching season, the days are warm with tops of 20°C and there's less humidity. The summer months of January and Februaryare popular but can be hot, humid and wet.
Where to Stay in Byron Bay
With such a large influx of well-heeled locals and visitors, there's a good selection of luxury accommodation and some good budget options too if you're after a hostel or a campsite when you visit Byron Bay.
Budget: I stayed at the Ingenia Holidays Campsite a few kilometres out of town. The facilities were reasonable but my tent site was overpriced and the kitchen facilities were minimal. But I liked the location behind Tallow Beach with a walking track to access the beach and there was a pub nearby for meals.
The Byron Bay YHA & the Cape Byron YHA get excellent reviews. Located in the centre of town and just a short walk to the beach. They are a good choice if you're on a budget when you visit Byron Bay.
Mid-Range: Bay Haven Lodge Guesthouse gets excellent reviews for its great value and facilities. This charming hotel is a short 10-minute walk from town. and has a car park and a spa.
Luxury: Victoria's at Wategos Guesthouse is just 30 seconds from Wategos Beach and the lighthouse walk with a superb restaurant across the road. The reviews are outstanding and guests love the complimentary snacks and pastries.
Beach Suites offer luxury resort villas with parking in a fabulous location on the beachfront opposite the surf club with easy access to cafes, restaurants and shops. The reviews are exceptional.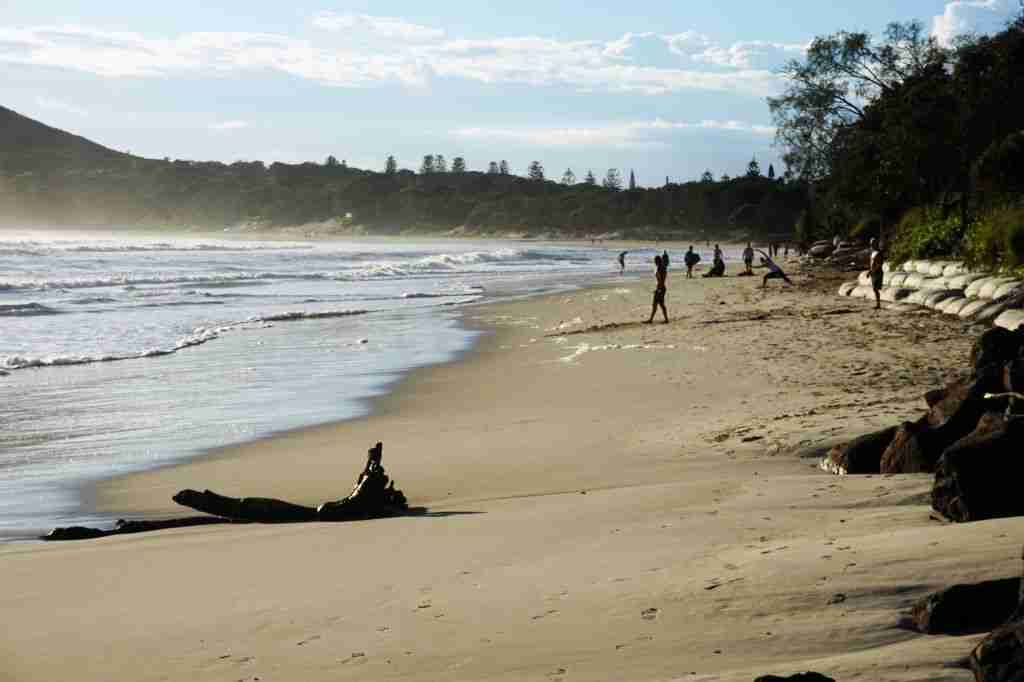 Where is Byron Bay & how to get there
Byron Bay in Australia is located in the state of New South Wales, approximately 750 kilometres north of Sydney and 165 kilometres south of Brisbane. The popular beachside town is less than an hour from Tweed Heads and the Queensland border. It takes about 8 – 9 hours to drive from Sydney to Byron Bay and around 2 hours from Brisbane.
Air
There is an airport at Ballina, about half an hour from Byron Bay New South Wales, with direct flights to Sydney, Melbourne, Canberra, Newcastle and Dubbo. Buses and taxi services connect Ballina airport with Byron Bay. Another option is to fly to Coolangatta airport in Queensland. Coolangatta is around 45 minutes from Byron Bay New South Wales.
Bus & Train
Greyhound bus services connect Byron Bay to Sydney, Brisbane and Melbourne. And trains stop in Casino and Grafton. Coach services run from the train station to Byron Bay.
Essentials for Travel in Australia
A Travel Guide for Australia will help you to plan your visit to Byron Bay and always comes in handy. I rarely travel without my trusted Lonely Planet Guide.
Travel Insurance is essential for peace of mind while you travel in Australia. I always use World Nomads so I can concentrate on enjoying my trip without worrying about something going wrong.
Final Thoughts – Is Byron Bay overrated?
I would certainly recommend that you visit Byron Bay in Australia but I was unimpressed with the yuppy feel the town has these days. I was last there about 20 years ago and I enjoyed the hippy, eco-friendly new age focus. Having driven 9 hours to escape the city, the upmarket yuppy vibe was not what I was looking for. The lack of free parking anywhere in town was also annoying and a disincentive to visit in a car.
If you're looking for a beach holiday, there are many other places just as beautiful on the mid-north coast of New South Wales you could stay instead. There are other places to surf, whale watch and hike but if you're there for a music festival or a surf competition or just want to visit Byron Bay, then you may be more willing to deal with the crowds than I was.
Pick your dates carefully. I went to Byron Bay just before Easter during the school holidays and masses of people were starting to arrive for the annual Blues Festival. I had a nice time in Byron Bay but I don't like crowds and was very happy to be moving on.
Pin It! Save this post for later!
More on Travel in Australia
15 Best Reasons to Visit Brisbane in Australia
How to See Gorgeous Green Island in Cairns
10 Stunning Islands on the Great Barrier Reef
A Fun Day Catching the Ferry to Fitzroy Island
The Beautiful Blue Mountains in Australia
15+ of the Best Things to Do in Sydney, Australia
Hugging a Koala in Australia – It's unforgettable!
15 Top Tips for a Stop Over in Dubai