5 Reasons to visit Picturesque Westlake in China
If you like beautiful gardens, temples, romantic pavilions and arched bridges in an ancient historical setting, then a visit to picturesque Westlake in China should be high on your list. Only an hour from Shanghai by bullet train, visiting Hangzhou and Westlake can be a day trip but there's enough beauty and culture here to spend several days. Westlake in China has been celebrated by poets and artists since the 9th century and Hangzhou is truly a lovely place to visit.
As a solo female traveller, I felt comfortable in Hangzhou exploring Westlake in China. There were tourist police patrolling the city and the lake area making Hangzhou a safe and orderly place to visit.
Disclosure: This article may contain affiliate links. If you make a booking through a link on this page I may receive a small commission. There is no extra cost to you and it helps to keep this website running. I appreciate your support!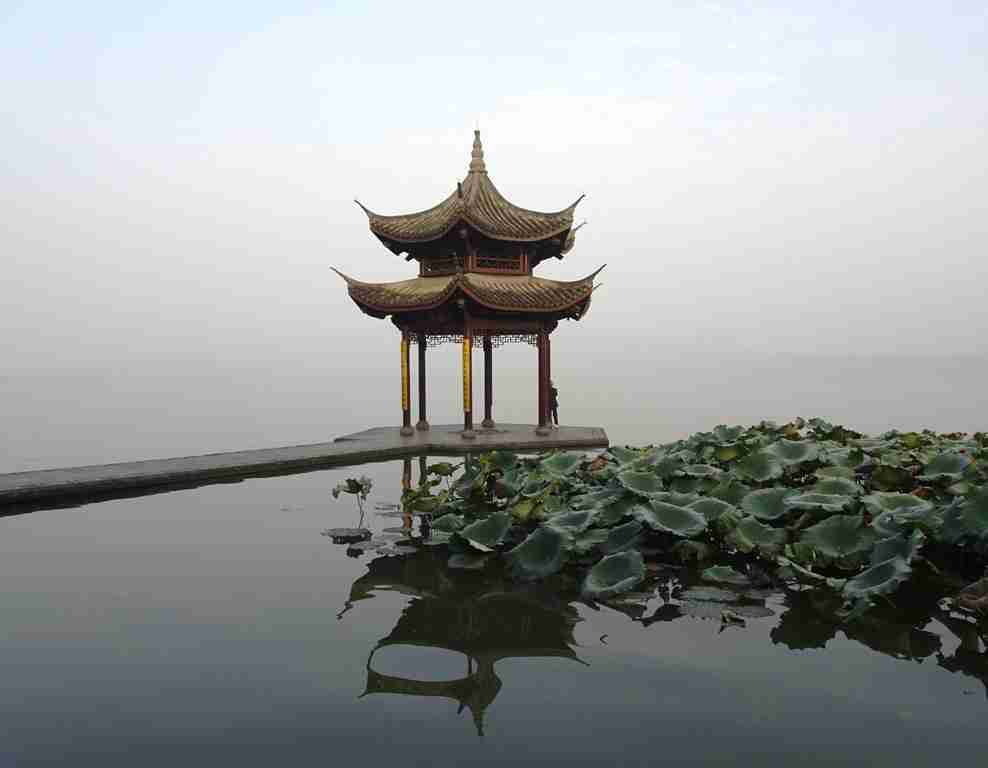 Why visit Westlake in China?
When I was planning my trip to Westlake China I was captivated by the history & poetry that has surrounded the area since ancient times. The prospect of visiting a place called "Three Pools Mirroring the Moon" sounded so idyllic it captured my imagination. Poetic names such as "The Bay of Flowers", "Pavilion of the Autumn Moon", "Pavilion of the Cranes", "Isle of the Hill of Solitude" and "Bridge of the Nine Arches" made Westlake in China sound so beautiful I wanted to go there.
There are excellent public transport connections from Shanghai to Hangzhou and this made it possible for me to visit Westlake in the short time that I had available.
Here are some highlights of my stay in Hangzhou:
1. Exploring Westlake China
Surrounding Westlake in China is a lush landscaped garden with pathways, weeping willows and lovely pavilions to enjoy.
The Lake was misty and atmospheric in the early morning. I wandered along shaded, winding pathways surrounded by green trees and beautiful gardens. Willow trees lined the water's edge and softened the view of the lake. When I was tired of walking I sat and enjoyed the peaceful lake views through a veil of weeping willow leaves.
2. Watching the locals practising Tai Chi in Westlake China
Rising early to watch the locals practising Tai Chi at Westlake in China was a highlight. I walked to the lake at first light and this was a real treat! I saw some amazing Tai Chi performed by people who looked like they had been practising all their lives. There were several groups of around fifteen people wearing silk martial arts pyjamas. They were performing the Tai Chi movements in unison beside the lake and some were using swords and fans.
There were lots of people out early doing many different kinds of activities. A group of people, mostly older women, were ballroom dancing. One couple was dressed to impress wearing brightly coloured clothes, hats and dark sunglasses at 7 o'clock in the morning. There were lots of people socialising and exercising and a group of men rollerblading.
My favourite was the man practising calligraphy. With large brushes, he painted poetry in water on the pavement. The beautiful Chinese characters took some time to dry and there were large areas of the footpath covered in wet Chinese calligraphy. I wondered what he was writing and can only imagine the meaning. It was a beautiful and fascinating glimpse into the lives of ordinary people in Westlake in China.
3.Taking a boat to Little Paradise Island in Westlake China
One of the highlights of a visit to Westlake in China is riding in a Dragon Boat. You can also hire a rowing boat to see "Three Pools Mirroring the Moon" on Little Paradise Island. I enjoyed riding in a traditional boat with its beautiful carved wooden roof and railings (Y70). From the water, I could appreciate the size of the lake and see it from a different perspective.
The islands of Westlake China were lovely to wander around with winding, shaded pathways leading to arched bridges and pavilions. Paradise Island is a lake within a lake. The walkways and gardens are beautifully designed so there are many special moments when you notice a perfect reflection in still water. If you want to experience peace and quiet I would recommend going early as it became quite crowded with Chinese visitors on the islands as the day progressed.
4. Climbing to the top of Leifeng Pagoda for 360-degree views
From the top of the Liefeng Pagoda, there are lovely views over Westlake in China. You can see the Wulin Mountains and the view extends over the city of Hangzhou. To get there I took a traditional boat from Paradise Island but it was still a half-hour walk to the Liefeng Pagoda and it was quite crowded on the viewing platforms inside. You can queue for the lift or take the stairs to the top (cost Y40).
5. Wandering around the Old Town of Westlake China
For a taste of life, hundreds of years ago visit the Hefang St. marketplace in historic Hangzhou. The cobbled streets and laneways of the Old Town beside Westlake in China are lined with beautifully preserved traditional houses. Some buildings date back to the 14th century from the Ming dynasty while others are a bit later from the Qing dynasty in the 15th century.
If you visit in the late afternoon or evening the market is in full swing. There are traditional Chinese herbalists, silversmiths, artisans & artists. You can also see people making sweets, silk clothing & playing Chinese musical instruments.
Enjoy a traditional Chinese tea ceremony and try the Dragon Well Tea grown locally in Longjing Village near Westlake China. Longjing tea is famous for its quality and delicate flavour & makes a great souvenir. The marketplace is very popular with Chinese visitors and many like to dress up in traditional Chinese clothing to pose for photographs. It's lots of fun to wander around and to enjoy some street food and the bustling atmosphere of the ancient marketplace. But it is full of tourists, mostly from China.
I only had one full day in Hangzhou and would have liked more time here to explore Westlake and the surrounding countryside. West of the Lake in the Wulin Mountains, you can visit the 4th-century Lingyin Buddhist temple.
There are scenic Tea Terraces around Longjing Village where the famous Dragon Well tea is grown and there is a walking trail that ascends the North Peak Mountain to the 1600-year-old Lingshun Temple, also known as the Temple of Wealth. There are so many reasons to visit Westlake in China.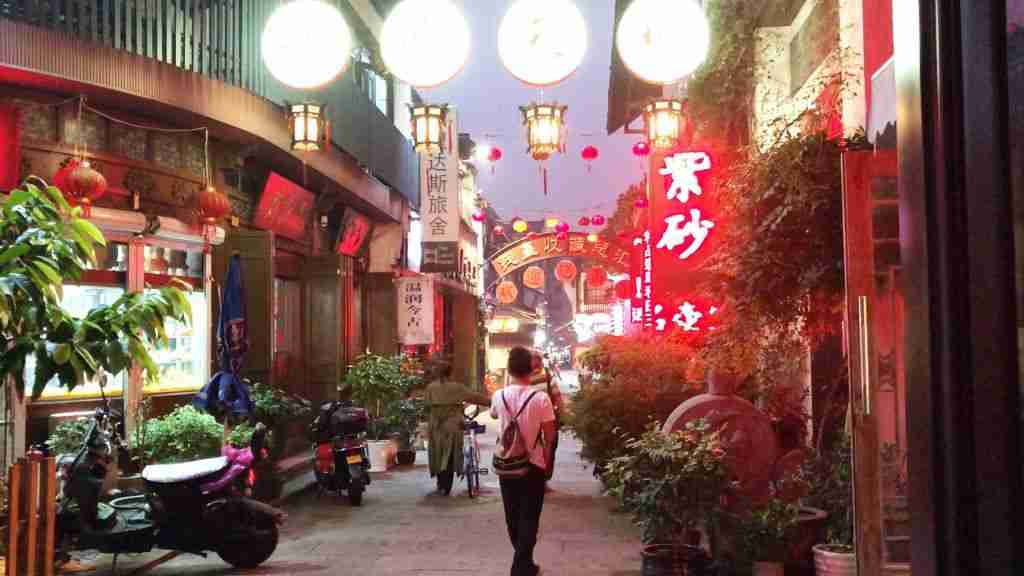 Where to stay in Hangzhou
Budget: I stayed at Hangzhou Hofang Guesthouse in a private room in the Old Town & loved the traditional Chinese ambience and the location near the marketplace. The staff spoke English well and the building had beautiful traditional Chinese architecture with dark carved woodwork and rooms opening onto a pretty courtyard.
Luxury: For a more luxurious option, try the Wyndham Grand Plaza Royale Hangzhou. It has a great location and gets excellent reviews.
Travel Essentials
Know where you are and where you're going. Take a trusted Travel Guide for China. I rarely travel without a Lonely Planet Guide.
For peace of mind make sure you buy travel insurance before you go, especially if you are travelling solo. I use and recommend World Nomads because it covers overseas medical, evacuation, baggage and a range of adventure sports and activities so I can concentrate on enjoying my trip without worrying about something going wrong.
Pin it! Save this post for later
Travel Tips for China
How to Avoid the Chinese Tea Ceremony Scam
10 Great Ways to Learn about Hong Kong History
The Ten Thousand Buddhas Monastery – A Hidden Gem