Cruising on Stunning Halong Bay in Vietnam
Majestic Halong Bay is one of the most popular places to visit in Vietnam. The scenery is stunning! Thousands of small islands rise out of glorious emerald waters off the coast of northeastern Vietnam. A place of exceptional natural beauty and geological significance, Halong Bay is recognized as a UNESCO World Heritage site. The ancient karst mountains and islets of Halong Bay are more than 20 million years old and are covered in a green tropical forest.
Cruising on stunning Halong Bay in Vietnam is likely to be a highlight of your trip to South East Asia and should not be missed.
** Check with your local government for the latest advice on travel in Vietnam
"*Disclosure* – This page may contain affiliate links which means I may make a small commission on any sales that result from clicks on those links. This does not cost you any extra and helps to keep this website running. Thank you for your support!"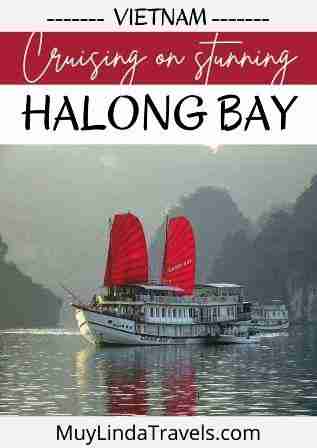 Halong Bay in Vietnam
Halong Bay covers approximately 600 square miles and includes around 2000 limestone islands. People have lived in Ha Long Bay in Vietnam since 5000BC and there are four fishing villages but most of the islands are uninhabited. The two biggest islands are Cat Ba and Tuan Chau and there are a number of stunning beaches on the smaller islands. Inside the karst mountains, there are several enormous limestone caves containing stalagmites and stalactites and an abundance of internal lakes.
Halong means descending dragon
According to local legend, many years ago the gods sent a family of dragons to defend & protect the Vietnamese against invaders. The islets and islands of Halong Bay were formed when the dragons spat out jade and jewels to form a barrier against invaders. Mountains rose from the sea like magic and caused ships to sink as they crashed onto the islands. The place where the mother dragon descended is known as Halong Bay.
Halong Bay Cruise
Cruise on a traditional Chinese Junk boat or take a sea kayak to see Halong Bay. There are hundreds of cruise boats to choose from with varying prices and levels of service. The Chinese junk boats with their colourful sails are very popular.
I chose a short, one night cruise and this was enough time to appreciate the stunning beauty of Ha Long Bay. On a typical overnight cruise, you will spend less than 24 hours on the boat. Travelling from Hanoi to Halong Bay takes around 4 hours by bus to the dock where you board your cruise boat. Although many of the boats have sails they are often just for decoration. Your boat will probably motor to Halong Bay stopping from time to time for activities such as kayaking, sightseeing, and visiting viewpoints and limestone caves.
My cruise boat was spacious and well equipped. My cabin onboard La Fairy Sails was nicely decorated but the bed was very hard. The upper deck was very comfortable and a great place to enjoy the stunning scenery. You can expect to share Halong Bay with lots of other tourists. For conservation reasons, there are strict regulations on where boats can go so all the cruise boats must follow one of five different routes and anchor in the same place. Unfortunately, the water was not so clean as a result.
Spend the night on Halong Bay in Vietnam
On an overnight cruise, you'll get to see the sunrise & set on Halong Bay in Vietnam. I rose before dawn for the early morning Tai Chi class on the boat. We went kayaking, visited a limestone cave and climbed steep mountain paths on several different islands to see gorgeous views of the bay.
In the evening we were entertained by an enterprising woman who rowed out to our boat selling pearl necklaces and wine at inflated prices (but still cheaper than the bar on the boat). We bought a bottle of wine and the woman used a fishing net with a long handle to collect the money and deliver the goods. Hawkers will find you wherever you are in Vietnam.
When to visit Halong Bay in Vietnam
Vietnam is a long, narrow country and there are several different climates in the tropical south, the centre and in the north. The weather in Ha Long Bay is influenced by monsoonal rains and the wet season is from May to September, with the dry season from November to March. In summer, from May to October, the weather is hot and humid with the highest annual rainfall. In general, the best time to visit is in winter from December to February when the temperatures are milder with an average high of 20 degrees and there is less rain.
Travel Tips For Halong Bay
#1. Pack light. The cabins are very cosy. Leave your big luggage at your hotel in Hanoi & take a small bag on the boat to maximise space in the cabin. Bring only essentials plus swimmers, sunscreen & sunglasses.
#2. Halong Bay cruises can easily be arranged in Hanoi. I booked my cruise through my hotel the day before departure and this was less expensive than booking through a travel agent before I left home.
#3. The price of my cruise included all food and drinks. Alcoholic drinks were available for sale from the bar but were very expensive
.
#4. As a solo traveller on the cruise, I was paired for dinner and activities with another solo traveller. I found this a bit wearing as he and I had nothing much in common and the conversation was exhausted pretty quickly.
#5. When you book a cruise, transport to Halong Bay is usually included. A bus will collect you from your hotel and take you to your cruise boat.
#6. Halong Bay is a 4-hour drive from Hanoi. For a faster trip, flights are available from Hanoi and often include a circuit over Halong Bay so you can take in the stunning scenery from the air.
#7. If you have more time and money you could easily extend your stay to fully explore this stunning area. The bay is full of tourist boats and there are lots of visitors so I would recommend getting off the beaten track if you can.
For peace of mind make sure you buy travel insurance before you go, especially if you are travelling solo. I use Travel Insurance that covers me for overseas medical, lost baggage, and other expenses and I can concentrate on enjoying my trip without worrying about something going wrong.
Pin It! & save this article for later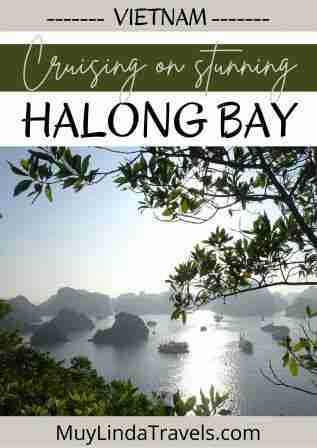 Vietnam Itineraries and Travel Tips
Beautiful Vietnam in 3 weeks from Top to Toe
An Exciting 10-Day Itinerary in Vietnam's Tropical South
Travelling in Vietnam – What you Need to Know
Why You'll LOVE Spectacular Phong Nha Ke Bang in Vietnam