The Best Hotels in Tasmania Australia
Find the best hotels in Tasmania whatever your budget, from campsites to historic pubs and luxury hotels. Here you'll find reviews and suggestions to help you decide where to stay as you travel around Tasmania. There are some wonderful, heritage hotels in Tasmania just oozing with old-world charm that are perfect if you love being surrounded by history.
Staying in an older hotel is a fun experience and Hobart has some of the best historic hotels in Tasmania. Most of the older pubs have a bar and a convenient onsite restaurant. You'll find a good selection of mid-range rooms but take care when you're booking because budget rooms can be small and you may have to share the bathroom in some of the older Tasmanian hotels.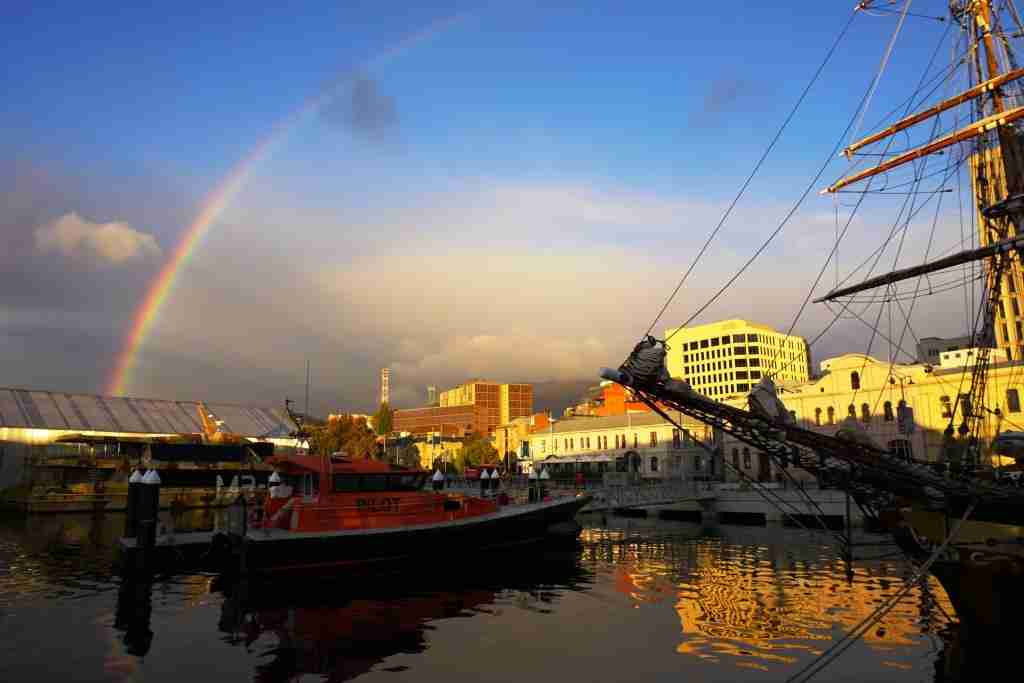 If you're travelling on a mid-range budget, there is a lot of choices for hotels in Tasmania. Restored heritage buildings and Georgian cottages are very appealing most of these offer 3 or 4-star accommodation but there's less choice when it comes to 5-star hotels in Tasmania, especially if you're staying outside the main cities.
Internet connections are good in the cities but you may find that the internet is patchy in some Tasmanian hotels, especially if you're in the countryside. Even very comfortable hotels in Tasmania sometimes have no wifi at all, in more remote areas like Cradle Mountain.
If you're looking for luxury hotels in Tasmania, consider basing yourself in Hobart or Launceston. You can hire a car and take day trips from Hobart to explore further afield and you'll find distances between destinations are often small and easy to cover.
Tasmania is a great place for a road trip and if you're travelling on a budget it's easy to find well-equipped caravan parks with great facilities for campers. Most caravan parks have cabins and some offer dormitory-style accommodations with hot showers and camp kitchens.
Camping in Tasmania brought me closer to the native wildlife and was a very enjoyable experience in fine weather. Finding wallabies, birds, possums and even a quoll outside my tent was a highlight for me. If you want to get away from it all there are some stunning campsites in Tasmania's National Parks and many of these campsites are FREE. But the amenities are limited and you can expect to find cold showers and pit toilets.
Below you'll find some great Tasmanian hotel suggestions for all budgets on your next trip to Tasmania:
Covid-19 travel restrictions may still apply for travel in Australia. Check with your local government for the latest information.
*Disclosure* – This page contains affiliate links which means I make a small commission on any sales that result from clicks on those links. This does not cost you any extra and helps to keep this website running. Thank you for your support!
Hobart
The capital of Tasmania and Australia's smallest capital city, Hobart is a rewarding place to visit. It has a rich colonial history with UNESCO World Heritage sites like the Cascades Female Factory which is full of colonial history. There are rows of pretty Georgian cottages on Battery Point and you'll also find the restored facades of old buildings and warehouses near the waterfront. Behind the old jam factory is the renovated Henry Jones Art Hotel. Other repurposed warehouses now hold art galleries, cafes and theatres.
Put aside some time to visit Hobart's exceptional art galleries, MONA & TMAG as they are highlights for many visitors to Tasmania.
Base yourself at the heart of the old town and soak up the vivid history and vibrant culture near the Waterfront and on Battery Point, and make a point of sampling the delicious local food and wine.
The Best hotels in Tasmania – Hobart
There are some good hotels in Tasmania for all budgets. Here are some suggestions for Hobart:
Budget: The Montacute Bunkhouse is a laid-back hostel in a good location on Battery Point and gets great reviews.
Mid Range: I loved staying at the Shipwrights Arms. It's a quaint old pub in an excellent location on historic Battery Point, just a short walk from Salamanca Place and the waterfront. There's a welcoming atmosphere and free onsite parking. Just wander downstairs for a beer or a meal. You can't beat the Sunday roast special (all weekend).
I also enjoyed staying at the Edinburgh Gallery B&B. This property has a friendly owner and oodles of character. It's centrally located on Macquarie St, Hobart and the walk down the hill to the waterfront takes about 10-15 minutes. I stayed in a lovely light, bright room with a private bathroom on the main level of the old house. But the cheaper rooms are in the basement, 3 flights of stairs away from the shared bathroom.
My favourite Hobart hotel is the Astor Private. Oozing old-world charm and eccentricity, this quaint, older hotel is in a central location and offers large suites alongside comfortable, spacious cheaper rooms. Many have en-suite bathrooms and there are spotless shared facilities for the budget rooms. I loved staying here! It reminded me of visiting my English Great Aunts.
Upper Mid Range: The Moss Hotel is in an ideal location in Salamanca Place surrounded by historic buildings, restaurants and cafes.
Luxury: Henry Jones Art Hotel is a cool and funky five-star hotel on the waterfront. It's a stunning renovation of the old jam factory in a perfect location, just a short walk from the MONA ferry, Salamanca Place and Battery Point. The rooms are spacious and full of contemporary art. This hotel gets exceptional reviews.
Near Hobart
Mid Range: The Old Colony Inn is a quaint, heritage Inn packed with history. It's a gorgeous place to stay in New Norfolk, about half an hour outside the city centre and about a 45-minute drive from Russel Falls and Mount Field National Park.
Launceston
Tasmania's second-largest city is about 3 hours north of Hobart and an hour or so inland from Devonport and the ferry to mainland Australia. Launceston is a vibrant hub for food, wine and culture with elegant architecture and the dramatic and wild Cataract Gorge almost in the middle of town.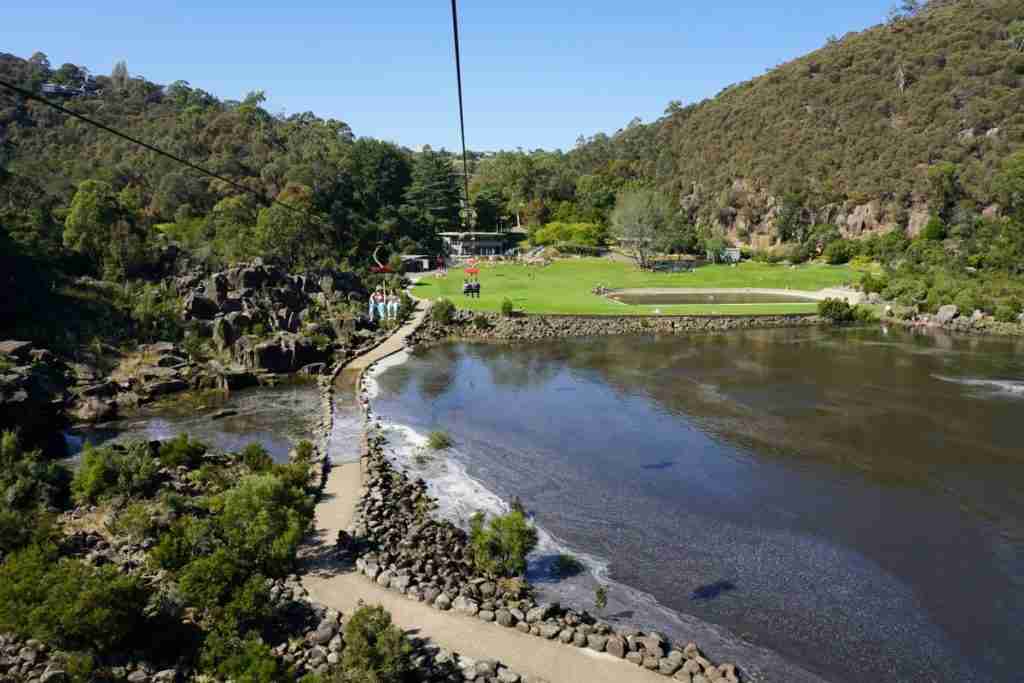 Best hotels in Tasmania – Launceston
Launceston has some Tasmanian hotels and a variety of accommodation options for all budgets. Here are some suggestions:
Budget
For budget travellers, Launceston Backpackers is a popular choice providing dormitory-style accommodation and private rooms. This hostel is easy to find and near shops and Cataract Gorge.
Or you could try the Big 4 Launceston Holiday Park. It gets excellent reviews for its modern clean cabins and relaxed atmosphere.
Mid Range
If you have a bit more money to spend Kurrajong House B&B is a lovely, clean, comfortable place to stay. It's in a central location and has onsite parking. Guests love the hearty breakfast, the stunning garden and the hosts.
Luxury
If new five-star Tasmanian hotels are more your style, consider the Hotel Verge Launceston. It's comfortable, quiet, and convenient and gets outstanding reviews.
Deloraine
Sleepy Deloraine is a small country town, about half an hour from Launceston. Surrounded by lovely scenery, Deloraine has some great accommodation options. It's a pleasant stop on the way to Cradle Mountain and just a 10-minute drive from the Christmas Hills Raspberry Farm.
Best hotels in Tasmania – Deloraine
Budget
The Deloraine Hotel is newly renovated and offers cheap, clean, basic rooms above a pub in a heritage building. The budget singles are great value for money.
Mid Range
Nearby, the Empire Hotel has clean, comfortable, good-value rooms above a bar and restaurant. There's a large kitchen and sitting room for guests.
Luxury
If you're after somewhere special to stay in peaceful Deloraine, The Chapel is a quaint, luxurious cottage that provides lots of little extras. Breakfast is included and guests love the location, the style, the warmth and the hospitality.
Cradle Mountain
Not far from Deloraine is majestic Cradle Mountain, one of Tasmania's iconic landmarks. The landscape at Cradle Mountain is wild and windswept with changeable weather and often cold temperatures. Within the Cradle Mountain National Park, there are beautiful lakes, waterfalls and walking trails to explore. There's an abundance of wildlife in this remote location with wombats and Tasmanian Devils to find. You can expect limited choices for food and accommodation with no wifi.
The best hotels in Tasmania – Cradle Mountain
Budget
For budget travellers, the Cradle Mountain Discovery Park is ideally located just across the road from the National Park Visitors Centre. Cabins, campsites & dormitory accommodation are on offer here with good facilities and warm, well-equipped kitchens.
Mid Range
If you'd like to sleep a bit more comfortably, the Cradle Mountain Hotel is a good choice, just outside the National Park. It has a warm and relaxing vibe with comfortable rooms, an onsite art gallery, a library, a fireplace, a bar and a restaurant.
Upper Mid Range
Alternatively, Peppers Cradle Mountain Lodge has a perfect location right next to the National Park with wildlife literally on the doorstep and an enchanted walk nearby. The cabins are comfortable and warm and the lodge has an onsite restaurant, a bar and a bistro.
Devonport
Devonport is a busy city on Tasmania's north coast and it's where the ferry from mainland Australia docks. If you sail during the day on the Spirit of Tasmania you may need to stay overnight in Devonport.
There are some good options for accommodation here:
The best hotels in Tasmania – Devonport / Ulverstone
Budget
Discovery Parks Devonport offers cabins and powered campsites in a gorgeous location by the beach, just 2 minutes away from the Spirit of Tasmania. It's pet friendly and gets exceptional reviews.
Mid Range
A good cheaper option for Tasmanian hotels in the Devonport area is The Lighthouse Hotel in Ulverstone. This hotel provides clean & comfortable rooms with onsite parking, a bar and a restaurant. Eating in is a good idea and it's a 20-minute drive to the ferry port in Devonport. I had a comfortable overnight stay here.
Upper Mid Range
If you like to have your apartment, Waterfront Apartments Devonport offers contemporary and tastefully decorated flats in a peaceful and picturesque location on the Mersey River. It's a five-minute drive from Devonport and guests love the wonderful, relaxing location and the onsite café.
Luxury
For those who want to relax and spoil themselves, Amare Beachside Luxury in Ulverstone is a very private one-bedroom apartment. It's located near Turners Beach about 20 minutes from Devonport by car. Lots of little extras are provided. There's a garden with a BBQ and it's just a short walk from the beach. This apartment is perfect for a romantic getaway.
Stanley
West of Devonport is the quaint, tiny, coastal town of Stanley, nestling beneath a large rocky outcrop known as "the Nut". It's a lovely place for a beach holiday with stunning coastal scenery and little Fairy Penguins nesting near the beach in the warmer months. If you're planning to explore the Tarkine wilderness, Stanley is the perfect place to stay.
Best hotels in Tasmania – Stanley
Budget
For campers and budget travellers, Stanley Cabin & Tourist Park offers flat, grass campsites and cabins by the beach with clean well-equipped facilities. It's just a short walk to the town centre and close to the Nut. I enjoyed my stay here.
Mid Range
If you prefer to stay in a heritage building, the Bayview Guesthouse is a delightful older-style guesthouse that comes highly recommended and gets exceptional reviews. Guests love the character and history and the convenient location near restaurants and activities.
The Stanley Hotel is a grand old building in the centre of town with clean, comfortable rooms, a good ambience and a convenient location. The Stanley hotel has a popular restaurant but book ahead or you may be disappointed.
Luxury
Noah's Luxury Bed & Breakfast. This B&B is superbly presented and provides first-rate accommodation. The reviews are exceptional and guests love the modern decorations, the generous rooms, the great location and the delightful hosts.
Strahan
On Tasmania's wild west coast is the tiny port town of Strahan. The gateway to the world heritage listed Franklin – Gordon Wild Rivers National Park, Strahan lies at the mouth of the Gordon River where it meets the Indian Ocean. Boat cruises on the Gordon River sail through pristine rainforests and are a popular way to enjoy this lovely spot.
The best hotels in Tasmania – Strahan
Budget
The Big 4 Strahan Holiday Retreat offers cottages, cabins and campsites with a platypus walk nearby. The accommodation is cosy, comfortable and near the centre of town.
Mid Range
For a more comfortable room try the Gateway to the Gordon. It's a peaceful and relaxing place to stay with a great location and amazing views across Strahan.
Or the Driftwood Strahan Villas Hotel. It has a quiet location close to everything with parking and comfortable rooms just a short drive from the waterfront. T
Port Arthur
Port Arthur is one of the most popular destinations in Tasmania and draws thousands of visitors each year. Located on the rugged and beautiful Tasman Peninsula, Port Arthur is the site of an important early Australian convict settlement. In colonial times the worst of the convicts were sent here and the site was chosen for its inhospitable location. Nearby, on the Tasman Peninsula, there are soaring sea cliffs, blowholes, interesting rock formations and lots of walking trails in the Tasman National Park.
Port Arthur is only a 90-minute drive from Hobart but the location is quite remote. There are limited options for eating out in Port Arthur so consider self-catering and stock up on groceries and petrol before you leave home.
Read more on Why Port Arthur is such a Fascinating place to visit in Tasmania
The best hotels in Tasmania – Port Arthur
Budget
The NRMA Port Arthur Holiday Park has cabins and great facilities for campers including a lounge with an open fireplace & TV. This was good when the weather turned foul. (Firewood is available to purchase)
I had a fire pit on my campsite and there was a kitchen and lounge directly opposite my tent, perfect on a dark, rainy evening! There was lots of wildlife at this campsite and I loved having wild wallabies hopping around my tent.
From the campsite, It's a 50-minute walk and a 5-minute drive to the Port Arthur Historic Site.
For a small fee, you can camp inside the Tasman National Park at the Fortescue Bay campsite Access is via an unsealed road and facilities are basic. Bookings are recommended and Tasmanian National Park fees apply.
Mid Range
The Port Arthur Villas are just a short walk from the Historical Site in a beautiful garden setting. The villas offer comfortable accommodation with kitchen facilities for self-catering.
Or Stuarts Bay Lodge is another mid-range alternative that provides self-contained chalets and cabins with fully equipped kitchens in a peaceful bush setting. There are gorgeous water views between the trees and the lodge is just a 5 minutes drive or a short walk to the Port Arthur historic site.
Wineglass Bay and Freycinet National Park
The pristine beach at Wineglass Bay rates as one of the most beautiful beaches in the world and can be found in the gorgeous Freycinet National Park on Tasmania's east coast. You're sure to love visiting Wineglass Bay & Freycinet in Tasmania.
Although the area is quite remote, there are a variety of Tasmanian hotels and other accommodation options nearby, in Coles Bay and inside the National Park. Book ahead in peak periods like December / January, Easter and school holidays.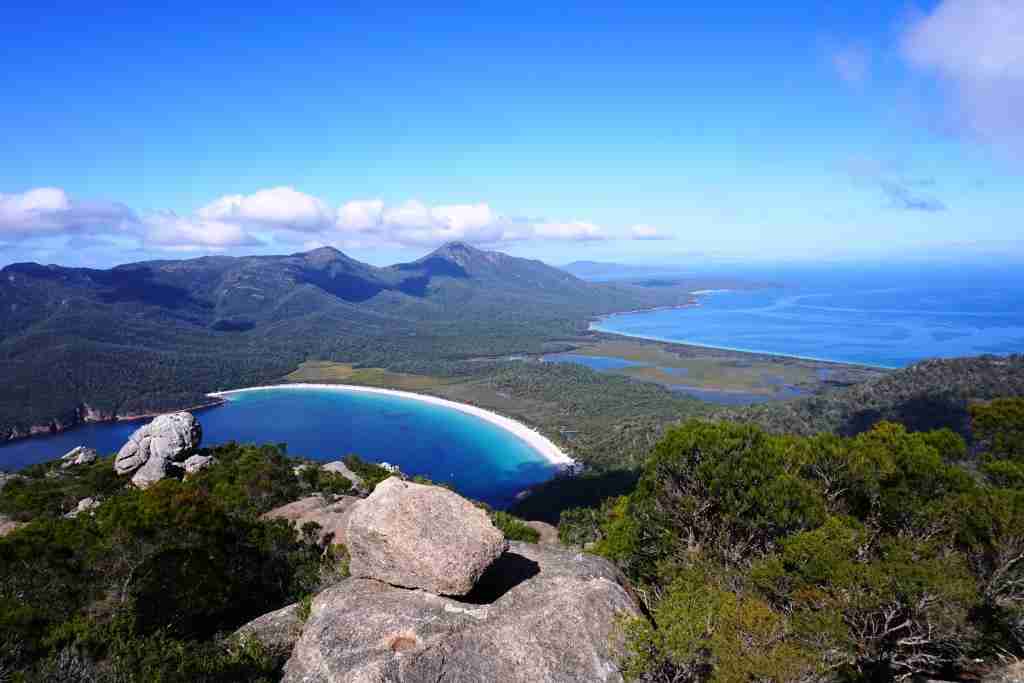 The best hotels in Tasmania – Wineglass Bay
Budget
Next to the National Park, the Big4 Iluka on Freycinet has cabins, YHA dormitory accommodation and good camping facilities with hot showers for tent campers and caravans. I stayed here on an unpowered tent site that was flat, sheltered, shady and near a camp kitchen. There's a small general store, takeaway fish & chips and a bar & bistro next to the campsite and across the road from the beach.
Camping inside the Freycinet National Park is available in designated areas but the facilities are basic and you can book through the National Parks Centre.
Upper Mid Range
The Freycinet Lodge is in a superb location inside the National Park and is easily accessible to all the lovely lookouts and walks. Guests love the mountain, sea and sunset views, the easy beach access, the awesome rooms and the wallabies and other wildlife nearby. It's like an oasis inside the National Park.
The Edge of the Bay Resort is another mid-range option located in a peaceful and private spot, 5 minutes from the centre of Coles Bay, there are birds and wallabies on the doorstep and stunning views.
Luxury
For a memorable experience, consider booking Eagle Peaks at Freycinet The reviews are exceptional and the location in Coles Bay is convenient. It has well-equipped, modern, and comfortable studio-type accommodation with a kitchen, lounge area and a private deck. Guests love the personal touch and the incredible view.
St Helens
North of the Freycinet Peninsula is St Helens, a small town on Tasmania's east coast. If you visit St Helen's on a road trip through Tasmania you'll enjoy the stunning coastal scenery. St Helens is on The Great Eastern Drive, one of Australia's most scenic roads and is the largest town in the area. It's just a short way from beautiful Binalong Bay and the stunning Bay of Fires.
Here you'll find powder white sands, turquoise waters and rocks covered in bright orange lichen and if you like game fishing, St Helens is the best place to go.
The best hotels in Tasmania – St Helens
Budget
I stayed at NRMA St Helens Waterfront Holiday Park, located on the outskirts of town on St Georges Bay and offering modern, spotless, well-appointed cabins, well-kept campgrounds with good facilities and a restaurant onsite.
My tent site was small and awkward to access at the top of a steep, gravel drive. Getting the car in & out of the site was a bit stressful but the view was lovely!
Big 4 St Helens Holiday Park gets great reviews for its location and facilities and is popular with families.
Free Camping: If you don't mind very basic facilities, there are some stunning places to camp for free near St Helens inside the Nature Reserve at Humbug and Dora Point with access via a dirt road.
Mid Range
For a more upmarket stay, the Queechy Motel offers clean, comfortable, well-presented cottages and guests love the great location by the water.
Just metres away from beautiful Georges Bay, Sweetwater Villas offers private, spacious apartments with air conditioning, fully equipped kitchens and gorgeous bay views from the balcony. The reviews are exceptional.
Travel Essentials
#1. A Travel Guide for Tasmania or Australia. I rarely travel without my trusted Lonely Planet Guide.
#2. I always use World Nomads travel insurance for peace of mind so I can concentrate on enjoying my trip without worrying about something going wrong.
Pin It! If you enjoyed this article why not save it for later?
More on Tasmania
Beautiful Tasmania Road Trip – 2-week Itinerary
Fun things to do in Hobart Tas mania in 3 days
Why Port Arthur in Tasmania is So Fascinating
Why You'll Love Visiting Wineglass Bay in Tasmania