Beautiful Vietnam in 3 Weeks from Top to Toe
In this exciting itinerary, you'll travel the length of Vietnam in 3 weeks beginning in busy Ho Chi Minh city in the humid tropical south of the country. Formerly known as Saigon, Ho Chi Minh City is famous for crazy traffic, modern skyscrapers, French colonial architecture, and great food. For a change of pace, you'll escape to a tropical beach Paradise on Phu Quoc Island and visit the colourful floating markets of the Mekong Delta.
After a brief return to Ho Chi Minh City, you'll travel to central Vietnam to visit historical Hoi-An and royal Hue. Heading inland you'll see the largest cave system in the world in Phong Nha Ke Bang National Park and enjoy more stunning karst scenery on a Ha Long Bay cruise. Hoi An, Hue, Phong Nha-Ke Bang and Halong Bay are all UNESCO World Heritage-listed and amazing places to visit.
Your 3 weeks in Vietnam end in the capital Hanoi, with its rich, vibrant culture and centuries-old architecture. With a mix of Southeast Asian, Chinese and French influences travelling in Vietnam is a fascinating experience. This trip is varied and packs a lot into 3 weeks in Vietnam. I've included alternatives and optional extras for those who have more time to spend. You could easily stretch this Vietnam itinerary to 4 or 5 weeks.
I loved travelling in Vietnam and I've listed the hotels that I stayed in as well as others that may be of interest. I hope it helps you with your trip planning!
** Check with your local government for the latest travel advice for Vietnam
Disclosure: This article contains some affiliate links. If you make a booking through a link on this page I may receive a small commission. There is no extra cost to you and it helps keep this website running. I appreciate your support!
Beautiful Vietnam in 3 weeks
Book flights to arrive in Ho Chi Minh City & leave from Hanoi (or do this trip in reverse).
Reduce your travel stress by booking a transfer from the airport to your hotel in Ho Chi Minh City or Hanoi.
Buses and trains can be booked online with 12Go Asia
Day 1
Ho Chi Minh City
Arrive in bustling Ho Chi Minh City and spend the day getting your bearings and a taste for fascinating Vietnam.
Day 1: Visit the Taoist Jade Emperor Temple, the Museum of Vietnamese History and escape from the craziness of the city into the lush Botanical Gardens. Grab a bite to eat at the food market and sample Banh Mi, a delicious meal that the locals love.
Where to stay in Ho Chi Minh City
Mid Range: Duc Vuong Hotel ** I enjoyed the fabulous service, the central location and the rooftop bar decorated with colourful lanterns.
Luxury: For an upmarket option try the Hotel Majestic This hotel gets exceptional reviews for its prime location near the river and restaurants and its excellent service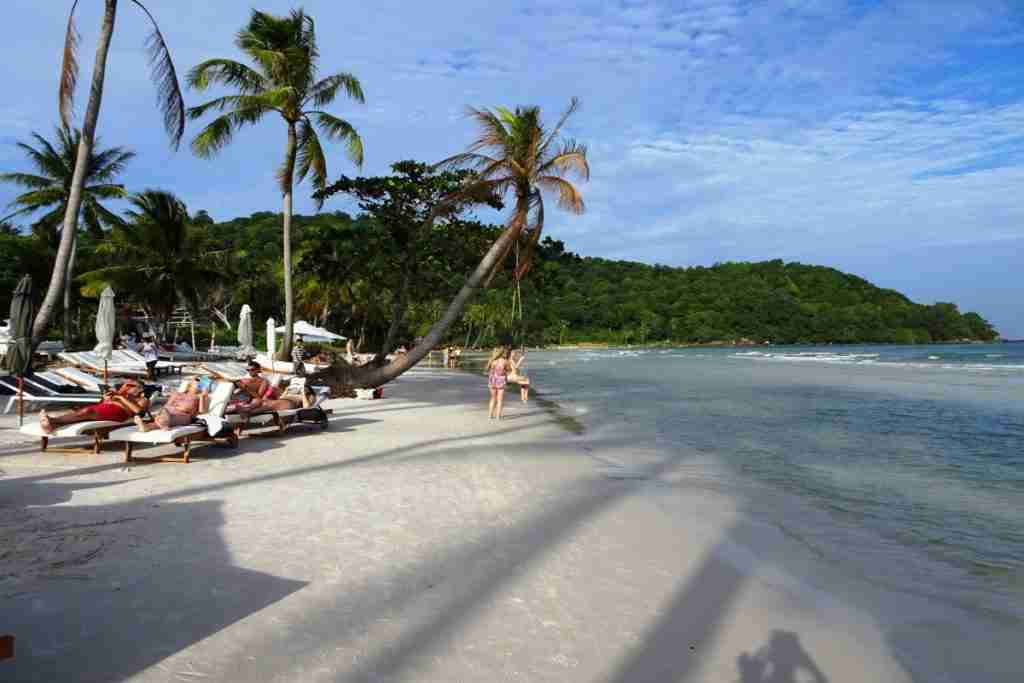 Travel Day 2
Fly to Phu Quoc Island and arrive late morning. I flew with Vietnam Airways.
Phu Quoc Island
Enjoy a change of pace and relax in a tropical paradise with stunning beaches and perfect beach sunsets.
Days 3 & 4
Relax on one of many beautiful tropical beaches, take a snorkelling boat trip & island tour, visit the night market and try the street food. Phu Quoc island is quite big and it's fun to explore the island by motorbike.
Where to stay on Phu Quoc Island
Mid Range: Sunshine Bungalows These basic bungalows are set in a pretty tropical garden and are close to the beach. I enjoyed my stay here. The bungalow had everything I needed, including a safe, and reception arranged my onward travel and tours.
Luxury: If you're after more luxury try the Shells Resort & Spa With a pool & its own private beach it gets excellent reviews.
Travel Day 5
Travel to the mainland on the Superdong Ferry + bus to Can Tho US$27 (via Rach Gia all transfers are included)
Can Tho
Spend the night in the Mekong Delta at Can Tho. Book an early morning boat tour to the colourful floating markets and dine in an outdoor restaurant beside the Mekong river.
Where to stay in Can Tho
Mid Range: Holiday One Hotel This comfortable hotel is a little bit out of town. I enjoyed relaxing by the pool and was a bit taken aback to find the entire street under a few inches of water when I returned to the hotel after dinner. The street floods with the King tides and no one bats an eyelid.
Luxury: The five-star Sheraton Can Tho offers luxurious accommodations with spectacular river views and amazing service.
Travel Day 6
Rise before dawn for a boat tour of the colourful floating markets on the Mekong River. I can recommend Itieu Tours (US$29). Call in at the Can Tho Ong Temple and the Truc Lam Temple & monastery in town.
Then take an afternoon Futa bus back to Ho Chi Minh City. The trip takes around 3 – 4 hours.
Ho Chi Minh City
Spend a couple of days exploring Saigon and beyond
Day 7
Visit the impressive Independence Palace and learn about Vietnam's tragic modern history at the War Remnants Museum. Visit the Notre Dame Cathedral of Saigon and eat at the food market. Try some Banh Mi for breakfast. it's a traditional crispy bread roll with a savoury filling.
Day 8
Take a bus trip to the stunning Cao Dai Great Temple and see the locals praying during a religious service. Watching the worshippers kneeling in lines, dressed in white was a fascinating experience.
The Cui Chi Tunnels are also outside Ho Chi Minh City and when you visit you can relive history and see how the local Vietnamese people survived during the brutal civil war.
South Vietnam itinerary extension
If you have a couple of extra days, catch a bus to Cat Tien National Park – stay overnight inside the park at the Green Cat Tien and track wild gibbons at dawn.
TIP: the gibbon trek tour leaves very early in the morning and you must sleep inside the park to see the wild gibbons & do the night wildlife spotting safari. Book in advance through the Cat Tien National Park office.
Then catch an afternoon bus to Da Lat & stay a couple of nights at the Fortune Doi Hoi Hotel. From there you can travel by bus to Nha Trang and stay at the Nhi Phi Hotel. Chill out on the beach for a day or two then take an overnight sleeper train to Danang.
Where to Stay in Ho Chi Minh City
Return to the same hotel or choose another:
Mid Range: Try the new Zazz Urban Ho Chi Minh Hotel in District 5.
Luxury: The Myst Don Quoi is a five-star hotel with stunning river views and spacious, comfortable rooms. It gets exceptional reviews for its great location and service.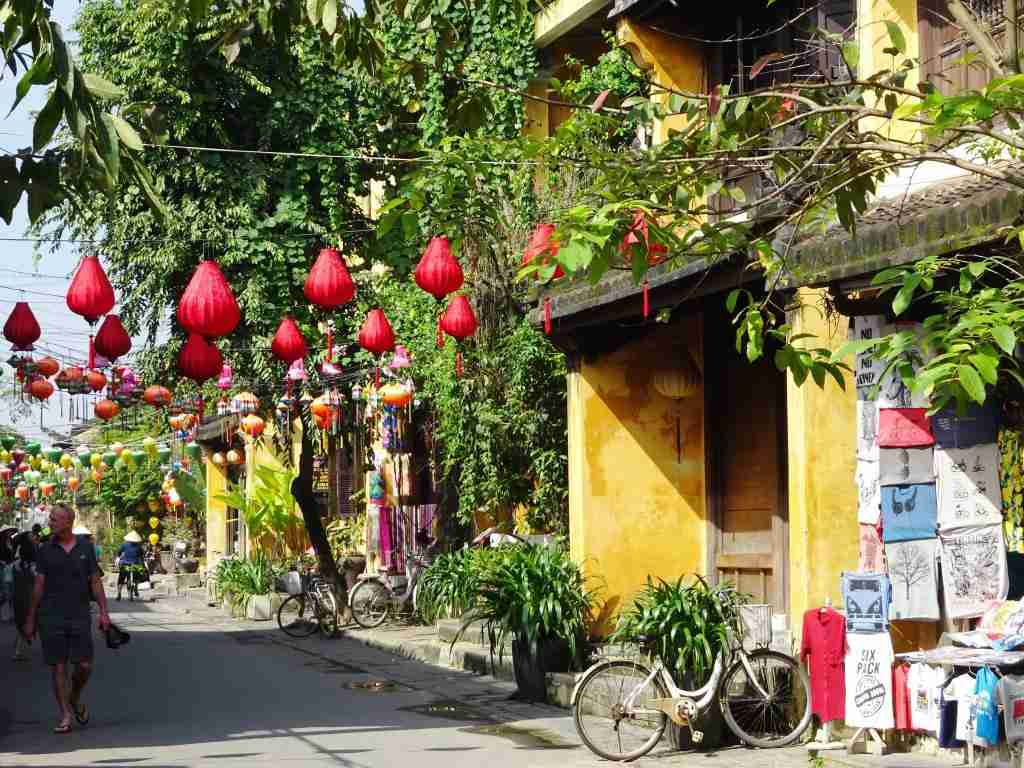 Travel Day 9
I took an afternoon flight from Ho Chi Minh City to Danang with Vietjet Air and a taxi to Hoi An.
Hoi An
Brimming with old-world charm, the historical town of Hoi An is a favourite destination for sightseeing and shopping. A popular thing to do is to have your clothes made to measure at one of Hoi An's many tailors. During the day you can visit beautiful traditional houses and temples and shop for souvenirs or clothing. At night the Old town lights up with colourful lanterns and the night market is bustling with many clothing and souvenir stalls and a great selection of street food.
Days 10 – 12
Visit the Ancient Town is a highlight of this Vietnam itinerary. The Chinese Assembly rooms, temples & wooden shophouses, the Japanese Covered Bridge, French Colonial buildings, and ornate Vietnamese houses with strings of colourful lanterns are all wonderful to visit. At night Hoi An lights up and you can visit the night market and take a boat out on the river.
Hoi An is a great place to go shopping. You can have your clothes made to measure by a local tailor.
A Vietnamese cooking class is a great way to learn about local food. I loved the Green Bamboo traditional Vietnamese cooking class. We spent the day shopping at the local market, cooking and eating some delicious traditional food. This course is popular so book in advance.
The Hindu temple ruins at My Son are another popular day trip and I enjoyed hiring a pushbike and cycling to An Bang beach.
Where to stay in Hoi An
Mid Range: Green Apple Hotel** I loved staying here and especially enjoyed the wonderful service. The rooms are new and spotless though perhaps a bit clinical. I enjoyed the pool and the shuttle service to the old town. Bike hire is also available.
Luxury: If you're after something more upmarket try the Allegro Hoi An. A Little Luxury Hotel & Spa Guests love the stunning rooms, building and decor and the wonderful service.
Travel Day 13
On day 13 of your 3 weeks in Vietnam, you'll head off on an adventure Southeast Asia style on an Easy Rider motorbike tour. Your driver will strap your luggage on the back of his bike and show you the sights from Hoi-An to Hue. I loved the stunning coastal scenery over the famous Hai Van Pass and I was delivered directly to my hotel in Hue. Along the way, I explored Marble Mountain, visited Danang beach, Dragon Bridge, and Elephant Falls, and stopped at several stunning viewpoints. A day tour is a great way to see the local sights!
Hue
Day 14
With just 3 weeks in Vietnam, you'll spend only one day in royal Hue, the ancient capital of Vietnam. I was able to see the best of Hue on a day tour. that included the Royal Palace, the Royal Tombs and a Perfume River Cruise.
Where to stay in Hue
Mid Range: Serene Shining Hotel and Spa This comfortable hotel is located right on the river and I had a lovely water view from my window.
Luxury: The Melia Vinpearl Hotel Hue has an exceptional location and spectacular city views.
Travel Day 15
Take the bus to Phong Nha Ke Bang for US$12 (5 hours) – the bus passes right past the Lake House Resort in Phong Nha and the driver was happy to drop me off. Make sure you arrange this in advance.
Phong Nha-Ke Bang
Phong Nha-Ke Bang National Park is a great addition to this Vietnam itinerary. It's not on the main Vietnam tourist trail but it is a hidden gem. Stunning karst scenery and phenomenal limestone caves make Phong Nha a superb place to visit.
Days 16 & 17
Visit the amazing Phong Nha Cave by boat, b awestruck by the phenomenal size of Paradise Cave and trek through the Phong Nha Botanical Gardens. These botanical gardens are a series of jungle trails and require some strenuous walking. After sliding through the mud I found myself at the bottom of a pretty waterfall. I then had to haul myself up the side of the waterfall using ropes to reach the exit and my ride back. to the hotel.
Discover more about Spectacular Phong Nha
Where to stay in Phong Nha
Mid Range: Lake House Resort**I loved staying at the Lakehouse in this scenic location. My bungalow was huge and had a private balcony right on the water and the service was wonderful. It's a bit out of town but the bus stops right at the front door.
Luxury: Victory Road Villas also gets exceptional reviews for its beautiful surroundings. It's a gorgeous villa with fabulous views.
Travel Day 18
On Day 18 of this Vietnam itinerary, you'll take a bus to Dong Hoi to meet the overnight sleeper train to Hanoi.
Book your bus and train e-tickets in advance online. I used & can recommend 12go Asia
Vietnam in 3 weeks – itinerary extension
As an extension to this 3-week Vietnam itinerary, you could stay a while longer in Phong Nha. Book a tour and spend several days hiking and exploring the more inaccessible caves in Phong Nha Ke Bang National Park. You could also break the trip to Hanoi and stop for a night or two at Ninh Bin / Tam Coc for more stunning scenery and temples.
Hanoi
I loved staying in the historical Old Quarter in Hanoi and enjoyed the French colonial charm of Vietnam's capital. The experience of queuing at the Ho Chi Minh Mausoleum with thousands of locals to see the embalmed body of Ho Chi Minh was a bizarre cultural awakening and the first dead body I've seen. Getting around Hanoi on the back of a motorbike taxi or in a tuk-tuk was lots of fun.
TIP: I arranged my Ha Long Bay 2-Day Cruise when I arrived in Hanoi and it included transfers to Ha Long Bay from the hotel.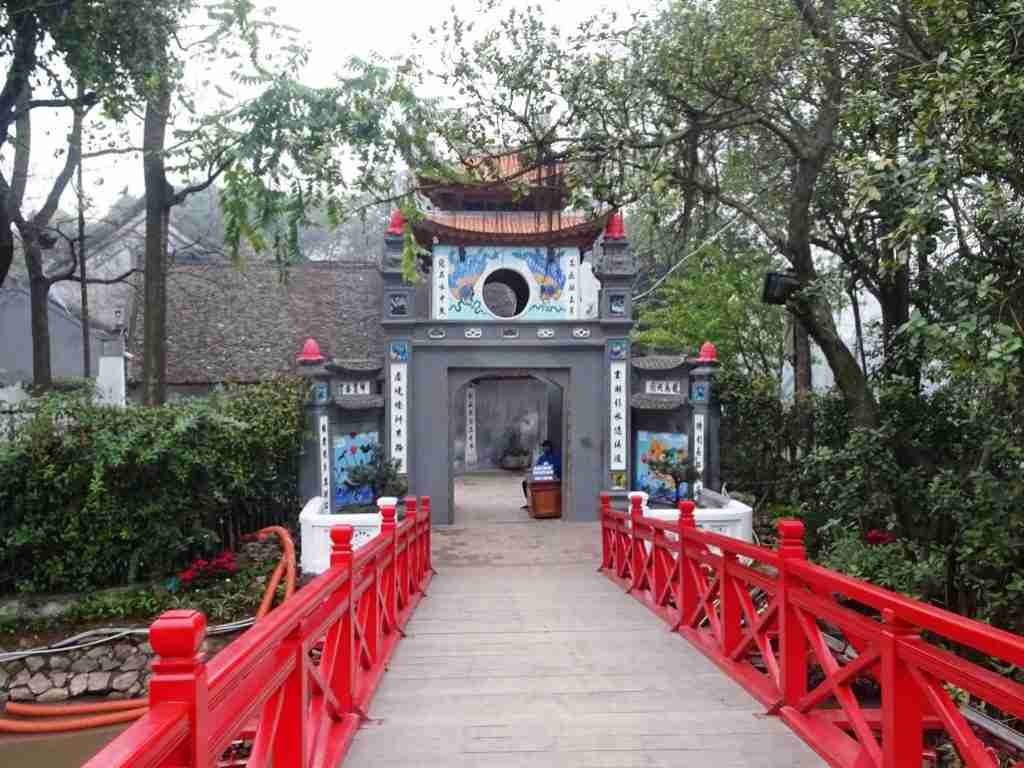 Day 19
With only 3 weeks in Vietnam, you'll have just a couple of days in the capital Hanoi. But you'll have time to see Hoan Kiem Lake, Ngoc Son Temple, the Temple of Literature and Train Street. watch a dazzling local circus performance in the evening and visit the busy Night Market for shopping and street food.
Queue at the Ho Chi Minh Mausoleum to view the embalmed body of Ho Chi Minh, visit One Pillar Pagoda and the Tan Quoc Pagoda nearby. Try and buy some delicious local Vietnamese Coffee
Where to stay in Hanoi
Mid Range: I stayed in the old quarter at the Hanoi Graceful Hotel I loved the intricately carved bed head and the quaint balcony in my room and the central location.
Luxury: The Oriental Jade Hotel is a small, upmarket hotel with a personal touch and a rooftop pool. The location in the Old quarter is exceptional and so are the reviews.
Ha Long Bay
Days 20 & 21
A highlight of your 3 weeks in Vietnam is taking an overnight cruise on stunning Ha Long Bay The emerald waters of lovely Halong Bay are dotted with tiny jungle-covered islands and there are lookout points and limestone caves to visit.
My overnight cruise included a bus to Halong Bay with hotel transfer (4 hours) all meals & activities, sightseeing stops, kayaking and morning Tai Chi.
TIP: Leave your luggage in storage at your hotel and take a small overnight bag on the cruise.
Click here for more on Cruising Stunning Halong Bay
Hanoi
End this Vietnam itinerary with some more sightseeing in the capital, Hanoi before you collect your luggage and connect with your flight home.
North Vietnam – Itinerary extension
If you have a few extra days you can spend an extra night or two enjoying stunning Halong Bay or take an overnight train to Sapa for hiking in the mountains, stunning scenery, beautiful rice fields, & colourful markets.
Travel Essentials
For peace of mind make sure you buy travel insurance before you go, especially if you are travelling solo. I use Travel Insurance that covers me for overseas medical, lost baggage, and other expenses and I can concentrate on enjoying my trip without worrying about something going wrong.
A Travel Guide book for Vietnam is also essential. I rarely travel without a trusted Lonely Planet Guide.
Pin It! If you enjoyed this itinerary why not save it for later!
Vietnam Itineraries & Travel Tips
An Exciting 10-day Itinerary in Vietnam's Tropical South
North Vietnam in 2 Weeks: A trip You'll Love
Travelling in Vietnam – What You Need to Know
20 Best Things to do in Hoi An Vietnam
Don't forget your trusted Lonely Planet Guide. I rarely travel without one.