Best 10 Days in Cambodia – Highlights & Tips
This varied 10 days in Cambodia itinerary will show you the highlights of Cambodia, from the ancient jungle temples at Angkor Wat to the popular beaches of Sihanoukville. Visit the glittering Royal Palace in the Khmer capital, Phnom Penh, and be moved to tears by the war memorials at the Tuol Sol Genocide Museum and the Killing Fields. End your 10 days in Cambodia relaxing in a tropical paradise with palm-fringed beaches and perfect sunsets.
This itinerary includes essential travel tips for Cambodia to help you plan where to stay, what to see, where to eat and the best places to visit. With 10 days in Cambodia, you'll have enough time to see the highlights and experience the colourful markets and the warmth of the local people.
Solo Travel in Cambodia
This 10-day Cambodia itinerary is perfect for solo travellers. If you're a bit nervous about traveling solo these travel tips for solo female travellers will help you to have a successful and fun experience even if it's your first time travelling alone. Cambodia is safe and friendly and I had an amazing time travelling solo in Cambodia.
But if you're looking for a more in-depth experience, my 18-day Cambodia itinerary will show you even more of this fascinating country. You'll have time to travel by riverboat to Battambang and explore the provinces of Kep and Kampot as well as see the highlights of Cambodia in Siem Reap, Phnom Penh and Sihanoukville. So definitely spend more time in Cambodia if you can.
**Covid-19 restrictions are in place in Cambodia. Check with your local government for the latest advice for travel to Cambodia.
This page contains affiliate links, which means I may make a small commission on purchases made through those links. This does not cost you any extra and helps to keep this website running! I appreciate your support!
10 days in Cambodia – Highlights & Travel Tips
These 10 days in Cambodia begin in Siem Reap with one of the highlights of Cambodia, visiting the ancient jungle temples of Angkor Wat. You'll need to book return flights to Siem Reap International Airport. And book a domestic flight from Sihanoukville back to Siem Reap to meet your flight home.
Alternatively, you can fly into the capital Phnom Penh and travel overland to Siem Reap by bus but you'll need to allow an extra day for travel. You'll be visiting Phnom Penh anyway on this itinerary so it's easiest to start your trip in Siem Reap.
TIP: Book a transfer from the airport to your hotel in Siem Reap or Phnom Penh and take the stress out of your arrival in Cambodia.
Buses and trains can be booked in advance with 12Go Asia
Highlights of Cambodia – Siem Reap
You'll have 3 days in Siem Reap to explore the largest temple complex in the world at Angkor Wat. Visiting Angkor Wat is one of the highlights of Cambodia. It's a UNESCO World Heritage site and the immense size of the temple complex is astounding.
Hire a tuk-tuk or book a 2-day Angkor sunrise tour in advance.
Day 1: The best time to visit ancient Angkor Wat is at sunrise on the Grand Temple Circuit Tour.
Day 2: Take the Smaller Temple Circuit Tour and visit more stunning temple ruins in the Angkor complex.
Day 3: Visit stunning temple ruins at Bantay Srei with its intricate carvings or Beng Melea in the jungle.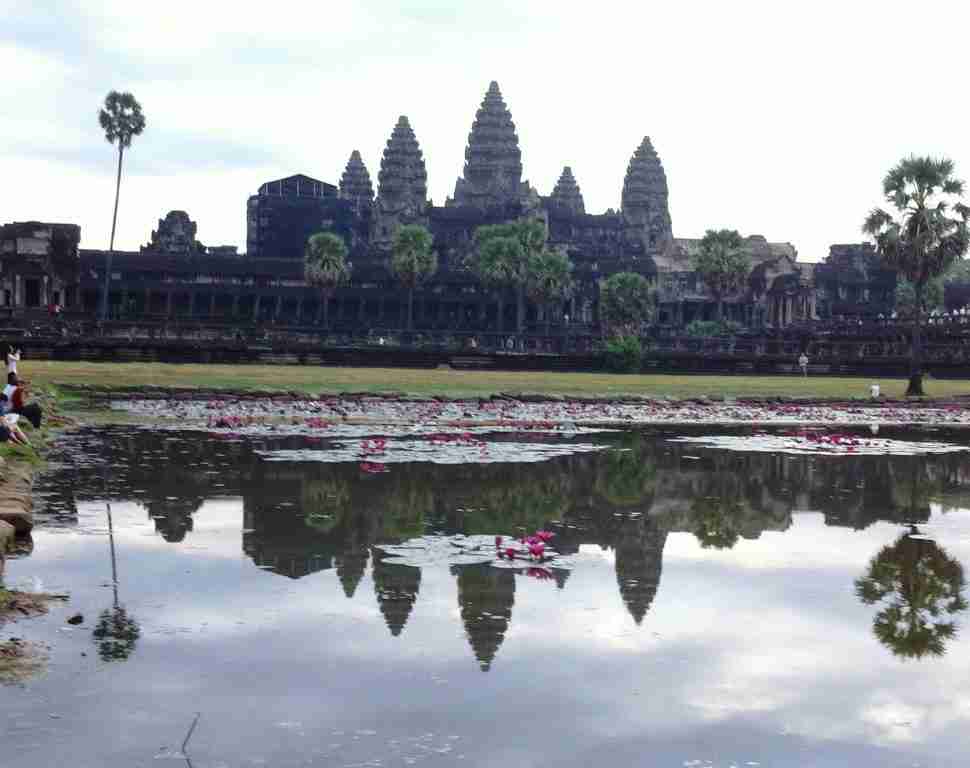 More fun things to do in Siem Reap
When you've seen enough temple ruins there are lots of things to do in Siem Reap.
Visit the Angkor National Museum and learn more about ancient Khmer history.
Take a Cambodian cooking class at Le Tigre Papier Restaurant – I enjoyed this!
Visit the local Buddhist Temples & the monastery in Siem Reap
See the floating villages on the Tonle Sap River
Take a day tour to the Phnom Kulen Waterfall
Explore the ancient trails around Siem Reap on a motorbike
Shopping in Siem Reap
Siem Reap has some fantastic places to shop. If you enjoy shopping, the markets in Siem Reap will be one of the highlights of Cambodia. For souvenirs head to the Old Market in town & visit the Night Market by the river. Look out for Cambodian silk scarves, clothes and homeware, fresh Cambodian pepper, and wooden carvings.
Don't forget you'll be returning to Siem Reap so you can shop for gifts and souvenirs just before your return flight.
Artisans Angor sells quality clothing and gifts made by local artisans. It's a business with a social conscience that provides jobs for young people making traditional arts and crafts. Visit the workshops and the gift shop in Siem Reap. It's just a 2-minute walk from the Old Market in the centre of town. The silk clothing and homewares are really lovely and it's a great place to buy gifts.
Pubs & Nightclubs in Siem Reap
If you feel like a night out on the town head to Pub Street, There are many restaurants, bars and nightclubs on this strip so take your pick and have a great night out in Siem Reap.
Where to eat in Siem Reap
There are some great places to eat in Siem Reap. I liked Khmer Kitchen and Le Tigre Papier on Pub Street. I loved the delicious fresh iced mango drink at Le Tigre Papier and the fresh spring rolls.
Where to stay in Siem Reap
Mid Range: I stayed at The Kingfisher Angkor Hotel, located away from the noisy nightclubs of Pub Street but just a short walk to restaurants, the Night Market and all the action on Pub Street. The service here was OK. My room on the top floor was spacious with a huge bathroom & a balcony. I loved the pool area but the lift was sometimes out of service & the front rooms were a bit noisy. Ask for a room away from the street.
Luxury: For a more upmarket option try The Night Hotel. It has a great location and gets exceptional reviews.
Travel Day 4: Travel by bus to Phnom Penh (5 Hours)
Phnom Penh
Visiting the capital, Phnom Penh is one of the highlights of Cambodia. You'll have 2 days here to explore the Royal Palace grounds and learn about Cambodia's tragic war history.
Day 4: Take an early morning bus from Siem Reap to Phnom Penh (5 hours). You should arrive in Phnom Penh in the afternoon with enough time to visit the beautiful Royal Palace and the Silver Pagoda. Next door to the Palace is the National Museum of Cambodia and it's a beautiful building with some interesting cultural & historical exhibits.
Wander around the riverfront and visit Wat Ounalom. You're likely to meet a friendly monk wanting to practise his English
Visit the Russian Market to buy souvenirs. It takes about 20 minutes from the riverfront in a tuk-tuk to get there. I liked the markets in Siem Reap better so maybe give this a miss if you're short of time.
End the day with a sundowner and watch the sunset over the Tonle Sap River with a cocktail in your hand. I watched the sunset from the legendary Foreign Correspondents Club but unfortunately, it has closed.
Day 5: You'll spend today learning about the tragedy of Cambodia's modern history. Visit the Tuol Sleng Genocide Museum. Take the audio tour to get a better understanding of the Cambodian Genocide during the Khmer Rouge Regime (Open from 8 AM – 5 PM)
Visit the Cheung Ek Killing Fields. They are around 17km outside Phnom Penh so booking a tour is a good option.
Take a Sunset river cruise on the Tonle Sap River.
Where to stay in Phom Penh
Mid-Range: I stayed at the Red Hibiscus Hotel and this was a good mid-range option. My room was comfortable and the location near the Tonle Sap Riverfront was very good, just a short walk to the Royal Palace & Silver Pagoda and the National Museum.
Luxury: For more upmarket accommodation try The Frangipani Royal Palace Hotel with river views, a pool & a fantastic location right next to the Royal Palace. This hotel looks amazing although I didn't stay here.
If you enjoy a colonial atmosphere, the Foreign Correspondents Club has guest rooms, a view of the river and a great location.
Travel Day 6: Take a bus to Kep (4 x hours) or Sihanoukville (approx. 5 x hours)
TIP: Book transport in Cambodia online with 12Go Asia.
Beaches of Cambodia
With just 10 days in Cambodia, you'll have the choice of visiting popular Sihanoukville or sleepy Kep. Sihanoukville is a busier more touristy option with tropical islands just offshore, busy nightlife and 16 casinos to choose from. Sihanoukville has its own airport and you'll be flying back to Siem Reap from Sihanoukville so it's a logical choice for a beach break with only 10 days in Cambodia.
However, low-key Kep is also a good choice but you'll spend more time travelling. From Kep, it's almost 2 hours by taxi or 3 hours by bus to the airport at Sihanoukville. I loved staying in Kep and for me, it was one of the highlights of Cambodia. It's smaller and much quieter than Sihanoukville with a lovely beach, a tropical island offshore and hiking in the forest. You'll see some stunning beach sunsets at both Kep and Sihanoukville.
This18 day Cambodia itinerary includes both Kep and Sihanoukville and more.
Sihanoukville – Otres Beach
One of the highlights of Cambodia is the beautiful beaches on the Gulf of Thailand. In this itinerary, you'll have 3 days soaking in the sun and sand at Otres Beach in Sihanoukville.
If partying at night and chilling out on the beach during the day is your scene, then you'll be happy here. Sihanoukville is a backpacker haven and has its own airport. It's more touristy and more expensive than Kep or Kampot.
I stayed at Otres Beach because it's quieter than the main parts of Sihanoukville. The sunsets are stunning and Otres has a lovely beach, lined with palm trees.
Day 7 – 8: Relax in Sihanoukville & choose from a few things to do.
Chill out on the beach, go for a walk
Take a yoga class.
Take a tuk-tuk into town, swim at Serendipity & Independence Beach and stroll along the pier.
Head out to Kbal Chhay Waterfall for a change of scene.
Day 9: Take a small boat out to Ko Ta Tiev Island for snorkelling and beautiful scenery. If you prefer to island-hop on a high-speed ferry you can visit Koh Rong or Koh Rong Samleom in 45 minutes.
If you fancy staying overnight on a tropical island, head to Koh Samleon for a low-key atmosphere and stunning sunsets, or to Koh Rong to party on one of the best beaches in Cambodia.
Travel Day 10: It's time to fly back to Siem Reap or Phnom Penh to meet your flight home. Sihanoukville is 20km from the airport and it takes around 40 minutes in a taxi so allow plenty of time before your flight.
Alternatively, you can travel by bus to Siem Reap (11 hours) / Phnom Penh ( 5.5 hours)
Where to stay in Sihanoukville
Mid-Range: I stayed at White Moon Bungalows at Otres Beach. The bungalow was new, clean & unremarkable but the location was very good near the beach & restaurants. **There was no safe box in the room or at reception.
Luxury: For more upmarket accommodation try Naiya Resort. It has a fantastic location right on Otres beach and gets great reviews.
Travel tips for Cambodia
If busy, touristy Sihanoukville does not appeal, low-key Kep or Kampot may be more your style. You'll have 3 days to see the sights of the area from either Kep or Kampot. Kampot has pretty river views but sleepy Kep is on the coast and there are islands and forests to explore. Kep is where I would stay if I had to choose.
Kep has a pretty beach with restaurants near the water and a small shopping centre. Otherwise, the town is quiet and very spread out.
Kep – Alternative Itinerary
Day 6: If you catch a morning bus from Phnom Penh you'll arrive around midday. You can chill out on the beach for the afternoon and enjoy a beautiful sunset with a cocktail & dinner at the Kep Sailing Club. This was my favourite place to hang out for an evening in Kep.
Day 7: Spend the day on Koh Tonsay (Rabbit Island). It takes 20 minutes in a small boat from Kep
Cycle to the Kep Crab Market & try the local speciality Pepper Crab, for lunch or dinner at Kimly Restaurant. Be warned eating crab is very messy but it's delicious!
Day 8: Take a Tuk-tuk tour to Phnom Chnork Cave Temple, Secret Lake & the Pepper Plantation.
End the day in Kampot with a cocktail at the bar overlooking the river at Rikitikitavi.
Day 9: Go hiking in the Kep National Park to enjoy lush, green forest views.
Watch the sunset in Kep from Veranda Natural Resort and enjoy a cocktail at the bar with a view. Very nice!
Travel Day 10: On the last of your 10 days in Cambodia you'll fly back to Siem Reap. Your flight will leave from Sihanoukville Airport,110 kilometres away from Kep. It takes around 1 hour and 45 minutes in a taxi (cost US$65)
Alternatively, you can catch a bus from Kep to Sihanoukville (3 hours) / Kampot to Sihanoukville (2 hours) / Kep to Phnom Penh (4 hours). There is no direct bus from Kep to Siem Reap.
Where to Stay in Kep & Kampot
Mid-Range: I can recommend the Botanica Guest House in Kep. The rates were very reasonable and I had a lovely bungalow with a private balcony & hammock. The pool was very refreshing & they offer free pushbikes to help you get around.
Luxury: Alternatively, Veranda Natural Resort has more upmarket accommodations with lovely views over Kep and out to sea. If you're looking for a bit more luxury, consider staying here.
If you prefer to sleep in Kampot I can recommend mid-range Villa Vedici or, for a more upmarket option in the centre of town, Rikitikitavi gets great reviews.
Travelling to Vietnam from Kep
If you're travelling to Vietnam from Cambodia you can stop in Kep on the way. Kep is around 20 kilometres from the border crossing at Ha Tien.
Kep to Phu Quoc Island (4 x hours) / Kep to Can Tho (5 x hours) / Kep to Ho Chi Minh City (11 x hours)
Travel essentials
#1. A Travel Guide for Cambodia will help you plan your trip and always comes in handy when you're away. I rarely travel without a trusted Lonely Planet Guide.
#2. Travel Insurance is a travel essential. For peace of mind, I use and recommend travel insurance for all overseas travel
You might also enjoy
Vibrant Phnom Penh in Cambodia – 8+ Highlights
The Best of Cambodia in 18 Days
Why Angkor Wat in Cambodia is so Special
How to Visit Charming Battambang in Cambodia
Solo Travel in Cambodia – What you Need to Know
Pin it! If you enjoyed this article why not pin it and save it for later