Solo Travel in Vietnam – What You Need to Know
If you're planning on travelling solo in Vietnam there are lots of things you'll need to know from how to get around, when to go, visas, money, how to stay connected and what to wear. If you're a solo traveller like me you'll probably be looking for safety tips and advice as well. This article is full of information to help you plan a fantastic solo trip to Vietnam.
The first thing you need to know is that Vietnam is a wonderful place to visit and generally safe for solo travellers if you take the usual safety precautions. There's stunning scenery, beautiful beaches, friendly locals, delicious food and plenty of history both ancient and modern with a great choice of UNESCO World Heritage sites to visit. Throughout the country, there's evidence of the brutal civil war that tore the country apart from 1954 to 1975. Some of the museums and memorials are quite distressing but educating yourself about the country you're visiting is one of the benefits of travelling.
Vietnam's cities are big and very busy. The traffic in Ho Chi Minh City is so crazy that just crossing the road can be challenging. And the capital Hanoi is full of charm with a lovely Old Quarter that's sure to impress you with its elegant French architecture, a reminder of Vietnam's colonial past.
Vietnam is an ideal destination for female solo travel and these tips will help you to have a successful solo travel experience in Vietnam.
Highlights of solo travel in Vietnam
I loved solo travel in Vietnam and these are some of the highlights:
cruising on gorgeous Halong Bay
exploring the quaint and historical old town of Hoi-An
the impressive Royal Palace and Tombs in Hue
going underground in the largest caves in the world at Phong Nha- Ke Bang
relaxing on lovely Phu Quoc Island, a tropical paradise
the delicious food – try some Pho & Banh Mi
the colourful floating markets of the Mekong Delta
Itineraries for solo travel in Vietnam
Vietnam is a long thin country and there is quite a distance between Hanoi and Ho Chi Minh City with different climates in the north and the south of the country. There's a wide variety of things to see and do. I was there for 3 weeks and travelled the length of the country. But if you have less time, perhaps focus on either the north or the south of Vietnam. Below are some itinerary suggestions:
These itineraries are ideal for solo travel in Vietnam.
Beautiful Vietnam in 3 weeks from Top to Toe
North Vietnam in 2 Weeks: A trip You'll Love
An Exciting 10-Day Itinerary in Vietnam's Tropical South
Solo travel in Vietnam is easy and relatively safe. You can live comfortably without spending a lot of money or you can enjoy luxury accommodations and tours. The choice is yours. Here's what you need to know before you go.
Covid-19 travel restrictions may apply for travelling in Vietnam. Check with your local government for the latest information.
*Disclosure* – Some of the links on this page are affiliate links which means I may make a small commission on sales that result from clicks on those links. This does not cost you any extra and helps to keep this website running. Thank you for your support!
Travelling to Vietnam
Flights
There are international airports in Hanoi, Danang and Ho Chi Minh City so you can easily fly to Vietnam. But you may experience some culture shock when you first arrive, especially on a solo trip to Vietnam.
To take the stress and hassle out of your arrival, consider booking an airport transfer to your hotel in Ho Chi Minh City or Hanoi.
Visas
Australian & US citizens need a visa to enter Vietnam. Make sure your passport is valid for at least 6 months from the date of your arrival. You'll also need an empty page for your entry & exit stamps.
There are a few options for getting your visa. The easiest is to apply for an e-visa and pay online. You can also apply for a "visa on arrival" at an international airport in Vietnam. Check online for more information.
You can apply for your visa in person at a Vietnamese consulate before you travel to Vietnam or use an agency for your application and get a "visa approval letter" that is exchanged for a "visa on arrival" at the airport.
Travel in Vietnam
Vietnam is well connected by bus, train and air and this makes solo travel in Vietnam easy and relatively safe.
Book your bus and train tickets in advance with 12Go Asia. It's easy and convenient when you're travelling solo in Vietnam. You pay a small booking fee and receive your e-ticket by email.
Train
Travelling around Vietnam by train is a great option. You can travel comfortably the length of the country from Ho Chi Minh City to Hanoi on an air-conditioned train. The train trip is especially scenic between Da Nang and Hue where the train line follows the coast over the Hai Van Pass.
I caught a sleeper train from Dong Hoi to Hanoi and it was a comfortable overnight trip.
Click below for train timetables and more information
Bus
Buses are the cheapest way to get around when you're travelling in Vietnam. The country is well connected by buses and it's a good way to get to remote places. Many buses are built for small Vietnamese people and are very cramped and not always in good condition. On a sleeper bus in Vietnam, you have to lie down to travel even during the day and it's a real travel experience. There are also regular air-conditioned coaches on many routes.
Ferry
I caught the "SuperDong" Ferry from Phu Quoc Island to the mainland on my way to the Mekong Delta city of Can Tho. It was a very easy trip. All ferry fares, bus fares and transfers were included in the ticket. I was picked up at my hotel in Phu Quoc and dropped off at my hotel in Can Tho. The Superdong ferry trip was very rough and took several hours but the second leg on the bus was comfortable enough in an air-conditioned coach.
Domestic flights
When you are travelling in Vietnam you'll find there are quite long distances to cover between destinations so taking a domestic flight can be a good option. Airfares are cheap and popular but expect schedule changes. I flew with 2 domestic carriers in Vietnam, Vietjet and Vietnam Airways. My Vietjet flight was cheap, comfortable and on time but my Vietnam Airways flight had a last-minute schedule change. A mid-day flight from Ho Chi Minh City to Phu Quoc Island was changed to an unwelcome early morning time. The airport was very busy and there were long queues at security points so allow plenty of time for air travel.
Taxi
Mai Linh & Vinasun are both reputable taxi companies but there are many different taxis on the road. Make sure the meter is running when your taxi ride starts or you might be overcharged. If there is no meter, agree on a price before you get in the taxi. I always took a bright green Mai Linh cab and had no issues travelling solo in Vietnam.
Arriving at the airport in Ho Chi Minh City you can buy a taxi ticket before you leave the airport. The price to the city is fixed so you won't be overcharged Look for a ticket desk near the exit to the taxi stand (cost approx. US$10 / 22,000 Dong)
Motorbike
One of the benefits of travelling solo in Vietnam is getting around on the back of a motorbike. Riding pillion on a motorbike is a popular and fun way to see the country. You can head off on an adventure Southeast Asia style with an Easy Rider motorbike tour. Your driver will strap your luggage on the back of his bike and you'll ride along behind him as he shows you the sights. Or you can ride yourself but if you're in the driver's seat, you'll need a motorbike driver's licence or you may not be covered by your travel insurance. Make sure you wear a helmet and take care on the roads, the traffic can be crazy in Vietnam.
How to manage money on a solo trip to Vietnam
I know some people think it's risky, but I like to carry cash when I'm travelling. On my solo trip to Vietnam, I took Australian and US dollars with me and kept the cash in a hidden money belt around my waist when I was travelling. I also took 2 credit cards and locked all my valuables away in hotel safes, carrying only what I needed for the day with me. I like to have 2 wallets, one with a small amount of cash and another so I can keep larger amounts of money hidden.
This is what I experienced on my solo trip to Vietnam:
ATMs are easy to find when you're travelling in Vietnam and you can change cash with money changers and at banks.
Credit cards are widely accepted but you will still need to carry some local currency (Vietnamese Dong) to pay taxi drivers and for shopping etc.
US dollars are the easiest currency to exchange in Vietnam and cash US dollars are widely accepted.
Make sure your US dollars are new and in excellent condition or they may not be accepted.
Australian dollars are easy to exchange in major cities but take cash if you're travelling to smaller towns. I was unable to change my Aussie dollars when I was off the beaten track in Phong Nha in Central Vietnam.
Staying connected in Vietnam
When you're travelling solo in Vietnam, staying connected is very important for your personal safety and peace of mind. The best option for internet access while you're travelling in Vietnam is to buy a SIM card. They are easy to find and cheap to buy. Free wifi is available at most hotels and in restaurants but it is not a secure network and is less reliable than having your own internet access.
How to dress for solo travel in Vietnam
If you're travelling solo in Vietnam, you won't want to stand out or attract unwanted attention. Vietnamese people dress conservatively. Shorts and singlet tops are usually not appreciated so cover up and you'll fit right in. I took several long-sleeved shirts and lightweight long pants for my solo trip to Vietnam.
When visiting a temple, dressing conservatively is considered a sign of respect. Cover your knees and shoulders or you may not be allowed to enter.
Never sit with your feet pointing towards the Buddha. This is considered very impolite behaviour.
Health & wellbeing
Staying healthy is very important when you're travelling solo in Vietnam. Here are some travel tips to help you stay well:
Don't drink the water! Always drink bottled, boiled or purified water when you are travelling in Vietnam. Boiled tap water is usually safe to drink.
See your doctor for medical advice before you leave home. Travel vaccinations will probably be required and malaria tablets will be needed when you visit certain parts of Vietnam.
Don't flush your toilet paper when you are travelling in Vietnam. Use the bin provided. The sewerage systems can't handle it.
For peace of mind, a Travel Insurance policy is essential, especially if you're travelling solo in Vietnam. You'll know that you're covered, whatever happens, while you're travelling in Vietnam. I used World Nomad travel insurance for my solo trip to Vietnam and for other overseas travel.
Travel Safety in Vietnam
Vietnam is generally a very safe place to visit but do watch out for petty theft and scams, especially if you're travelling solo in Vietnam. One of the most overwhelming experiences on my solo trip to Vietnam was arriving in a new place and being met by a throng of taxi drivers. Whenever possible, I teamed up with other travellers and shared a taxi ride and this helped to make solo travel in Vietnam safer and more fun.
Here are some tips for travel safety in Vietnam:
Plan ahead and know where you're going when you are travelling in Vietnam as this will help you to survive the taxi driver ambush at major airports, train & bus stations.
Riding on the back of a motorbike taxi or Xe Om is a fun way to get around when you're travelling solo in Vietnam. It's cheaper than taking a regular taxi but you can expect to breathe in more dust & exhaust. Ask your driver for a helmet & wear a facemask.
Find out if it's safe to be out alone at night. Ask your hotel reception for local safety advice. I was told in Hanoi that it wasn't safe to walk alone in the dark so I teamed up with other travellers for safety.
Know where you are and where you're going when you're travelling solo in Vietnam. Take a Vietnam Travel Guide Book with you as it's packed with information and will help you to plan a great trip. I always travel with a trusted Lonely Planet Guide.
If you feel like some company when you're travelling solo in Vietnam, or you're concerned about safety, then why not book a tour?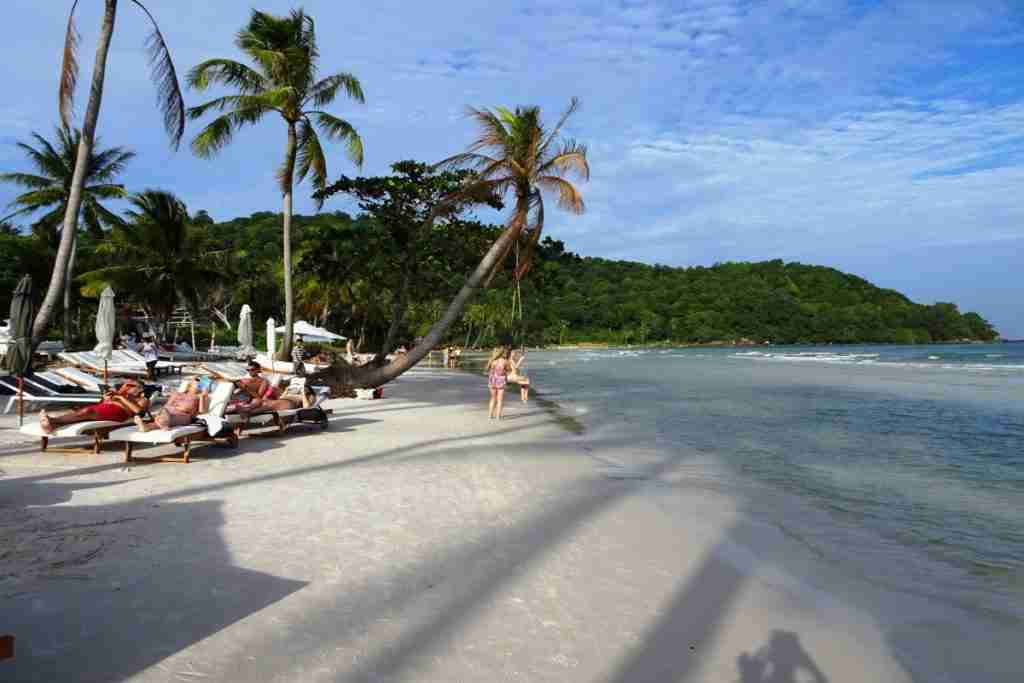 The best time for a solo trip to Vietnam
Vietnam is a long, narrow country and there are different climates in the tropical south, the centre and in the north. This means that anytime is a good time to visit.
Southern Vietnam
Ho Chi Minh City and the Mekong Delta are hot all year with temperatures around 25 – 28 degrees. The best time to visit is in the dry months of October / November. The monsoon from April to September can bring very hot humid weather and seasonal flooding. June and July are especially wet and the seas can be quite rough around Phu Quoc Island.
Central Vietnam
December to February is the best time to visit as temperatures are milder and there is less rainfall.
Hoi An & Da Nang are quite wet from September to December and there is often flooding in Hoi An in October / November. Typhoon season can bring severe storms from August to November.
Further south from Nha Trang to Mui Ne, there is a longer dry, sunny season.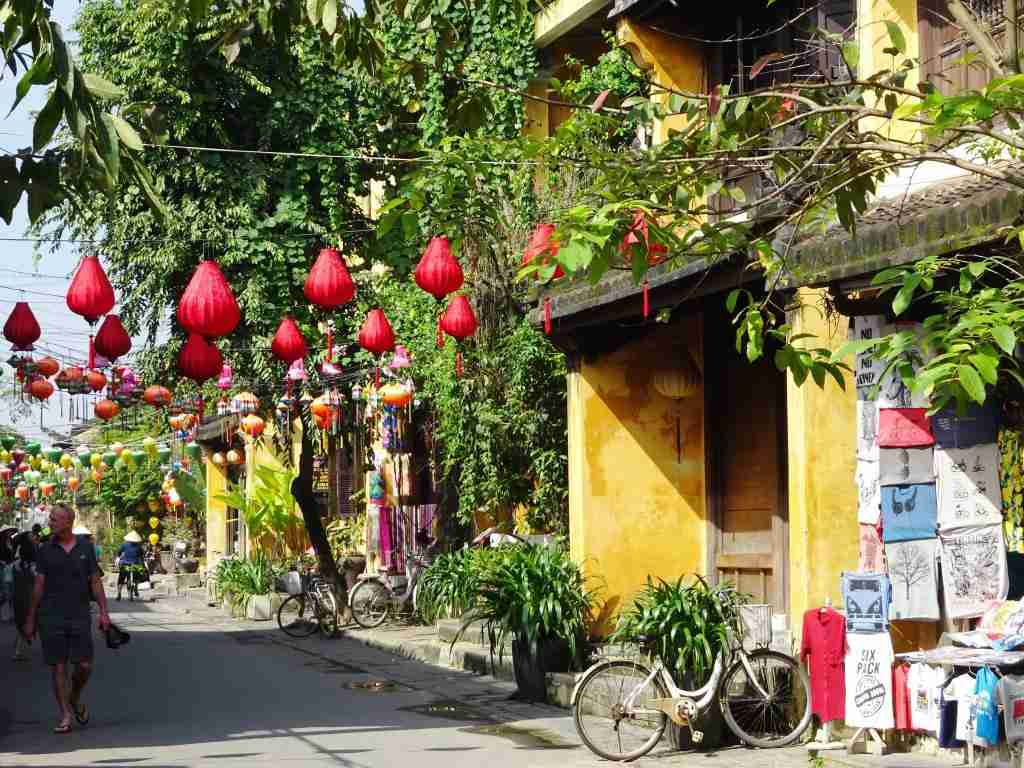 Northern Vietnam
Hanoi and Sapa are great from October to December with clear weather and little rainfall. From November to March the weather can be very cold with snow in the mountains in December / January.
Halong Bay weather is influenced by the monsoon rains. The wet season is from May to September, and the dry season is from November to March. In summer, from May to October, the weather is hot and humid with the highest annual rainfall. In general, the best time to visit is in winter from December to February when the temperatures are milder with an average high of 20 degrees and there is less rain.
Final thoughts
You're sure to have a lot of fun travelling solo in Vietnam so don't hesitate to book your flight. It's a fascinating place to visit with a wonderful culture, great food and friendly locals. I'm already planning my next solo trip to Vietnam.
For peace of mind make sure you buy travel insurance before you go, especially if you are travelling solo. I use Travel Insurance that covers me for overseas medical, lost baggage, and other expenses and I can concentrate on enjoying my trip without worrying about something going wrong.
More on travelling in Vietnam
Cruising on stunning Halong Bay in Vietnam
Why You'll Love Spectacular Phong Nha-Ke Bang in Vietnam
Beautiful Vietnam in 3 weeks from Top to Toe
An Exciting 10-Day Itinerary in Vietnam's Tropical South
North Vietnam in 2 Weeks: A trip You'll Love
20 Best Things to do in Hoi An Vietnam
If you enjoyed this post, Pin it! & save it for later.