Useful Advice for Solo Travel in Myanmar
**Myanmar is unsafe for travel at the present time due to civil unrest and armed conflict. Check with your government for the latest travel information.
Solo travel in Myanmar is an incredible experience. The ancient traditions, the unique dress and the relaxed way of life you'll experience when you visit Myanmar are captivating. There are stunning temples, friendly local people and many fascinating sites to see.
My solo trip to Myanmar is my favourite travel experience to date but unfortunately, travelling in Myanmar is unsafe at the present time. You can read about my experiences and I hope that these travel tips will be useful if the situation in Myanmar changes.
Disclosure: This page may contain affiliate links and I may earn a small commission if you make a purchase through a link. There is no extra cost to you and it helps to keep this site running. Thank you for your support!
Why Travel Solo in Myanmar?
Myanmar is an amazing place to visit and a solo trip to Myanmar will give you an insight into this fascinating Buddhist country. Remnants of British colonial history are easy to find and many people speak English. This makes it easy to communicate when you're travelling in Myanmar, especially in tourist areas. I experienced kindness and generosity from local people which was unexpectedly heartwarming and I was genuinely awestruck by the incredible temples found throughout the country.
There are golden Pagodas and beautiful Buddha statues all over Myanmar like the one pictured above from the Nga Htat Gyi Pagoda in Yangon. This impressive Buddha statue is three stories tall and is decorated with gold leaf and intricate wood carving. While you're travelling in Myanmar you'll visit many beautiful Buddhist temples and see countless stunning statues of the Buddha and you can read more about the amazing temples of Myanmar here.
I spent 4 weeks travelling in Myanmar from Mandalay to Bangkok and it was unforgettable. My solo trip to Myanmar had many highlights and one of my favourite experiences was joining the pilgrims visiting Golden Rock, a uniquely beautiful temple built around an unusual rock formation at the top of a mountain to the northeast of Yangon.
I also loved exploring the UNESCO world heritage temples dotted across the plains of Bagan and had a Myanmar travel adventure riding on an e-bike. Another highlight was a hot air balloon flight in Bagan and floating above the ancient temples at sunrise. From the air, the view is incredibly beautiful and you can truly appreciate the huge number of temples that were built on the plains of Bagan. I flew with Golden Eagle Balloons and loved every minute. It was an unforgettable experience and a highlight of travelling in Myanmar!
Is Myanmar safe for solo female travellers?
**Myanmar is unsafe for travel at the present time due to civil unrest. Check with your government for the latest travel information.
While there is a lot of poverty in rural areas, the strict Buddhist religion in Myanmar prohibits violence or crime. As result, solo travel in Myanmar is generally very safe in tourist areas. I felt quite safe as a solo female traveller throughout my stay in Myanmar.
There are some parts of Myanmar that you should NOT travel to. There is resistance to Myanmar's military government with political unrest and violence in some parts of the country. To stay safe, check official travel advice and adjust your plans accordingly.
Visas & Permits for Solo Travel in Myanmar
Most nationalities will need a visa to enter Myanmar and an e-visa option is available. After you apply for your e-visa online a visa approval letter will be issued. Your full visa is issued on arrival. To be eligible to apply for an e-visa you must have ongoing flights and accommodation booked and you will be asked for your itinerary so plan ahead.
Ensure your passport is valid for at least 6 months after you arrive or your visa application may be rejected.
For travel in some parts of Myanmar outside the usual tourist destinations, a special permit is required. Make sure you apply for the appropriate permits before travelling.
Money for Myanmar Travel
Change money at the airport when you arrive – the exchange rate at the airport is as good as in the banks.
The Kyat is the local currency in Myanmar (pronounced chat)
The exchange rate is very favourable if you're spending a hard currency while you're travelling in Myanmar US$1 = K2,096 (approx.) / AUD$1 = K1,400 (approx.)
ATMs and banks are easy to find and it's easy to draw money from a credit card
Credit cards are not accepted everywhere so take some cash in US dollars or local currency.
Bring new US dollars & keep them flat, not folded or they may not be accepted
Change your leftover Kyats before you leave the country or they may become a souvenir. You will probably have trouble changing them outside Myanmar.
Internet access for Travelling in Myanmar
Internet is cheap and reliable in built-up areas in Myanmar. Buying a SIM card is much cheaper than using roaming and more reliable than free Wifi. I bought my SIM card at the airport. Most hotels have free Wifi but I found it too slow and unreliable. I used my SIM card in preference throughout my stay.
Getting around Myanmar
There are many options for getting around when you visit Myanmar including air, train, bus, car, motorbike, riverboat or taxi. I used all of these and found getting around relatively easy.
There are long distances between the major tourist destinations so allow plenty of time for overland travel. Consider booking domestic flights to save time but expect delays and schedule changes when travelling in Myanmar. So don't book things too tightly when you visit Myanmar.
Travelling by train is the cheapest way to get around Myanmar and is a good way to see everyday life. But Myanmar's rail system is very old and prone to delays. I enjoyed Myanmar travel by train and riverboat the most because it gave me an insight into the local culture.
I also took some domestic flights for long-distance travel to avoid overnight buses on my solo trip to Myanmar.
Language for Myanmar Travel
The official language in Myanmar is Burmese and there are a number of minority indigenous languages also used.
English is widely spoken in cities and monasteries but in rural areas, it may be harder to communicate. I found the local people were very welcoming and friendly on my solo trip to Myanmar and communication was only occasionally a problem.
Dress & Etiquette for Myanmar Travel
Dress modestly when you visit Myanmar, especially if you're travelling alone. Myanmar people are strict Buddhists and very religious. Both men and women wear traditional longyi (long wrap skirts) and modest dress is customary. Knees and shoulders must be covered when visiting temples and monasteries.
At the famous Shwedagon Pagoda in Yangon, there is a very strict dress code and you will not be allowed to enter if you are not dressed appropriately. (Longyi wrap skirts are available for hire at the temple entrance.)
Never point your feet towards the Buddha when sitting. This is considered very rude and you will probably be told to sit respectfully. Sit on your legs with your feet pointing behind you. If in doubt copy the locals
Do not touch people you meet. Shaking hands is considered bad manners.
Remember a smile is a universal language when you visit Myanmar and will most likely be reciprocated.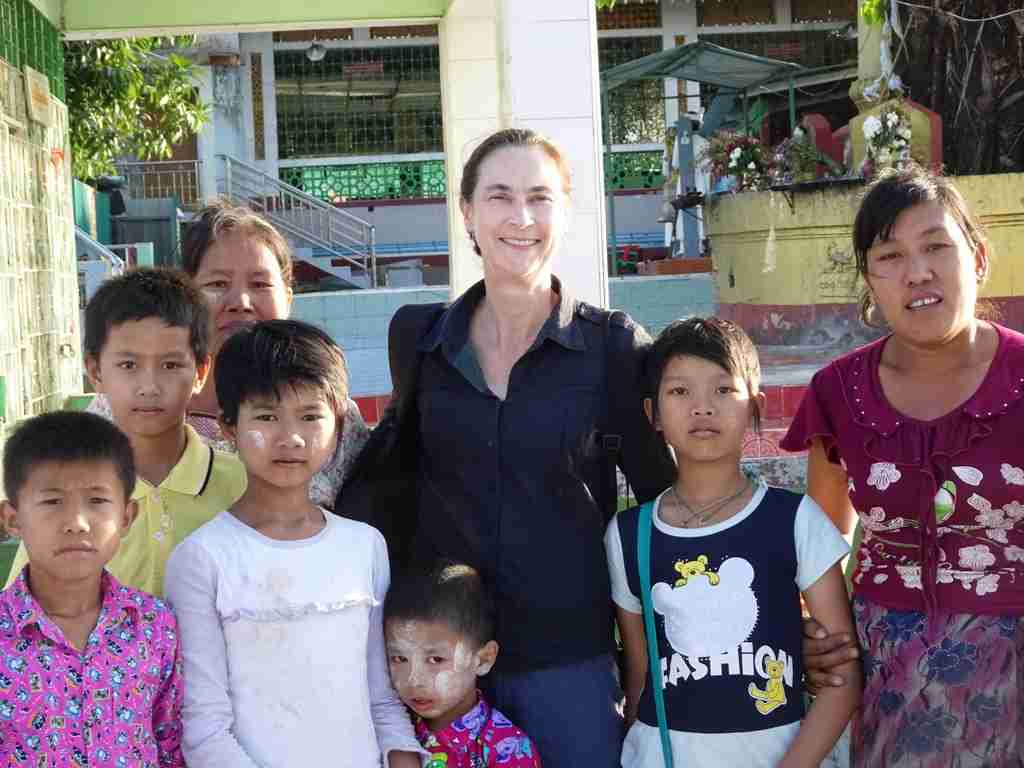 Local Myanmar people are friendly and may ask you for a photo. They are just being welcoming and are probably genuinely interested in your visit to their country. I posed for many photos with locals, especially at temples.
When you travel solo in Myanmar, Monks may want to talk to you. They often look for Western tourists to practise their English and will probably be happy to pose for photos. I enjoyed talking to monks and was lucky enough to be shown around one of the monasteries in Yangon by a monk who lived there.
At the large temples in Yangon, you may be approached by a local tour guide who will start a conversation and offer to show you around the temple. Be prepared to pay them at the end of the tour. Sometimes they will ask for a lot of money. At Shwedagon Pagoda, I was approached in this way by an old man who was a tour guide. He was well educated and spoke very good English and it was a good experience until he demanded more money than I wanted to pay. A tour guide earns around 20,000 kyats per day. So don't tip too much as this unbalances the local economy.
Take money in smaller notes when you visit temples as you may be asked many times for donations. Monks and nuns rely completely on donations of food and money from the local community. It's considered bad manners to refuse to make a donation if you're asked when you're travelling in Myanmar.
Vaccinations for Myanmar Travel
See your doctor for medical advice and get the necessary vaccinations before your solo trip to Myanmar. Anti-malarial tablets and other vaccinations will probably be recommended. This should be done a month or two before you leave home as some vaccinations need several injections to be effective.
Taking out travel insurance is a good idea for solo travel in Myanmar. Having a good travel insurance policy will help to relieve anxiety and bring peace of mind when you're away.
Travel Essentials for Solo Travel in Myanmar
For peace of mind make sure you buy travel insurance before you go, especially if you are travelling solo. I use Travel Insurance that covers me for overseas medical, lost baggage, and other expenses and I can concentrate on enjoying my trip without worrying about something going wrong.
Are you new to solo travel?
More on Myanmar Travel
4 Weeks Mandalay to Bangkok: My Ultimate Myanmar Itinerary
3 Weeks in Myanmar – Mandalay to Yangon
20 Amazing Temples in Myanmar: A Myanmar Temple Guide
The Beautiful Temples of Bagan in Myanmar
Golden Rock in Myanmar: My Solo Travel Adventure
The Best Things to Do in Mandalay, Myanmar