3 days in Ubud Itinerary for Fun & Relaxation
This 3 days in Ubud itinerary is ideal for a fun and relaxing holiday in the cultural heart of Bali Indonesia. Ubud is the perfect destination to explore ancient temples, shop at bustling markets, chase waterfalls and stroll through lush green rice fields. With 3 days in Ubud, you can relax with a yoga class, indulge in a luxurious Spa treatment, and enjoy delicious Indonesian and European food.
It's easy to see why Ubud is such a popular place to visit. The town has many attractions and a much more relaxed and cultural vibe than the party towns of Kuta, Seminyak and Canggu. The nightlife is much quieter and it's a good place to escape the busy party scene and perfect for solo travellers. Perhaps the only drawback is that there's no beach but there are so many great things to do in Ubud it hardly matters.
I've been on several solo trips to Bali and I always enjoy visiting Ubud. It's a great place to hang out and soak in the fascinating Balinese culture. I've put together this 3-day Ubud itinerary that includes my favourite things to do, how to get around, where to stay and lots of other tips to help you plan a fun and relaxing trip to Ubud in Bali.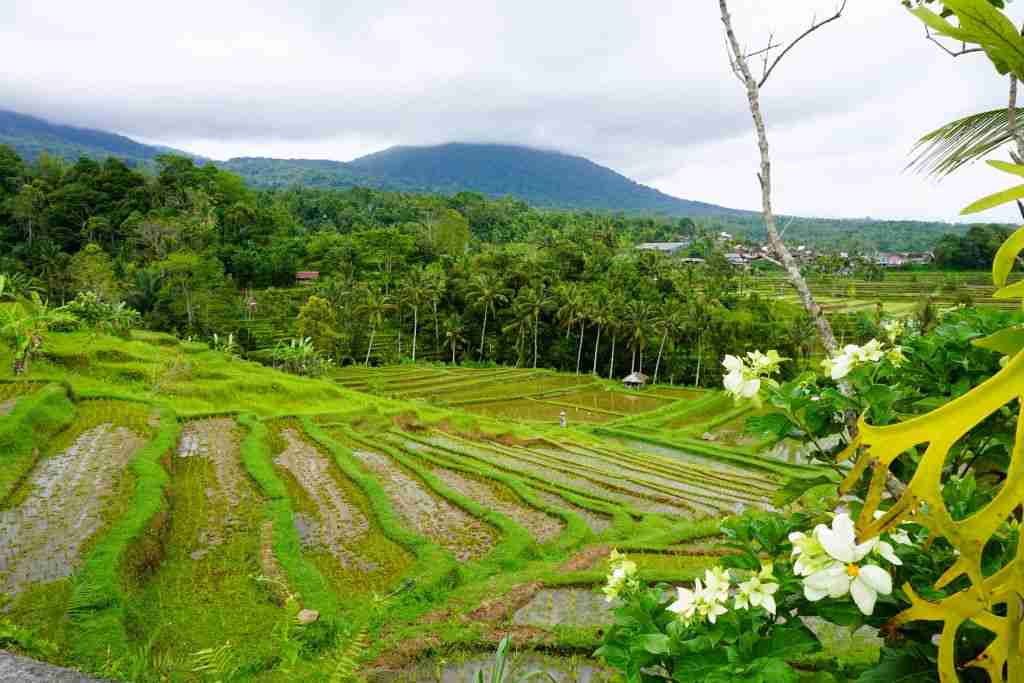 *Disclosure* – Some of the links on this page are affiliate links which means I may make a small commission on sales that result from clicks on those links. This does not cost you any extra and helps to keep this website running. Thank you for your support!
Check with your local government for the latest information on Travel to Indonesia
What to see & do in Ubud Bali
Ubud is worth visiting for the Balinese culture and the magnificent architecture of the Royal Palace and the Sarasvati Temple. As the centre of art and culture in Bali, the community in Ubud supports all forms of art including dance and music. And there are daily performances of traditional Balinese dance and Gamelan music.
Ubud has a Monkey Forest, lush green rice terraces and beautiful waterfalls. It's known as a centre for wellness and well-being with yoga classes, spa treatments and a good selection of cafes offering healthy food. Vegan and gluten-free meals are easy to find and Ubud has some of the best restaurants in Bali with sensational fine dining experiences available for foodies. These are all highlights of Bali and you'll see and do them all in this itinerary for Ubud.
But if you're still wondering what to do in Ubud Bali for 3 days, consider exploring other parts of the island for activities like sunrise volcano hiking at Mount Batur, chasing waterfalls and visiting Bali's many beautiful Hindu Temples. Ubud has a central location and is a good base for day trips in Bali.
Where is Ubud in Bali?
Ubud is a small inland town in central Bali around 25 kilometres from Denpasar. Located in the foothills of Gianyar Regency, Ubud is surrounded by beautiful rice fields, temples and waterfalls and it's here that you'll find the lush green landscapes that Bali is so famous for.
How to get to Ubud
The easiest way to get to Ubud is to take a taxi from Denpasar, Kuta, Seminyak or Canggu. Taxis are relatively inexpensive in Bali and the trip takes about an hour, or more if there's traffic. Grab and Gojek operate in the area so download the apps and you'll have no trouble getting around Bali.
Parama Tours operates a shuttle bus service from Kuta to Ubud and this is a good, cheaper option for solo travellers. Local buses also leave from Denpasar bus station but they can be slow. With just 3 days in Ubud the quickest way to get there is by taxi, Grab or Gojek.
How to get around Ubud
Ubud is a small town and it's easy to get around on foot but make sure you walk around the religious offerings left on the pavement and avoid trip hazards. Taxis are cheap and plentiful if you don't want to walk, and most hotels can find you a car or motorbike and driver on request.
Grab and Gojek operate in Ubud and it's worth downloading the apps for access to cheap and reliable transport online. But the traffic can be heavy and slow going in a car, so a motorbike taxi is often a good option on this Ubud itinerary and perfect for solo travellers. I loved riding around on the back of a motorbike taxi and regularly used Grab & Gojek, drivers. It's a cheap and fun way to get around in Bali.
Where to stay in Ubud Bali
With only 3 days in Ubud, staying in town is a good idea for easy access to the main sights, restaurants, cafes, yoga classes and other services. The area near the Royal Palace is a great place to stay with a more upmarket choice of hotels. Jalan Raya Ubud is the main street of Ubud and it's here that you'll find the Royal Palace and the Sarasvati Temple.
Jalan Monkey Forest and Jalan Hanoman near the Yoga Barn are both good, central places to stay in Ubud with more mid-range and budget accommodation options and easy access to the activities on this Ubud itinerary.
Here are my suggestions for where to stay in Ubud:
Budget: The Onion Collective is a popular Balinese-style guesthouse with a pool and budget single rooms. This hostel gets exceptional reviews and is perfect for solo travellers spending 3 days in Ubud.
Lower Mid-Range: Yarama Cottages located close to the Yoga Barn and the Monkey Forest are a good choice for travellers on a budget. They offer basic but comfortable rooms with everything you need at a reasonable price. I enjoyed my stay here and loved the selection of cafes and restaurants nearby.
Upper Mid-Range: Sama's Cottages & Villas offer more luxurious bungalows in a lovely garden setting with an inviting pool. The location in Ubud is ideal and the service here is very good. I found the bungalows very comfortable and enjoyed my stay here.
TIP: Is Ubud or Kuta the best place to stay in Bali? This comparison guide will help you to decide between these two popular destinations.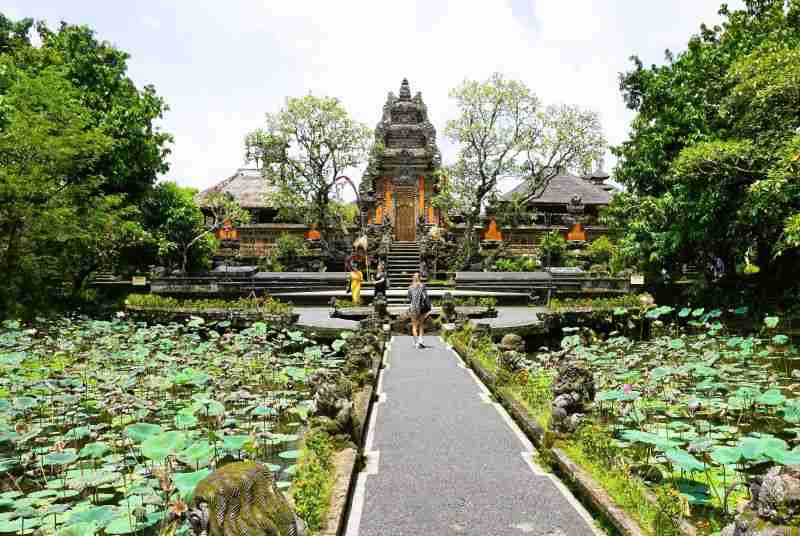 UBUD ITINERARY DAY 1
Yoga Class
Start the first day of this itinerary for Ubud with a relaxing morning yoga class at The Yoga Barn, or the Ubud Yoga Centre. They are all well-known yoga studios in Ubud that offer popular morning classes and meditation sessions throughout the day. Ubud is known as a centre for wellness in Bali and a yoga class is the perfect way to unwind.
Brunch at an Ubud Café
Something that I really enjoyed in Bali was going out for brunch and Ubud has a great selection of cafes to choose from. With 3 days in Ubud, there'll be many opportunities to enjoy the local cafe scene. My favourite breakfast was at Soul Bites who serve fabulously presented food around the corner from the Yoga Barn. The waffle with tropical fruit is delicious and even better teamed with fresh watermelon juice!
The Atman Kafé on Jalan Hanoman opens early and is another great place to go for a delicious breakfast, lunch or dinner.  You can choose from a menu of healthy Indonesian and Western dishes and enjoy the selection of fresh fruit juices. Vegan and gluten-free options are available, and the ambience is relaxing and homey at this comfortable cafe.
Sacred Monkey Forest
The famous Ubud Monkey Forest is a must-see on an itinerary for Ubud and it's not far away from Soul Bites Cafe or the Yoga Barn. It's an easy walk or you can take a taxi and spend an hour or 2 with the mischievous macaques. They'll try to steal any food you have with you and maybe take your sunglasses and earrings too. They like shiny jewellery so leave it all behind when you visit.
Inside the Monkey Forest, there are several lovely Hindu temples and when you stroll along the shaded pathways, you'll meet lots of cheeky monkeys. It's a fun place to visit and, for an extra fee, you can have your photo taken with a monkey on your lap. But be aware they might climb all over you and are just as likely to sit on your shoulder or your head.
Directions: Monkey Forest Road Cost: IDR 80,000 (US$5)
Ubud Royal Palace
Visiting the Royal Palace is one of the best things to do in Ubud and should definitely be included on an itinerary for Ubud. Also known as the Puri Sari Agung, the 17th-century palace is a beautiful traditional building in the heart of town. The Royal Palace is a classic example of Balinese architecture and is the home of Balinese royalty.
The grand Palace Gates are guarded by impressive carved gargoyles that give way to an elegant courtyard and within the palace complex there are performance spaces and a museum. The Palace is small and it doesn't take long to visit. It's open from 8:00 AM to 6:00 PM and should not be missed on a 3-day Ubud itinerary.
Directions: Ubud Royal Palace Cost: Free
The Sarasvati Temple
The Sarasvati Temple is another beautiful landmark in Ubud. Built more recently in the 20th century, the Sarasvati Temple is a traditional Balinese shrine that honours Dewi Sarasvati, the Goddess of knowledge, art and learning. Carved dragons and lions guard the temple entrance, and a huge lily pond fills the courtyard in front of the Temple.
The water garden at the Sarasvati Temple is also known as the Water Palace and should not be missed in your Ubud 3-day itinerary. The Sarasvati temple itself is closed to foreign tourists but the temple gates, courtyard and lilypond are open to visitors. Visiting is FREE.
Directions: Sarasvati Temple
Shopping & markets
As you stroll around Ubud there'll be many opportunities to shop for clothing, jewellery, and souvenirs at local boutique shops and markets. There's a street market, an Art Market, a morning market, and a traditional market. The Art Market is located near the Sarasvati Temple and it's fun to browse and shop for souvenirs here. The market stall owners will probably try to sell at inflated prices, but you're expected to haggle and bargain for a better price.
Balinese Art
In the cultural centre of Bali, a perfect addition to an itinerary for Ubud is a visit to an art gallery. The Agung Rai Museum of Art can be found near the Yoga Barn and Soul Bites Café so it's easy to drop in if you're nearby. This gallery shows traditional and contemporary works by Balinese and other artists and is a good place to learn about local art.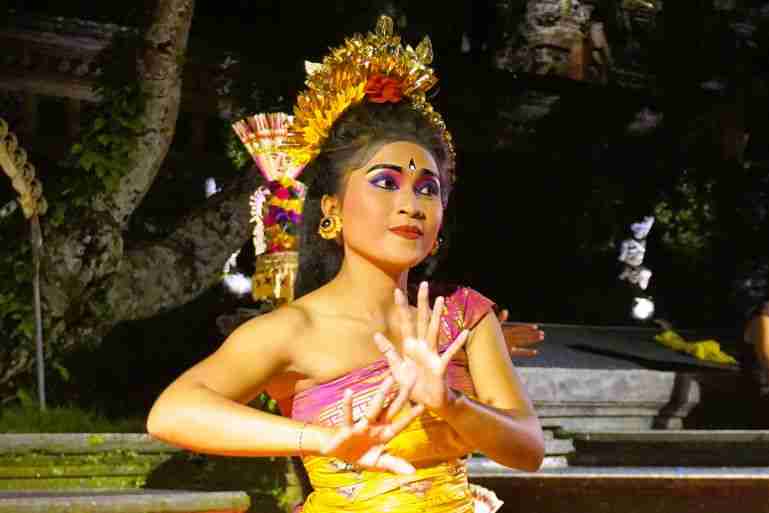 Traditional Balinese Dance
Culture lovers will want to include a traditional Balinese dance performance on their Ubud itinerary. Balinese Dancers and musicians take to the stage at the Sarasvati Temple near the lily pond every evening at 7:30 PM and you can buy your tickets at the front gate. Cost: IDR 100,000 (US$7)
Different dances with traditional gamelan music are featured each evening. The costumes are rich and colourful, and the performances run for about an hour. Take mosquito repellent to this popular outdoor event.
Eating & drinking in Ubud
With 3 days in Ubud, there are plenty of opportunities to enjoy eating out. Before the dance performance grab a quick bite to eat or choose from the many restaurants and cafes in Ubud for an evening meal. Casa Luna is a convenient choice across the road from the Sarasvati Temple.
Café Angsa opposite Pura Desa Temple is another option for a relaxed meal overlooking a rice field just 5 minutes from the Yoga Barn. The Lazy Cat Cafe is a cool place to eat and Warung Mendez serves delicious authentic Indonesian meals.
Some popular choices for fine dining in Ubud include Locavore and Room 4 dessert. Locavore serves an adventurous tasting menu of contemporary European cuisine made from fresh local ingredients and Room 4 Dessert offers a 15-course degustation for foodies with a sweet tooth where taste, texture and presentation are everything. These restaurants are popular so book ahead.
After dinner, relax and enjoy a nightcap at Casa Luna, or the Laughing Buddha Bar and Jazz Club. The nightlife in Ubud is much quieter and more laid back than other places in Bali and you won't find the party scene that's a feature of Kuta, Seminyak and Canggu.
UBUD ITINERARY DAY 2
Day 2 of this Ubud itinerary explores the countryside around Ubud. The area is blessed with many beautiful waterfalls, temples and rice terraces that are a great addition to an itinerary for Ubud. It's fun to explore on a motorbike or you can take a car. I hired a Gojek motorbike taxi to travel outside Ubud, but you can also hire a car and driver for the day. Or, if you're brave and have the right insurance, you can hire a scooter and drive yourself.
Today you'll want to dress for the temple visits and make sure your legs and shoulders are covered. You'll have to wear a sarong to enter the temples, but sarongs are available for hire at the entrance. An entry fee is charged at each of these temples, and you may also be asked for a donation to hire a sarong, use the toilets or bathe at the temple.
Tukad Cepung Waterfall
One of Bali's prettiest waterfalls is at Tukad Cepung and it's a popular spot to include on an Ubud itinerary. This waterfall is hidden inside a cave and is especially beautiful and photogenic in the morning when the rays of light shine through the cave. This waterfall is very popular with Instagrammers so it's a good idea to get there early to beat the crowds.
It takes about an hour to drive to Tukad Cepung Waterfall from Ubud and there's a small entrance fee.
Directions: Tukad Cepung Waterfall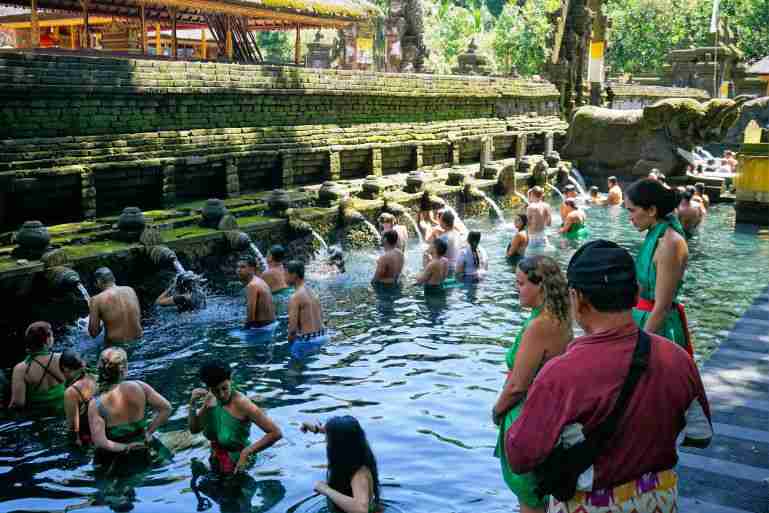 Tirta Empul Water Temple
The Tirta Empul Holy Water Temple is also very popular and will fill up with visitors later in the morning and it's a wonderful addition to an itinerary for Ubud. The Tirta Empul Temple dates back to 923 AD and is an ancient Hindu sacred site. Tirta Empul means "holy spring water" and a fascinating cleansing ritual takes place in the temple baths.
Worshippers walk into the baths wearing a sarong. Waste deep in the water they queue to wash themselves under the fountains of holy spring water pouring out of spouts in the wall. The ritual cleansing involves washing under most of the water spouts in the baths before entering the temple to pray.
There are several large pools inside the Tirta Empul complex, and you can see the spring water bubbling up out of the ground. There are large orange fish in one of the temple ponds that you can feed and it's a very relaxing thing to do at the water temples in Bali.
Diections: Tirta Empul Temple Cost: IDR 50,000 (US$3)
Sebatu Holy Spring Temple
A beautiful addition to this 3 day Ubud itinerary is the Sebatu Holy Spring Temple or Gunung Kawi Sebatu. This hidden gem has a lovely tropical garden and a delightful pond full of fish. The Sebatu Water Temple is a great spot to relax, meditate and bathe in the spring water or simply feed the fish for half an hour or so.
Sebatu Temple is much less visited than its popular neighbour Tirta Empul and is just a few kilometres away. I enjoyed the peaceful atmosphere at Sebatu much more than the crowded Tirta Empul Temple.
Directions: Sebatu Holy Spring Temple Cost: IDR 30,000 (US$2)
Tegalalang Rice Terraces
At the Tegalalang Rice Terraces, you'll find the peaceful green landscape that Bali is so famous for. Strolling through the rice fields is one of the best things to do in Ubud and it should definitely be included in a 3 day Ubud itinerary. It's easy to spend an hour or 2 at Tegalalang enjoying the lovely scenery and you can expect to be charged a small entry fee to the village.
And if you're keen on trying out the famous Bali Swing you can pay IDR300,000+ for the experience at Tegalalang. Instagrammers love it and will pay to get a photo of themselves swinging over the rice fields.
Directions: Tegalalang Rice Terraces
Goa Gaja Elephant Cave Temple
Next on this Ubud itinerary is an ancient temple in a small village just outside Ubud. The Goa Gaja Temple has both Hindu and Buddhist roots and dates back to the 9th century. The famous cave temple, known as the Elephant Cave, is hollowed out of the rock and the entrance to the cave has an intricately carved façade. Inside, there's a passageway that leads to several alters.
The Goa Gaja temple complex includes baths for cleansing rituals and further inside the beautiful temple grounds, there's a stream, a waterfall and a lilypond. The Goa Gaja Temple can be found in the village of Bedulu around 6 kilometres east of Ubud.
Directions: Goa Gaja Temple Cost: IDR 50,000 (US$3)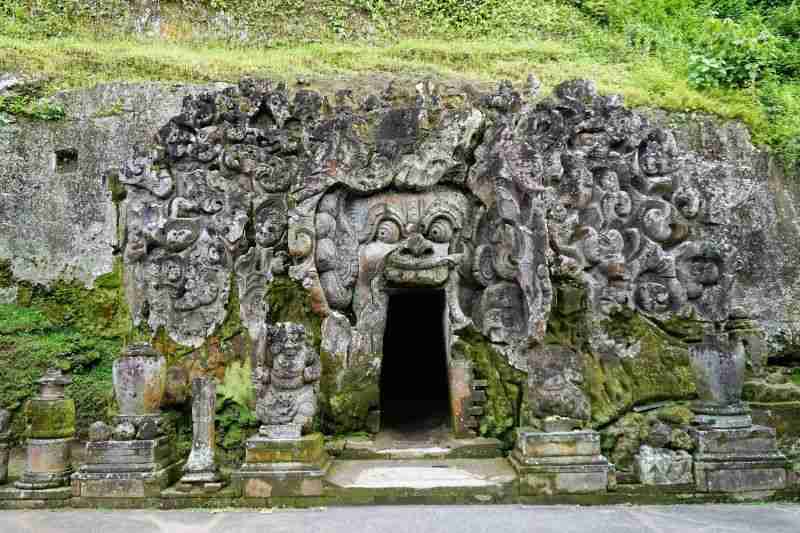 UBUD ITINERARY DAY 3
Campuhan Ridge Walk
The Campuhan Ridge Walk is an easy and very popular 2-kilometre hike and one of the best things to do in Ubud for free. The trail begins at the Cerik River near the Ubud Palace and follows a ridge to a small rice-growing village on the outskirts of Ubud. It's a pleasant short walk to include on an Ubud itinerary and a lovely way to escape into the countryside and avoid the hustle and bustle of the town.
It takes around half an hour to reach the village and the walk leads to the Karsa Café and Spa. But there are many options to stop for a coffee or to buy souvenirs along the way and you can enjoy a meal or a coffee at the Yellow Flower Café near the start of the Campuhan Ridge Trail in north Ubud.
The Campuhan Ridge walk is a beautiful place to be at sunrise or sunset and can be quite busy during the day. It's a good idea to go early to miss the heat of the day, but even at sunrise, there'll be other people on the trail. Expect to see dog walkers, joggers and lots of Instagrammers taking selfies along the trail.
Directons: Campuhan Ridge Walk Cost: Free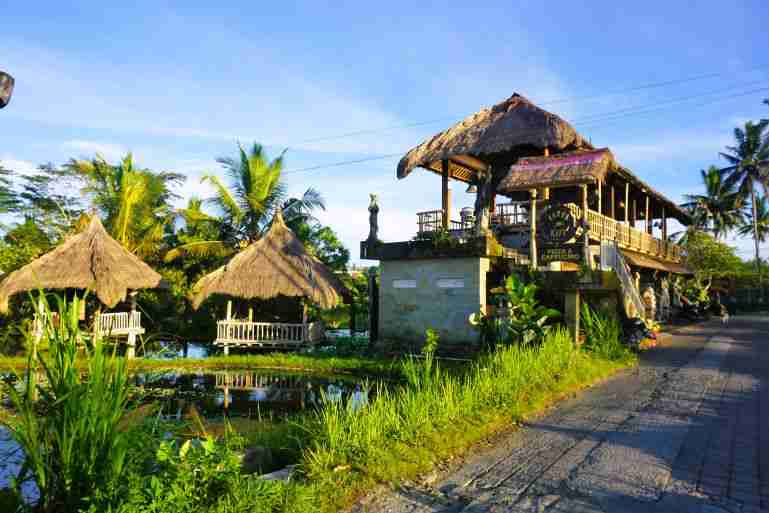 Luxurious Spa Treatment
A luxurious Spa Treatment is an experience you shouldn't miss while you're in Bali and is a relaxing activity to include on an itinerary for Ubud. Known for its Spas and Wellness Centres, Ubud is the perfect place to unwind with a Balinese Spa Treatment.
Set in a beautiful location amongst the rice fields on the outskirts of Ubud, the Karsa Spa offers a range of massage treatments, facials and indulgent sweet-smelling flower baths. Imagine soaking in a bathtub filled with gorgeous tropical flowers. It's the perfect way to relax and unwind to end your 3 days in Ubud. The Karsa Spa can be found at the end of the Campuhan Ridge Walk and is a highly recommended addition to your Ubud itinerary.
You can find Spa treatments throughout Bali and some other popular options in Ubud are Sang Spa and Yoga Centre and Jaens Spa Shanti.
Balinese Cooking Class
Spending a few hours in a cooking class immersing yourself in the local Balinese culture is a lovely thing to do and a great addition to a 3 day Ubud itinerary. Many of the local Warungs run cooking classes and are happy to share their secrets for cooking great Indonesian food and you can learn to make traditional recipes like Nasi Goreng (fried rice), Gado Gado, and sate skewers with a delicious traditional peanut sauce.
Casa Luna, Siboghana Warung and Puspa Warung offer enjoyable Indonesian cooking classes in Ubud.
FUN DAY TRIPS FROM UBUD
With 3 days in Ubud you can see most of the local attractions but there are many other fun activities in Bali that you can enjoy as day trips while you're staying in Ubud. If you want to use Ubud as a base for exploring further afield in Bali you can swap a day from the Ubud itinerary above for one of these exciting excursions. Extending your itinerary for Ubud to 4 or 5 days is also a great option.
Mount Batur at sunrise
Mount Batur sunrise hike and natural hot spring: Enjoy stunning views at sunrise from the top of Mount Batur, an active volcano, and after the hike, soak your weary limbs in a hot spring and visit a coffee plantation. **This tour starts very early in the morning.
Lempuyang & Tirta Gangga Temples
Another place to include in your 3 day Ubud itinerary is the Instagram-famous Gates of Heaven at Lempuyang Temple, one of Bali's most important Hindu shrines in eastern Bali. At Lempuyang Temple you can have your photo taken at the famous Gates of Heaven with stunning Mount Agung as a backdrop. The scenery here is incredible but it's a long way on a motorbike so taking a tour is a safer and more comfortable option.
The lovely Tirta Gangga Water Palace garden is nearby and it's fun to walk the stepping stones in the main pond, feed the fish and relax in the gardens. There's an inviting freshwater spring swimming pool at the back of the gardens and it's a great way to cool down on a hot day in Bali. Lempuyang Temple is a couple of hours' drive from Ubud and it's a long way to travel on a motorbike. Hiring a private car and driver for the day is a good idea. Alternatively, you can take a tour like the one below and let someone else do the driving.
The Bali Full day Instagram Highlights Tour visits Bali's most recognisable locations and including Lempuyang Temple, the beautiful Tirta Gangga Water Palace Gardens, Tukad Cepung Waterfall, the jungle swing and the lovely Tegallalang Rice Terraces.
Read next: Is Lempuyang Temple worth visiting in Bali?
Jatiluwih Rice Terraces & Pura Ulun Danu Beratan Temple
If you're wondering what to do in Ubud Bali for 3 days, a day trip to the Jatiluwih Rice Terraces is a fantastic addition to an itinerary for Ubud. Bali's stunning Rice fields at Jatiluwih are UNESCO World Heritage-listed and known for their beautiful green scenery. Stroll through the rice terraces and enjoy a timeless landscape on the slopes of Batukaru Mountain in Bali.
Stop for a coffee, juice or a meal at Gong Jatiluwih overlooking the scenic rice fields. Nearby, the very spiritual Batakaru Temple makes a lovely side trip. And, while you're in the area, stop to admire the stunning Pura Ulun Danu Beratan, a very photogenic Temple set in a gorgeous location beside lovely Lake Beratan. Pura Danu Beratan is an icon in Indonesia and features on the IDR 10,000 rupiah note. From Ubud, it's a long way on a motorbike but you can hire a car for the day or take the tour below for a more comfortable trip.
The Bali UNESCO World Heritage sights small group tour includes the magnificent Pura Taman Ayun Temple, the stunning Rice Terraces at Jatiluwih, the incredibly photogenic Water Temple of Pura Ulun Danu Beratan and a stunning sunset at the sea temple Tanah Lot.
Read next: 21 Beautiful Temples of Indonesia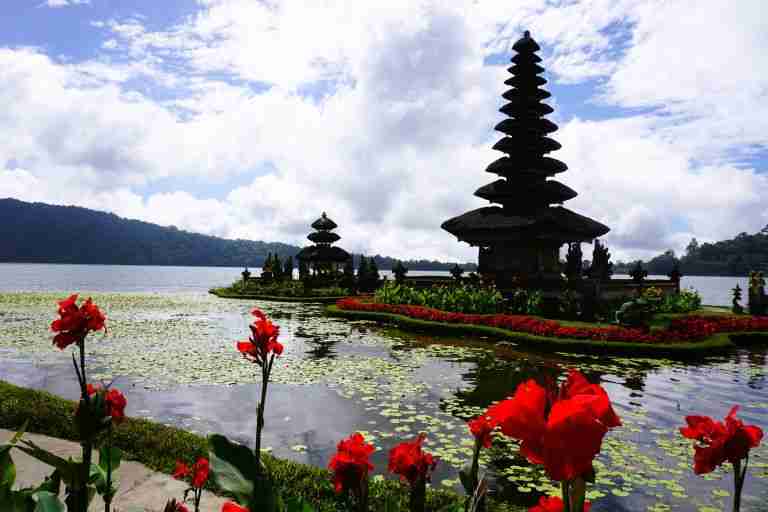 Bali Asli Restaurant & Cooking School
If you're still wondering what to do in Bali for 3 days, consider immersing yourself in Balinese culture and food. Discover the tastes of Bali with a culinary experience at Bali Asli Restaurant and enjoy a meal or a cooking class.
Located near Amlapura on the east coast of Bali, this excellent restaurant and cooking school offers some very enjoyable classes and tours of the local area. And joining a small group class is ideal for solo travellers looking for company. I can highly recommend a cooking class here and it was a great day out that began with a walk through the village and the rice fields.
Back at the Bali Asli Restaurant, the head chef introduced the class to traditional Balinese ingredients and showed us how to make the most delicious sate skewers and peanut sauce that I've ever tasted. With the help of the restaurant staff, we prepared a sensational meal along with gorgeous views of Mount Agung and peaceful green rice fields.
A cooking class at Bali Asli was a truly memorable experience and a perfect day trip to include in an itinerary for Ubud. To get to Bali Asli Restaurant you need to hire a car and driver for the day. It takes a couple of hours to drive from Ubud so plan for an early start. If you have time, Lempuyang Temple and Tirta Gangga Water Palace are nearby.
Directions: Bali Asli Restaurant & Cooking School
**Note** I paid for my culinary experience at Bali Asli Restaurant and I'm under no obligation to write this review. I had a lovely time there and simply want to share this with you. As usual, the thoughts and ideas expressed here are my own.
TIP: If you're looking for the best weather for a beach holiday in January, why not consider visiting Thailand instead? Learn more about Bali vs Thailand and how these popular Southeast Asian destinations compare.
FAQs
When is the best time to go to Ubud Bali?
Bali is a year-round destination and any time is a good time to visit Ubud. But the dry season, from May to October is the best time to go for the weather. From November to April is the wet season and there's more rain but there's also plenty of sun.
If you don't mind some showers and storms then the low season is a cheaper and quieter time to visit Bali. I was in Bali in January and had a great time creating this Ubud itinerary. I also visited Bali in July during the peak season and during the shoulder season in Bali in June.
How Long to stay in Ubud?
I suggest spending 2-3 days in Ubud as there's so much to do. Solo travellers will find plenty of fun and relaxing activities to fill a 3 day Ubud itinerary. Ubud is a good central location in Bali for excursions and day trips and you could easily stay for a week and explore the island from Ubud. The only drawback is that there are no beaches, but you can always book a hotel with a pool if you like to swim.
Is Ubud expensive?
Ubud is not an expensive place to visit but accommodation and food costs a bit more in Ubud than in some other places in Bali and Indonesia. There's a good range of accommodations for all budgets and you can choose to eat at local Warungs and pay a few dollars for a delicious Indonesian meal, dine at a café for around US$8 or enjoy a fine dining experience and spend a lot more.
A comfortable 2 or 3-star hotel room with a private bathroom costs around US$20 – $25 and a ride on a Gojek motorbike taxi around town costs US$1 or $2.  You can live very comfortably in Ubud without spending a lot of money.
Is Ubud safe?
Yes, Ubud is generally safe for solo female travellers and is a popular destination for women travelling alone. Take the usual safety precautions and be careful when you're out at night alone, leave your valuables locked up at your hotel and watch where you step. The pavements can be uneven and treacherous with holes that are hard to see in the dark. Overall I felt pretty safe as a solo traveller in Ubud.
How far is Ubud from Denpasar Airport?
Ubud is 25 kilometres from Denpasar airport and the trip takes over an hour by car and longer in traffic. Taxi fares from the airport to central Ubud charge a set IDR350,000 (US$24) and you can buy a ticket at the taxi counter just outside the airport. A throng of taxi drivers offering their services will be waiting for you at the airport exit.
Grab and Gojek are also an option for cheaper transport to and from the airport in Denpasar. There's a Grab Lounge just outside the airport exit with staff to help you set up the app and book your first trip.
Ubud Itinerary Final Thoughts
3 days in Ubud is a perfect amount of time to experience the architecture, art and culture that make Bali a unique and fascinating destination. The town itself offers a glimpse into traditional Balinese culture, but on this itinerary for Ubud, there's also time to venture out into the beautiful green countryside and stroll through the Rice Terraces, chase waterfalls and visit the sacred Water Temples of Bali.
Meditation and yoga classes and luxurious spa treatments are a great way to relax in Ubud and there's a good selection of warungs, cafes and restaurants to enjoy. There are plenty of great things to do with 3 days in Ubud.
Bali truly is a fun and relaxing destination and it's easy to fill your Ubud itinerary with enjoyable sights and activities. Consider extending your stay and take a few day trips from Ubud to explore the beautiful island of Bali.
You might also enjoy
Is Bali or Thailand Better for a Holiday in 2023?
Is January a Good Time to go to Bali?
Is July a Good Time to Go to Bali?
21 Beautiful Temples of Indonesia
Is Lempuyang Temple worth visiting in Bali?
A Guide for Successful Solo Travelling to Bali
Visiting Spectacular Mount Bromo in Indonesia
Why Angkor Wat in Cambodia is so Special
Golden Rock in Myanmar – My Amazing Solo Travel Adventure
Why You'll Love Old Sukhothai in Thailand
5 Reasons to Visit Picturesque Westlake in China
If you enjoyed this post why not pin it & save it for later?