Swimming with Turtles in the Lovely Low Isles
Swimming with turtles in the Low Isles is a wildlife experience to dream about. It's truly a magical thing to see an endangered sea turtle gliding slowly past when you're snorkelling in crystal clear waters of the Great Barrier Reef in Australia. Turtles move in an unhurried way through the water and it's a joy to swim with them in their natural environment. These majestic creatures are inquisitive and graceful in the water; you'll never tire of watching them.
Australia's UNESCO World Heritage-listed Great Barrier Reef is one of the best places in the world for swimming with turtles with many species of turtles living and nesting on the islands and beaches. And the Low Isles in far north Queensland has a large population of Green Turtles.
For beginner snorkelers and for those who are less confident in the water, it's the perfect place to learn to snorkel and discover Australia's Great Barrier Reef. You can swim directly from the beach and it's easy to snorkel here. The water is warm, calm and shallow and the coral reef is just a few metres offshore with its many delights and surprises.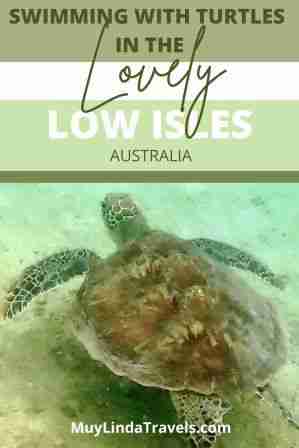 Where are the Low Isles?
The lovely Low Isles lie about 15km off the coast of Port Douglas in far north Queensland and are part of Australia's Great Barrier Reef.
Here are some of the highlights of snorkelling in the Low Isles.
*Disclosure* – Some of the links on this page are affiliate links which means I may make a small commission on sales that result from clicks on those links. This does not cost you any extra and helps to keep this website running. Thank you for your support!
Covid-19 travel restrictions have eased but may still apply for travel in Australia. Check with your local government for the latest information.
Highlights of the Low Isles
Swimming with turtles
The Low Isles is the perfect place for swimming with turtles and underwater turtle sightings are common for snorkelers. There are a large number of resident Green Turtles and this means it's likely you'll see one swimming past. You may even have multiple sightings if you're lucky. There were 3 turtle sightings on my short snorkelling trip to the Low Isles and I was only in the water for around 45 minutes
Colourful coral
On the reef that surrounds the Low Isles, there are 150 different species of hard corals and around 15 species of soft corals. You can snorkel on the reef just a few metres from the beach and see a wide variety of colourful corals.
Giant clams
Amongst the coral on the Low Isles, I was thrilled to see a Giant Clam, not far from the beach. It was unexpected and completely awesome. Magnificent Giant Clams have a lifespan of around 100 years and can weigh more than 200 kilograms.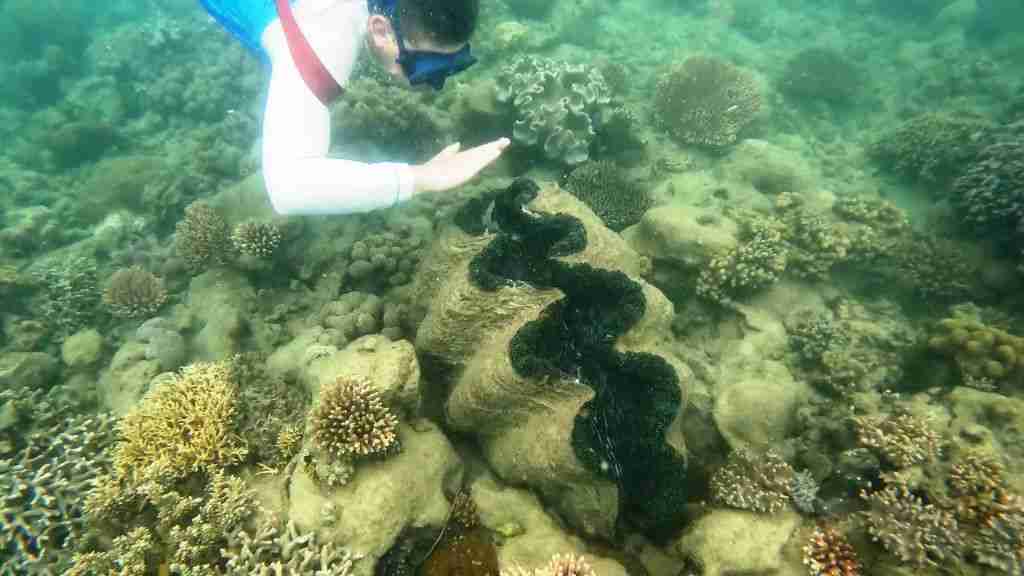 Reef sharks
Swimming with sharks was not something I was keen to do but a Black Tip Reef Shark swam right past me in the shallow water of the Low Isles. It was moving very quickly, and when I realised it wasn't just a big fish, I panicked and swam in the other direction (even though I know that reef sharks are not dangerous).
Brightly coloured fish
A huge variety of fish can be found in the Low Isles including colourful parrotfish, angelfish, clownfish and a large turtle population. It's a delight to see the brightly coloured fish swimming around the coral.
Osprey Eagle's nest
A family of Osprey Eagles have built a huge nest at the top of the lighthouse in the Low Isles and you may see them hunting nearby. Ospreys build large nests near the water from sticks and driftwood and they line their nests with grass and seaweed.
Beach walk
It takes around 15 minutes to walk around Low Island and a beach walk is a perfect way to dry off and stretch your legs after swimming on the reef. Strolling around the island gives you an opportunity to enjoy the peaceful scenery, the calm waters and lovely sea views.
How many Turtle species are there?
There are 7 species of turtles in the world and 6 can be found on the Great Barrier Reef in Australia. Female turtles take 20-30 years to mature and begin breeding and only 1 in a thousand of the hatchlings will survive till maturity. The turtles that manage to evade their many predators can live to be 50 years old.
Sadly, Sea Turtles are experiencing threats to their survival and are now on the endangered list. 3 of the 7 species of turtles in the world are critically endangered. The Green, Hawksbill and Flatback Turtles are currently listed as "vulnerable" and this means they are at risk. And the Leatherback, Loggerhead and Olive Ridley Turtles are close to extinction.
Green Turtles are commonly found in the Low Isles and this makes the Low Isles a special place. Australia has some of the largest nesting populations of the Green, Hawksbill and Loggerhead Turtles in the world and there are only a few left of these nesting sites left.
The main threats that turtles are experiencing are changes to their habitat. Pollution and warmer water temperatures caused by global warming affect coral reefs, seagrass beds, mangrove forests, and nesting beaches and this impacts the resident turtles who feed on seaweed, seagrass and algae.
If the threats to their survival continue, more species of sea turtles may become critically endangered.
About the Low Isles
Two small sandy cays make up the Low Isles and the islands are connected by an underwater coral reef. The larger island is uninhabited and covered with mangroves and the smaller of the two islands, known as Low Island, is the perfect place to explore the colourful underwater world and swim with turtles.
Surrounded by a lovely sandy beach perfect for sunbathing, Low Island is covered with lush green vegetation and there's a research station, a lighthouse and accommodation for the lighthouse keeper and the researchers on the tiny island. The Low Isles have been used to gather data for weather forecasting by the Bureau of Meteorology since 1887 and they are the region's primary point of weather data collection.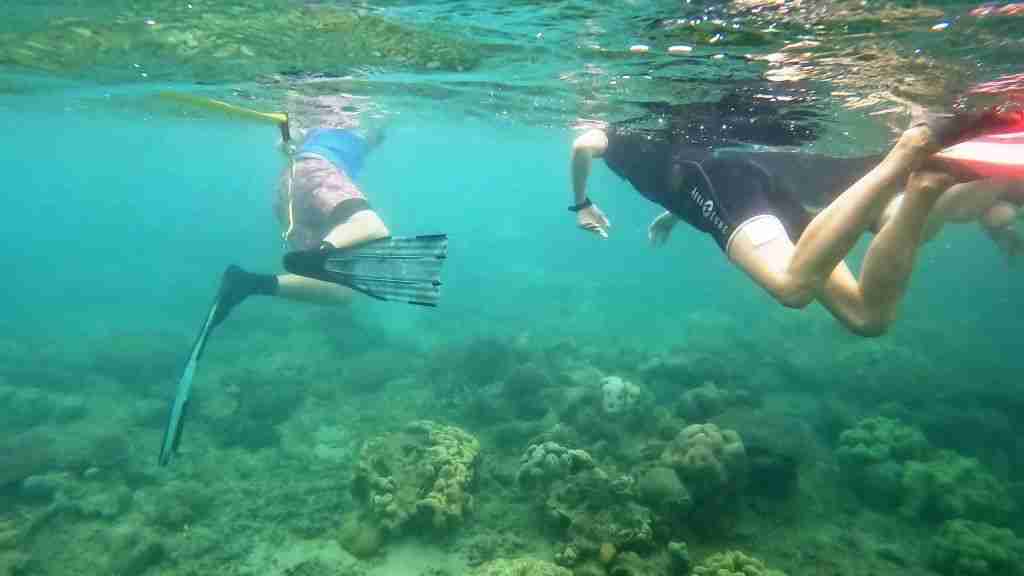 How to get to the Low Isles
The Low Isles can be accessed by boat. A scenic Catamaran ride will take you to the Low Isles and, If you're in a hurry a speed boat will take you there from Port Douglas in around 15 minutes.
But the best way to get there is to book a Low isles snorkel tour or sunset sailing cruise from Port Douglas in far north Queensland.
How to get to Port Douglas
Port Douglas is 66 kilometres north of Cairns and it takes just over 1 hour to get there by road. Taxis and Shuttle buses run regularly from Cairns Airport to Port Douglas (there are no public buses).
To get to Port Douglas, travel to Cairns in Queensland by air, train or bus.
Air: Fly to Cairns International Airport in Queensland
Train: The Spirit of Queensland train service runs between Brisbane and Cairns
Bus: Greyhound and Premier Coaches travel between Brisbane and Cairns and along the east coast of Australia to Sydney and Melbourne.
Tours to the Low Isles
I booked a half-day snorkel tour to the Low Isles with Calypso and I thoroughly enjoyed the morning. The snorkel gear, wetsuits and flippers provided were in good condition, the best of several snorkels hired on this holiday. Although it was a rainy day, the water visibility was still very good. A guided glass bottom boat tour was included and this made it possible to see the coral on the reef without even getting wet.
I put on a flotation vest and joined a small group on a guided snorkel tour of the reef. It was great for an out-of-practice snorkeller like me and I was able to see the highlights of the reef that I may otherwise have missed. Our guides were adept at spotting turtles when they surfaced for air, and with this expert guidance, I was able to swim beside a beautiful Green Turtle and would probably have missed this without the help of the Calypso tour guides. A short tour of Low Island completed the morning.
The Calypso boat leaves from the Crystalbrook Marina in Port Douglas and it takes around half an hour to reach the Low Isles. The crossing can be rough if it's windy so be prepared and if you're prone to seasickness, take a tablet 20 minutes before you leave the marina.
Alternatively, you can sail to the Low Isles with Wavedancer or cruise there on a Sailaway Catamaran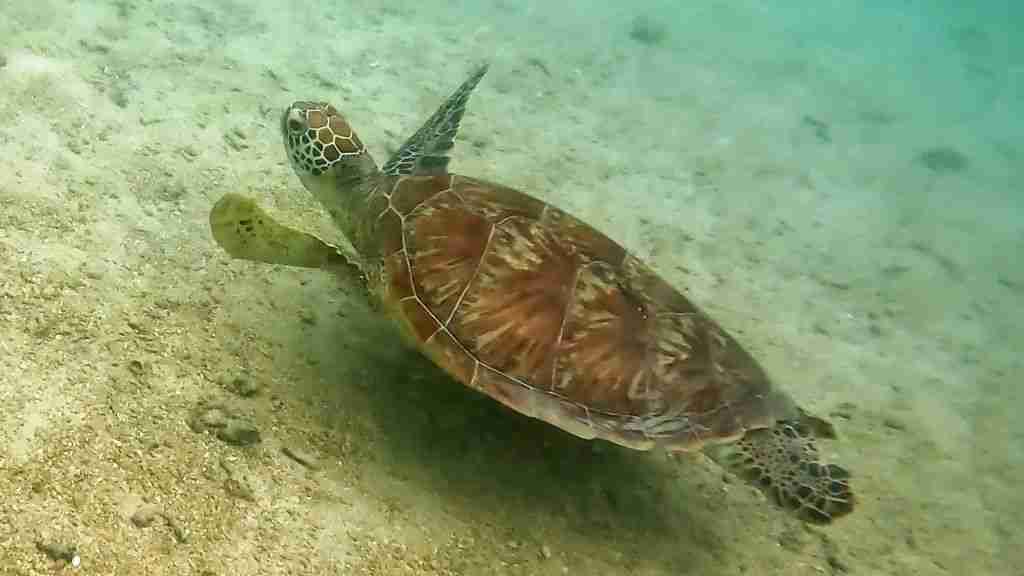 When to swim with turtles
Winter is the best time of year for swimming with turtles in the Low Isles. It's the dry season from May to September and there's less rain. The water is clear and warm, a balmy 25°C and there are no stingers in the water at this time.
In the summer dangerous Irukandji and Box Jelly Fish are found in large numbers in the waters of the Great Barrier Reef and it's best to stay out of the water. Or if you do choose to swim, lycra stinger suits must be worn.
From October to March, the female turtles come ashore at night to nest and lay their eggs leaving a trail in the sand. From December to May, around 8 – 12 weeks later, the tiny turtle hatchlings emerge and make their way across the beach to the sea.
Where to swim with turtles in Australia
Low Isles Port Douglas, Queensland
Green Island, Cairns, Queensland
Lady Musgrave Island or Lady Elliott Island, Bundaberg, Queensland
Julian Rocks, Byron Bay in New South Wales
Ningaloo Reef, Western Australia
Final Thoughts
I loved snorkelling in the Low Isles and was thrilled to swim with turtles in their natural habitat on the Great Barrier Reef. I was also excited to see a reef shark and a giant clam as well. Quite close to the beach, there was a good variety of corals and lots of pretty fish. The half-day Calypso snorkelling trip was ideal for me because it's been years since I last went snorkelling. I was well looked after and felt safe on this tour as a solo female traveller and an out-of-practice snorkeller.
Although there was a coral bleaching event in the area a few years ago the reef on the Low Isles has recovered substantially and there's plenty to see. If you're confident in the water, consider an outer reef tour where you'll visit several different locations on the reef and perhaps see a greater variety of corals and sea life. Calypso also offers an outer reef full-day trip and I'd love to do this next time I'm in Port Douglas.
**NOTE** I paid for my snorkelling trip to the Low Isles and I'm under no obligation to write this article. As usual, the opinions and experiences shared are my own and I had a great time swimming with turtles in the lovely Low Isles!
For peace of mind make sure you buy travel insurance before you go, especially if you are travelling solo. I use Travel Insurance that covers me for overseas medical, lost baggage, and other expenses and I can concentrate on enjoying my trip without worrying about something going wrong.
Pin this post & save it for later!
More on Australia Travel
How to See gorgeous Green Island in Cairns
A Fun Day Catching the Ferry to Fitzroy Island
Visiting the Delightful Daintree Rainforest
10 Stunning Islands on the Great Barrier Reef
15 Best Reasons to Visit Brisbane in Australia
Hugging a Koala in Australia – It's unforgettable!
15+ of the Best Things to Do in Sydney, Australia
The Beautiful Blue Mountains in Australia