Fun Things to do in Hobart Tasmania – in 3 days
To find Hobart, Australia's smallest capital city, travel south along the east coast of Australia and across the water to Tasmania. Hobart rewards visitors with art, culture, great food and rich colonial history. There are UNESCO world heritage sites to visit, pretty Georgian cottages, restored facades and warehouses that now house art galleries, cafes and theatres. There are lots of fun things to do in Hobart Tasmania.
With 3 days in Hobart, you'll have ample time to take in the highlights. Don't miss MONA, the museum of modern art, the scenic waterfront, historic Battery Point, Salamanca Place and the famous Salamanca Market. Foodies will love Tasmania's quality produce and Hobart's fine selection of restaurants and cafes. In Hobart and throughout Tasmania you'll find lots of opportunities to sample the local wine, beer and gin.
Solo travel to Hobart
I've enjoyed travelling solo in Hobart and found it a very safe and friendly place to visit alone. I had a great time on a solo 2-week road trip around Tasmania and always love to shop at the Salamanca Market and visit the art galleries and historic sites in Hobart.
Australia is one of the safest countries in the world for solo travel and Hobart is one of the safest capital cities. But if you still feel a bit nervous to travel alone in Hobart there are some things you can do to smooth the way. These travel tips for women travelling alone will help you to have a fun and successful time travelling solo in Hobart.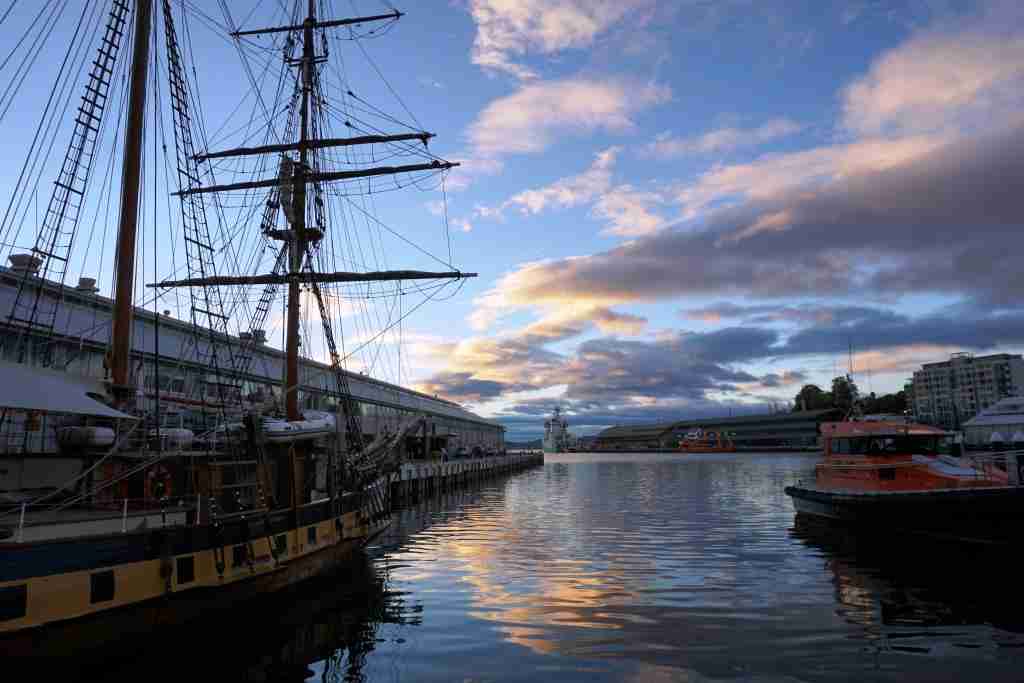 When to go
The best time to visit Tasmania is in the summer, from December to February. And New Year is a great time to be in Hobart. The weather is warm and the Waterfront is buzzing with excitement. Join in the celebrations at the end of the epic Sydney to Hobart Yacht Race, the New Years' Eve Fireworks, and "The Taste of Tasmania" food and wine festival.
The shoulder seasons March / April and October / November are less busy. The weather is cold, crisp and changeable, there are fewer tourists and prices fall. Pack your thermals for your 3 days in Hobart and expect cold weather in Spring and Autumn. I enjoyed visiting Hobart in April. The weather was warm at times and then it snowed in the mountains. It was showery and cold at times but still lovely.
In mid-winter, the Dark MOFO Festival is held to celebrate the winter solstice. There's a week of art, live music performances and revelry in June. Events include a winter feast on Hobart's waterfront, a colourful parade and a nude solstice swim to celebrate the longest, coldest night of the year.
Covid -19 border restrictions may apply for travel in Australia. Check with your local government for the latest information.
"*Disclosure* – This page contains affiliate links and I make a small commission on sales that result from clicks on those links. This does not cost you any extra and helps to keep this website running. Thank you for your support!"
Fun Things to do in Hobart Tasmania
Below you'll find my suggestions for a fun 3 days exploring historic Hobart. I took my car to Tasmania so I had my own transport but you can take local buses or the hop on hop off bus to see most of these attractions. You also have the option of day tours or you could hire a car to get around.
DAY 1
Introduce yourself to historic Hobart with a walking tour of the old town, the waterfront, Salamanca Place and Battery Point. Then enjoy an afternoon of art and culture at MONA. Call in at the beautiful Botanical Gardens for a relaxing stroll to end the day. If you don't want to walk take the hop-on hop-off bus
Visit the Hobart Waterfront
One of the first places to visit in Hobart is the waterfront. It's an interesting place to explore or to just sit and watch the world go by. The waterfront was at the centre of Old Hobart. There were fishing and whaling boats going about their business and ships coming and going bringing convicts and supplies. Victoria Dock is now a working fishing harbour and Constitution Dock is full of fishing boats and the odd seal.
Also moored at the Hobart waterfront is a historic tall ship. It's a replica of the ships that brought the convicts and early settlers to Australia. And the MONA Roma ferry comes and goes from the Brooke Street Pier. Behind the dock area is the original façade of the old jam factory, now the luxury Henry Jones Art Hotel.
Buy fresh fish and chips and feed the seagulls or enjoy a slap-up seafood meal in a fancy restaurant. There are lots to choose from at Elizabeth Street Pier.
Salamanca Place and Art Centre
Next to the waterfront is Salamanca Place, just a 5-minute walk from the waterfront. Part of the old town and frequented by sailors, whalers and convicts in the old days, Salamanca Place is now an upmarket centre of art and culture. Art galleries, theatres, cafes, boutique jewellery and fashion clothing can be found here. And on Saturdays, the very popular Salamanca Market takes over the street.
Stroll around Battery Point
Battery Point is a charming suburb in Hobart, on the River Derwent. Originally settled in 1804, Battery Point is named after a gun battery built in 1818 that protected the old town of Hobart. The site of the old gun battery is now in Princes Park.
To get to Battery Point, climb the convict-built Kelly's Steps from Salamanca Place and stroll through the laneways. You'll pass past pretty restored colonial cottages and Georgian homes on the way to Hampden Road. Call in at a café or a quaint teahouse and buy some souvenirs. There are art, gift and antique shops on Battery Point and a restored artisan bakery that makes delicious bread. In the centre of the village green, you'll find Arthurs Circus, a circle of quirky, restored cottages set around a small park.
Continue up the hill to St Georges Anglican Church to enjoy the beautiful architecture of this historic building. The church is visible from the River and it is an important landmark. In the old days, the church spire helped guide sailors home when they returned from sea.
Catch a ferry to MONA – Museum of Old and New Art
The famous MONA gallery is an underground museum that houses the private art collection of gambler and millionaire David Walsh. MONA is very popular with visitors partly because of its lovely location on the banks of the Derwent River and visiting MONA is one of the best things to do in Hobart.
I enjoyed a couple of hours here but, for many people, it's a highlight of their stay in Hobart. Modern art at MONA is interesting and sometimes confronting. I saw giant graveyard worms with human faces, a wall of vaginas and some explicitly sexual works. In addition to the artwork, the grounds and the building itself all contribute to the MONA experience. You can easily spend the day relaxing by the river, chilling out on the beanbags on the lawn. There's also a restaurant and a cafe to enjoy as well.
The MONA adventure starts at the Hobart waterfront with a ride on the MONA Roma ferry. It takes about half an hour to cruise around the harbour to MONA just outside the CBD in Berriedale. I went by car in wet weather but there are also buses for those who need wheelchair access.
Book ahead if you're visiting in holiday periods as tickets can sell out.
MONA Tours from Hobart
A MONA Art and Wine tour combines Mona's modern art experience with wine tasting and a tour of the Morilla Estate.
This Hobart city sightseeing tour includes your MONA ticket, the Female Factory, and the Cascade Brewery gardens. You'll also visit the Botanical Gardens and other Hobart highlights along the way.
Visit the Royal Tasmanian Botanic Gardens
The Royal Tasmanian Botanic Gardens in Hobart are FREE to visit and open every day. They were established in the early years of the colony and you'll see evidence of this with many old trees. As you walk through the gardens you'll pass old trees, heritage buildings and the old Arthur Wall. To encourage the growth of the fruit trees planted beside it, the Arthur Wall is heated from the inside. You can enjoy the French and Japanese Gardens, the greenhouse and the Sub-Antarctic plant house. There's also a restaurant, an art gallery and a souvenir shop to browse.
The Botanical Gardens are near MONA. If you're driving they're easy to find. Just follow the signs on the Tasman Highway or you can catch a bus from Hobart. The hop-on hop-off bus will also take you there.
DAY 2
Start the day early. Head straight to the Salamanca Market and spend the afternoon enjoying the colonial history and aboriginal art at TMAG, The Tasmanian Museum & Art Gallery.
Salamanca Market
Saturday from 08:30 AM – 3 PM
The Salamanca Market is one of the largest and most loved street markets in Australia and spending a Saturday morning browsing the market stalls was one of my favourite things to do in Hobart. Early each Saturday Salamanca Place near the waterfront in Hobart fills with stalls selling local crafts and produce. At the market, you can sample the local gin and enjoy a morning of browsing stalls filled with arts & crafts and clothing. There's lots of street food to choose from and local musicians busking. I had a wonderful morning shopping and bought a leather bag and lots of gifts for my family. I had my Christmas shopping almost done in April.
For me, the Salamanca Market was a highlight of my stay in Hobart. Make sure you plan ahead and time your visit so that you're in Hobart on a Saturday morning.
The Salamanca Market is very popular so get there early. Even on a cold, wet morning, people were waiting to get in. If you need transport, the hop-on hop-off bus will take you there.
Tasmanian Museum and Art Gallery (TMAG)
TMAG is a well-loved museum and art gallery that visitors of all ages and interests will enjoy. There's zoology, geology, natural and social history as well as decorative arts photography and design to see.
One of the exhibits tells the story of the Tasmanian Aboriginal People and the colonists following the invasion by the British colonial ships carrying convicts and early settlers. There's another exhibition that features the art and culture of Tasmania's Indigenous people. Other collections show Tasmania's rich maritime history and other interesting topics.
TMAG is located behind the Hobart Waterfront in Dunn Place. Walk there or take the hop on hop off bus.
DAY 3
Drive to the top of Mount Wellington for a spectacular sunrise (or sunset). Then call in at the Cascades Female Factory to learn about the women in Hobart's colonial history. Spend the afternoon tasting craft beer and touring the Cascades brewery.
Mount Wellington – Kunanyi
Hobart nestles beneath Mount Wellington also called Kunanyi by the indigenous Australians. It's a sacred place for aboriginal people where the spirits of their ancestors are laid to rest. The road to the top of Mount Wellington is steep and windy and it takes about half an hour to reach the amazing lookout at the top. The view is magnificent, especially at sunrise but it can be very cold at the summit. When I was there, the top of the mountain was covered in snow and hidden behind clouds most of the time. Unfortunately, the road to the summit was closed but I was able to drive to a lookout halfway up the mountain.
The Mount Wellington Explorer bus is a great way to get there from Hobart if you don't have a car. Spend a few hours exploring the walking trails in Wellington Park if you have time.
Cascades Female Factory Historic Site
No Historical tour of Hobart is complete without a visit to the Cascades Female Factory. It was a workhouse for female convicts and is now a UNESCO World Heritage site. It's here you'll discover the stories of the many women who lived and were imprisoned in the old Cascades building at the base of Mount Wellington. These women were isolated from the main settlement of Hobart. and unrelenting hours of labour were expected from the convicts. Cooking, cleaning, mending, spinning and weaving for the colony filled their days and even the slightest disobedience was punished.
To get there take the hop-on-hop-off bus.
Cascades Brewery
Established in 1832, the Cascades Brewery in Hobart is Australia's oldest brewery. Beer was popular in early Australia and vast quantities were consumed by the small population of 10,000 sailors, convicts and free settlers. The brewery supplied around 55 pubs in old Hobart.
Tours of the brewery are a popular way to see how some of Australia's best-loved beers are made. Lunch and beer tasting are available in the historic brewhouse. If you don't have a car, the hop-on-hop-off bus stops here.
Day Trips & Tours
When you've seen the sights of Hobart you'll be ready to venture a bit further afield outside the city. Here are some day trips that I think you will enjoy.
Combine Modern Art at MONA with a winery tour on the Wine meets MONA Art Day Tour from Hobart.
This Tasman Peninsula, Port Arthur Historic Site tour includes a 3-hour wilderness cruise exploring the spectacular coastline near Port Arthur looking for seals, whales, birds and dolphins. Spend the afternoon discovering Tasmania's colonial history at the Port Arthur Historic Site.
See Mount Wellington, Mount Field, Bonorong and Richmond all in one go. This tour promises an unforgettable day exploring beautiful waterfalls in Mount Fields National Park and enjoying stunning views from the top of Mount Wellington. You'll stroll the streets of historic Richmond and meet endangered Tasmanian Devils at the Bonorong Wildlife Sanctuary.
Explore the beautiful Bruny Island on a wilderness cruise or take a Food, Lighthouse and Sightseeing tour. Sampling gourmet local food is included and you'll try the local cheese, honey, chocolate and oysters. You'll visit Adventure Bay, Cape Bruny and tour the lighthouse with opportunities to see local wildlife along the way.
Where to stay in Hobart
Stay in Hobart old town and be surrounded by history. I loved staying in an old restored pub on Battery Point and a quaint hotel near the waterfront.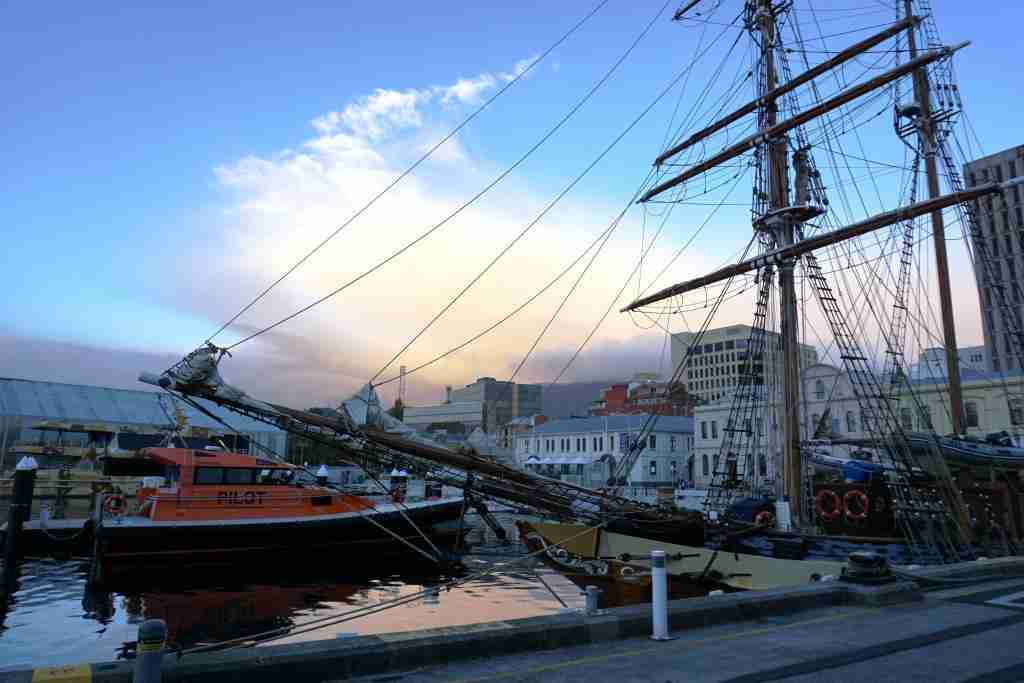 Budget: If you're after a dorm bed, the Montacute Bunkhouse gets great reviews.
Mid Range: I stayed at the Shipwrights Arms, a quaint old pub in a great location on historic Battery Point, just a short walk from Salamanca Place and Hobart's waterfront. It has a welcoming atmosphere and free onsite parking. Just wander downstairs for a beer or a meal. You can't beat the Sunday roast special (all weekend).
The Astor Private Hotel has a central location and oozes old-world charm. This rambling old hotel is full of antiques and rather eccentric decorations. The rooms are spacious and comfortable and there are spotless shared facilities for the cheaper rooms. I loved staying here! It reminded me of visiting my English Great Aunts.
Upper Mid Range: The Moss Hotel has an ideal location in Salamanca Place, surrounded by historic buildings, restaurants and cafes. Guests love the super location and the service.
Luxury: The Henry Jones Art Hotel is a cool and funky five-star hotel on Hobart's waterfront. The hotel is a stunning renovation of the old jam factory and the location is ideal. It's just a short walk to the MONA ferry, Salamanca Place and Battery Point. Rooms are spacious and full of contemporary art. This hotel gets exceptional reviews.
Travel Essentials
#1. A Travel Guide for Tasmania or Australia. I rarely travel without my trusted Lonely Planet Guide.
#2. Travel Insurance – I always use World Nomads so I can concentrate on enjoying my trip without worrying about something going wrong.
Pin It! If you enjoyed this article why not save it for later?
Related Articles
Beautiful Tasmania Road Trip – 2-Week Itinerary
The Best Hotels in Tasmania Australia
15 Things You'll LOVE to do In & Around Launceston
8 Great Day Trips from Hobart, Australia
Why Port Arthur in Tasmania is So Fascinating
Why You'll Love Visiting Wineglass Bay in Tasmania