10 Days in Tasmania Itinerary – The Perfect Solo Road Trip
This 10 day Tasmania itinerary takes you to the southern tip of Australia. Packed with gorgeous scenery, historical sites, art and culture, this itinerary will introduce you to the highlights of Australia's island state and is perfect for solo travellers.
Tasmania is an island often overlooked by visitors to Australia, but it has a lot to offer with unique wildlife, and untouched wilderness areas that are unlike anywhere else in the country. Add to that delicious fresh food, world-class local wines and some of Australia's earliest colonial history and you have a destination that should not be missed.
I've had many great experiences travelling solo in Australia and I can recommend Tasmania for a solo road trip. It's one of the safest destinations in the country for women travelling alone. This 10 day Tasmania itinerary is also ideal for nature lovers and for first-time visitors to the island state.
Whether you're travelling alone or with family and friends, I'm sure you'll enjoy this scenic road trip.
NOTE: To see Tasmania in 10 days, you'll be moving quite quickly around the island and you can tailor this itinerary to suit your interests.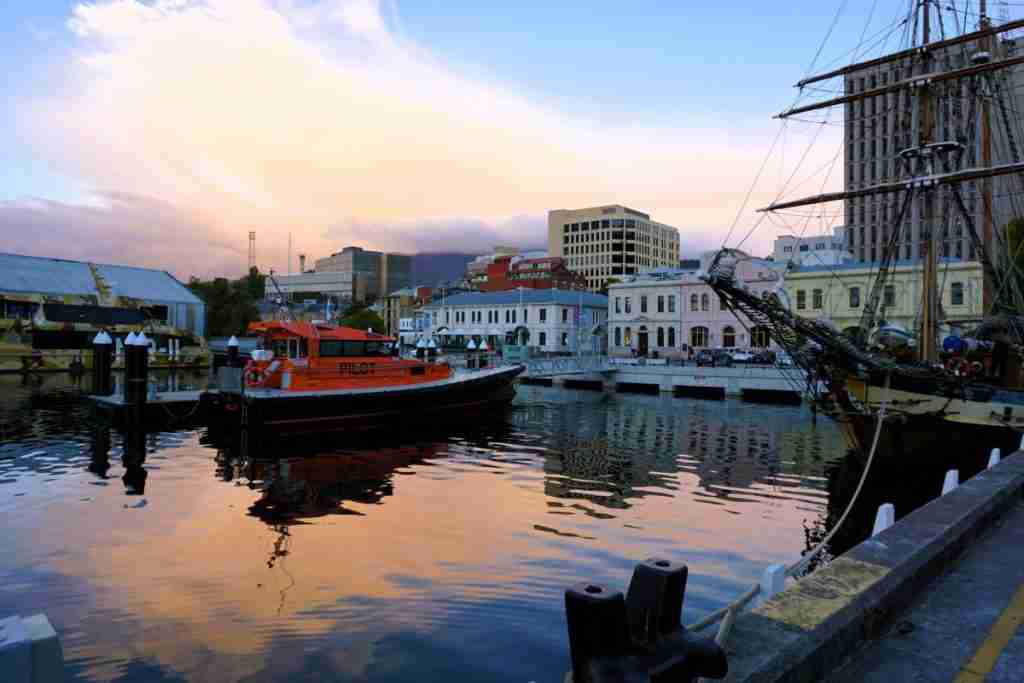 Some of the links on this page are affiliate links which means I may make a small commission on sales that result from clicks on those links. This does not cost you any extra and helps to keep this website running. I appreciate your support!
Check with your local government for the latest information on travel in Australia.
10 Days in Tasmania Itinerary Overview
This 10 day itinerary in Tasmania begins in Hobart, Tasmania's capital, and ends in Launceston. It's best done as a road trip. This gives you the flexibility to visit the stunning wilderness areas and National Parks at Mount Field, the Tasman Peninsula, the Freycinet Peninsula, and Cradle Mountain.
To see Tasmania in 10 days, you'll drive one of Australia's most scenic routes, the Great Eastern Drive and experience a variety of landscapes from the stunning beaches of Wineglass Bay and the Bay of Fires to the soaring sea cliffs of the Tasman Peninsula, from the lush rural landscapes of the Tamar and Derwent Valleys to the majestic mountains and crater lakes of Cradle Mountain.
In the National Parks and wildlife sanctuaries there'll be opportunities to see the unique Australian wildlife like endangered Tasmanian Devils, white kangaroos, wombats, koalas, Fairy penguins and platypus to name a few.
Hobart, Richmond and Port Arthur have UNESCO World Heritage sites to explore and there are museums and art galleries to visit, including the famous MONA (Museum of Old and New Art). Along the way, you'll have many opportunities to sample the delicious local produce, seafood and award-winning wines on Bruny Island, the Tamar Valley and throughout Tasmania.
Time your visit so that you're in Hobart and Launceston on a Saturday morning to enjoy shopping at the Harvest Market in Launceston and the famous Salamanca Market in Hobart, one of my favourite places for gift shopping.
NOTE: On this 10 day Tasmania itinerary you'll visit 5 stunning UNESCO World Heritage-listed National Parks. You'll need to buy a Tasmanian National Parks Pass online or at a National Park Centre. I bought my 2-month holiday pass on the Spirit of Tasmania Ferry (A$89.50). Day passes are also available (A$44.75 per vehicle).
How to Get to Tasmania
The easiest and cheapest way to get to Tasmania is to fly. There are regular domestic flights to Hobart and Launceston from Australia's major cities.
Another option is to book a passage on the Spirit of Tasmania Ferry from Geelong in Victoria to Devonport in Tasmania. The ferry takes around 10 hours and I suggest booking a night passage with a cabin and taking your car with you. The cabins cost extra but they're comfortable and you can sleep through the trip.
If you catch the ferry, you have the option of driving directly to Hobart (4 hours) or doing this trip in reverse, beginning in Devonport with a scenic drive through the Tamar Valley to Launceston and stopping off along the way for wine tasting. Start and end this itinerary in Devonport at the ferry port on the north side of the island.
NOTE: If you're travelling without a car, it's possible to base yourself in Hobart or Launceston and do day trips to see many of the top sights in this 10 day itinerary in Tasmania. Learn more about how to visit Hobart without a car.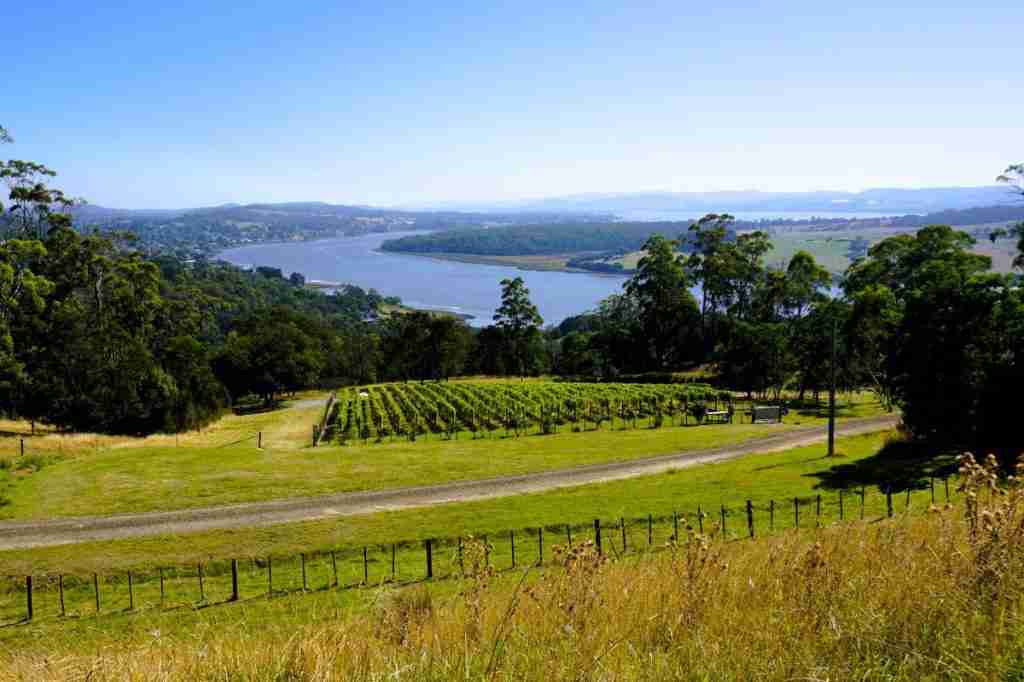 Day 1. Hobart
Arrive at Hobart Airport, hire a car and make your way to the city centre to begin this Tasmania Road trip itinerary.
Start by exploring the Hobart Waterfront, a scenic area that's overflowing with colonial history.
Beside the waterfront area is Salamanca Place where there are art galleries, coffee shops, boutiques and heritage buildings.
Shop for gifts and souvenirs at the famous Salamanca Market on Saturday mornings.
TIP: Time your trip so that you don't miss the Salamanca Market held every Saturday morning from 08:30 a.m. to 3:00 p.m.
Climb the convict-hewn Kelly's Stairs and walk up the hill to Battery Point, a well-preserved colonial area and one of Hobart's oldest suburbs. Here you'll find rows of quaint restored Georgian cottages, cafes, gift and antique shops and an artisan bakery.
Spend the afternoon enjoying the controversial exhibits at the MONA Museum of Old & New Art, one of Australia's most popular art galleries. Catch the Mona Roma ferry to MONA and enjoy a cruise on the Derwent River or drive yourself there.
The Tasmanian Museum and Art Gallery TMAG is also worth a look and is located near Hobart's Waterfront.
There's more history to discover at the UNESCO World Heritage Female Factory and the Cascade Brewery.
If you have time, drive up the steep winding road to the top of Mount Wellington to enjoy panoramic views of Hobart.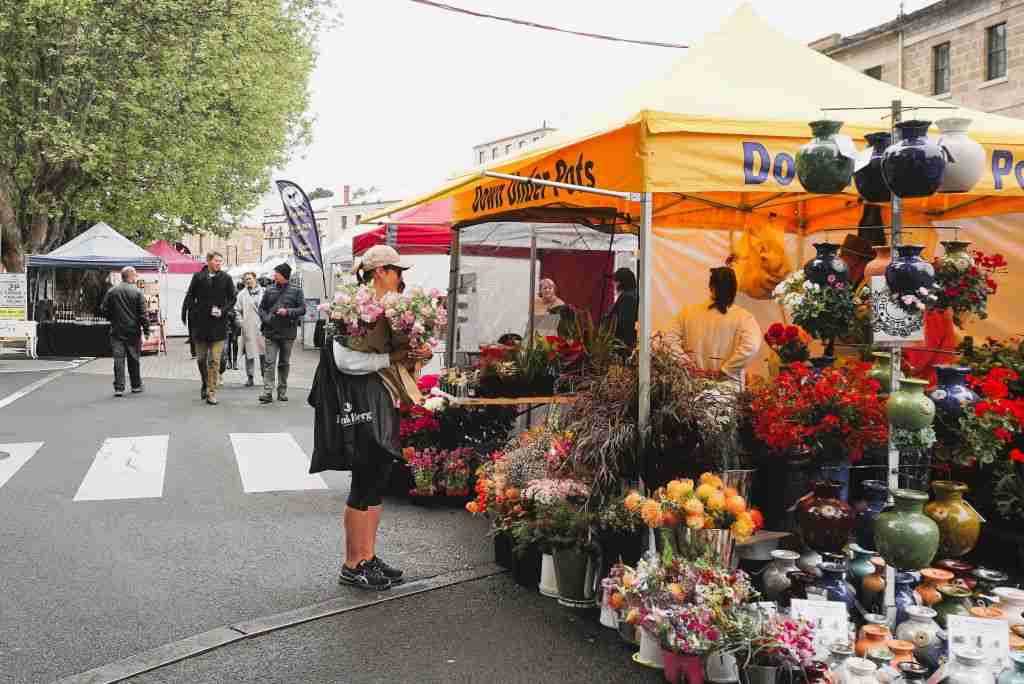 Where to Stay in Hobart
For the first few days of this 10 day Tasmania itinerary, you'll be based in Hobart, exploring the city or taking day trips. Here are some suggestions for where to stay in Hobart for all budgets:
Budget: The Montacute Bunkhouse offers dorm beds and private rooms and gets great reviews.
Mid-Range: The Shipwrights Arms is a quaint old pub on historic Battery Point, just a short walk from Salamanca Place and Hobart's waterfront. It has a welcoming atmosphere and free onsite parking. I enjoyed staying here and can recommend the Sunday roast special (all weekend).
The Edinburgh Gallery B&B has a friendly owner and plenty of character. It's centrally located on Macquarie St, Hobart and the walk down the hill to the waterfront takes about 10-15 minutes. I stayed in a lovely light, bright room with a private bathroom on the main level of the old house. But the cheaper rooms are in the basement, 3 flights of stairs away from the shared bathroom.
The Moss Hotel is a popular 4-star hotel in a superb location. It's a quiet retreat in busy Salamanca Place.
Luxury: The Henry Jones Art Hotel on the Waterfront is a favourite place to stay in Hobart. This hotel is a renovated warehouse inside the old "Jam Factory". It's full of character and artwork.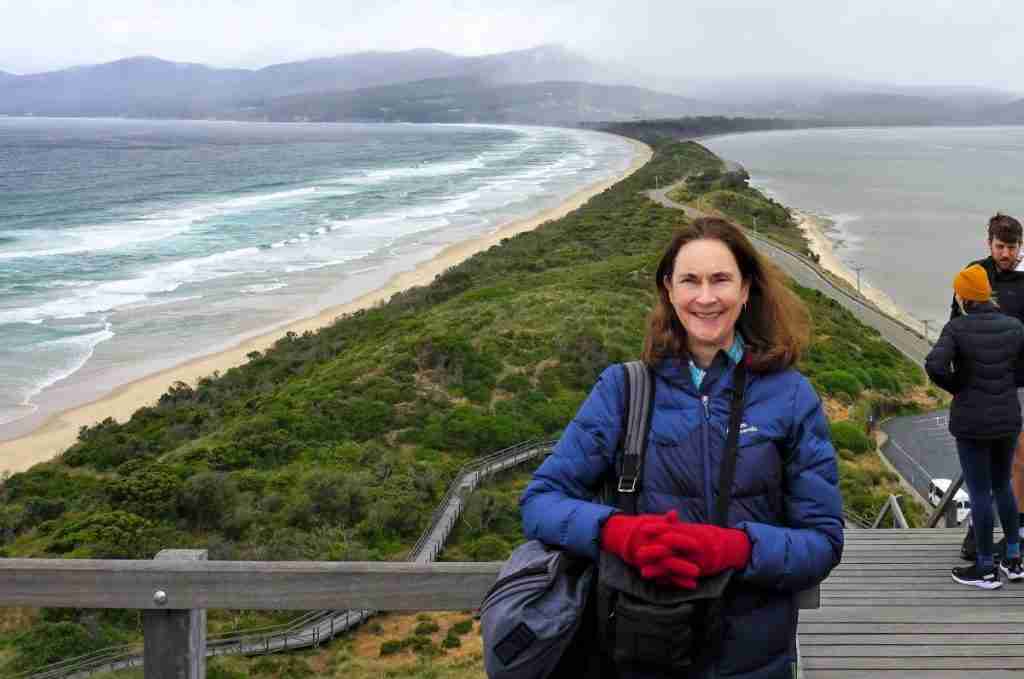 Day 2. Bruny Island
Travel time: 1 – 1.5 hours
Spend day 2 of this 10 day Tasmania itinerary exploring beautiful Bruny Island on a day trip from Hobart. The most flexible way to see Bruny Island is by car and you can enjoy the highlights at your own pace.
Don't miss the Truganini Lookout at The Neck, Adventure Bay and the Cape Bruny Lighthouse.
Walk the coastal trails and look for wildlife along the way. If you're lucky you'll spot one of Bruny Island's famous white kangaroos.
Sample the local produce. Bruny Island offers opportunities to stop and try oysters, honey, chocolate, fudge, and artisan cheeses.
The car ferry to Bruny Island leaves from Kettering, a short half-hour drive from Hobart, and the ferry crossing takes around 20 minutes.
At the end of the day return to your hotel in Hobart.
Day Tours to Bruny Island from Hobart
If you prefer not to drive on this 10 day Tasmania itinerary, you can see many of the main sights on day trips and there are several popular tours to Bruny Island from Hobart.
On a Gourmet Sightseeing tour from Hobart, you'll see the highlights of Bruny Island and sample the fresh local produce.
On the Food Lighthouse and Sightseeing tour, you'll enjoy gourmet food on beautiful Bruny Island with cheese, honey, chocolate and oyster tasting. You'll visit Adventure Bay, and Cape Bruny and tour the lighthouse with opportunities to see local wildlife along the way.
A wilderness cruise along Bruny Island's rugged coastline in search of regional wildlife is also a great choice for nature lovers. You'll have time to explore the island after the cruise.
Day 3. Mount Field National Park & Russel Falls
Travel Time: 2 hours each way
Today you'll drive to the beautiful Mount Field National Park, one of many fun day trips from Hobart and a pleasant drive through the picturesque Derwent River Valley. Mount Field is best known for its waterfalls and forests of tall trees. It's one of Tasmania's oldest and most loved National Parks and the perfect addition to this 10 day Tasmania itinerary.
On the way to Mount Field, stock up on fresh berries at the Westerway Raspberry Farm near the entrance to Mount Field National Park.
Follow the walking trail from the National Park Visitor's Centre to Russel Falls. The path follows a sparkling stream through moss-covered trees and green ferns.
Continue on the Three Falls Circuit trail to see the highlights of this section of the park, Russell Falls, Lady Baron Falls, Horseshoe Falls and the Tall Trees. The circuit takes around 2 – 2.5 hours to complete.
There's a café at the National Parks Centre but you can also stop for a meal at the Salmon Ponds Café in New Norfolk on the way back to Hobart.
At Salmon Ponds, you can enjoy the historic heritage hatchery and lovely grounds and feed the fish in the huge ponds.
The lovely Hobart Botanical Gardens are another place worth enjoying on the way back to Hobart.
The MONA Art Gallery is located near the Botanical Gardens and should not be missed with 10 days in Tasmania.
Where to Stay
In New Norfolk, the Old Colony Inn is a quaint and welcoming, restored Inn from the 1820s. The Victorian-era charm and hospitality delight guests who highly recommend booking a room or visiting for a pub meal. New Norfolk is one of Tasmania's oldest historic settlements and is around 45 minutes from Hobart on the way to Mount Field National Park.
Day 4. Port Arthur via Richmond
Travel Time: 1.5 – 2 hours
Next, on this 10 days in Tasmania itinerary, you'll visit the UNESCO World Heritage historic sites at Port Arthur and in Richmond.
Richmond is a pretty heritage town near Hobart and the top attractions are the historic Richmond Gaol, the convict-built Richmond Bridge and the quaint Georgian cottages that line the main street. Many are now gift shops, galleries and coffee shops.
Enjoy morning tea in Richmond and spend the afternoon exploring Port Arthur, one of Australia's most important convict settlements. The worst of Australia's convicts were sent to Port Arthur and the ruins at the historic site tell the stories of the people who lived and died there in the mid-19th century. The site is quite large and takes a few hours to explore and the Port Arthur entry ticket includes a short harbour cruise.
Drive to the Remarkable Cave on the rugged coastline. Enjoy the wild, coastal scenery and distant views of Cape Raoul. Watch the huge waves crashing against the majestic sea cliffs from Maingon Lookout. If time permits take the walking trail along the clifftops to Crescent Bay.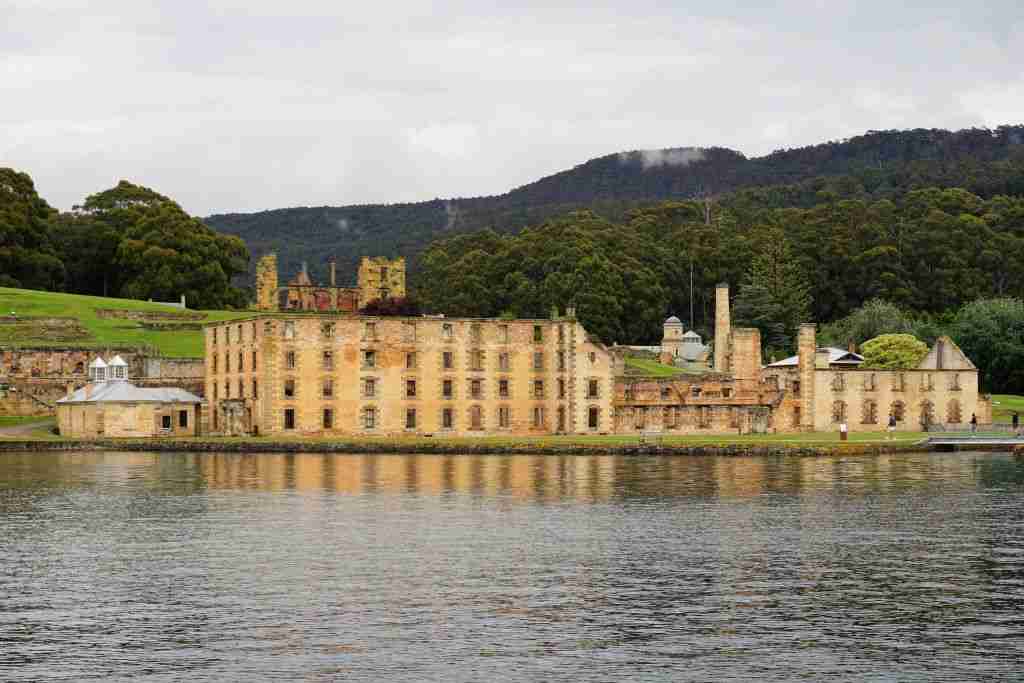 Where to Stay in Port Arthur
Budget: NRMA Port Arthur Holiday Park offers cabins and campsites with excellent facilities. I loved the sweet little wallabies that were hopping around my tent. The holiday park is a 5-10 minute drive from Port Arthur.
Mid-Range: Port Arthur Villas are just a short walk from the Port Arthur Historic Site. The villas offer comfortable accommodation with kitchen facilities for self-catering and a beautiful garden setting.
Stewarts Bay Lodge has gorgeous water views and offers self-contained chalets and villas with fully equipped kitchens a short distance from the Port Arthur Historic site.
Upper Mid-Range: The Fox & Hound Historic Hotel gets great reviews for its central location near the Port Arthur historic site.
Day 5. Tasman National Park & the Tasman Peninsula
Spend day 5 of this 10 day Tasmania itinerary exploring the Tasman National Park and admiring the impressive natural rock formations at:
The Tasman Arch, the Devil's Kitchen, the Blowhole and the Tessellated Pavement
Visit the Eagle Hawk Neck where vicious dogs prevented convicts from escaping from Port Arthur across the sandbar.
Hike from Fortescue Bay to Cape Huay (4 hours return). Nature lovers will enjoy the dramatic coastal scenery of the cape. It's the last leg of the epic Three Capes Track, a scenic 4 day hike through the Tasman National Park that begins at Port Arthur.
TIP: The Three Capes Track is perfect for solo female hikers who want to see more of the dramatic coastal scenery and the soaring sea cliffs of the 3 capes in the Tasman National Park. To complete the 4-day hike you will need to extend this 10 day Tasmania itinerary by a few days.
Hike to Cape Raoul. The 5-hour walk to Cape Raoul has spectacular coastal views, but the trail can be very windy. The walk starts at Stormlea Road (off Nubeena Road) and is not part of the 3 Capes Track.
Visit the Unzoo to see endangered Tasmanian Devils at feeding time.
Stop off at the Port Arthur Lavender Farm, wander through the sweet-smelling lavender fields, eat at the cafe and shop for lavender-scented souvenirs and gifts.
Hikers may want to spend a second night in Port Arthur but the next stop is the stunning Freycinet National Park around 3 hours drive from the Tasman Peninsula.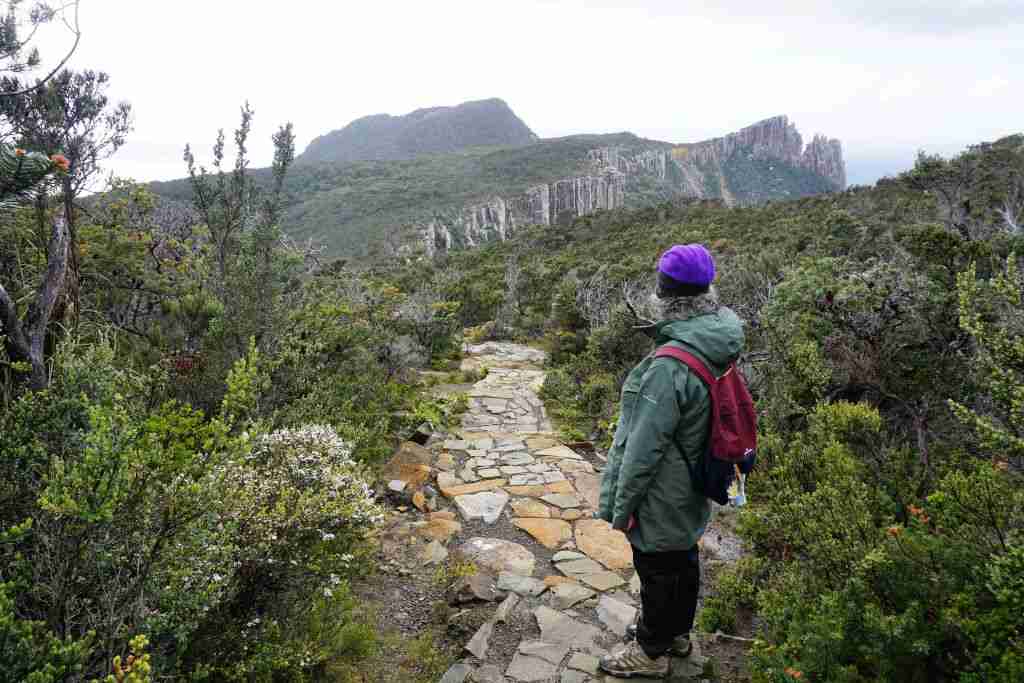 Day 6. Wineglass Bay & the Freycinet Peninsula
Travel Time: 3 hours
One of the highlights of this 10 day Tasmania itinerary is Wineglass Bay and the stunning scenery of the Freycinet Peninsula on the east coast of Tasmania. Idyllic Wineglass Bay is one of the most beautiful beaches in Australia with crystal clear, turquoise water, and an arc of pristine white sand with a backdrop of rugged granite mountains.
The Freycinet National Park is a relatively remote area where outdoor activities are popular. Here are some of the best things to do:
Hike to the Wineglass Bay Lookout (1-1.5 hours)
Hike to Wineglass Bay Beach. From the Wineglass Bay lookout, continue down the steep track to the beach (3 hours return)
Hazards Beach circuit walk (5 hours)
Cape Tourville Lighthouse Boardwalk with stunning views at sunrise (20 minutes)
Hike to the top of Mount Amos. A difficult, very steep scramble to the top of the mountain with panoramic views at the top (3 hours return)
Outdoor activities like bushwalking, swimming, snorkelling, kayaking, and fishing.
Wine tasting at the Devil's Corner Winery, the Springvale Vineyard, and the Gala Estate.
Swim and take a beach walk at Friendly Beaches
TIP: Take a Wineglass Bay Cruise to see beautiful Wineglass Bay without hiking.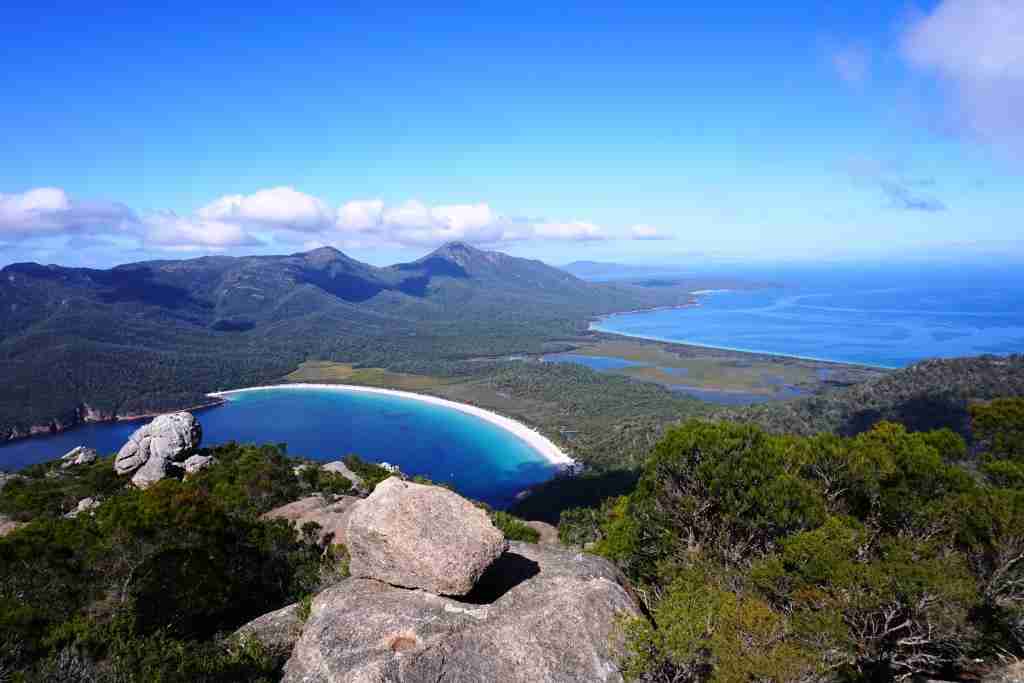 Where to Stay near Wineglass Bay
There are a variety of options for accommodation near Wineglass Bay but the Freycinet National Park is a popular spot and you'll need to book ahead for this 10 day itinerary in Tasmania if you're visiting in peak periods like Summer, Easter and school holidays.
Budget: The Big4 Iluka on Freycinet in Coles Bay is next to the National Park and offers cabins, dormitory beds and camping facilities with hot showers. My unpowered tent site was flat, sheltered, shady and near the camp kitchen. There's a small general store, takeaway fish & chips and a bar & bistro next to the campsite.
Camping is also available inside the Freycinet National Park. Camping areas with basic facilities can be booked through the National Parks Centre.
Upper Mid-Range: Freycinet Lodge is easily accessible to all the lovely lookouts and walks inside the National Park with wallabies and other wildlife nearby.
Edge of the Bay Resort is located in a peaceful & private spot 5 minutes from the centre of Coles Bay. There are stunning views with birds and wallabies on the doorstep.
Luxury: The Freycinet Resort gets exceptional reviews for the location, the privacy and superb views at these well-appointed studio apartments.
Day 7. Bay of Fires & the Great Eastern Drive
Travel time: 1.5 – 2 hours
On day 7 of this 10 day Tasmania itinerary, you'll drive to to St. Helens and the Bay of Fires on the Great Eastern Drive, one of Australia's most scenic coastal roads.
Along the way, stop off at Bicheno or Scamander and enjoy the lovely beaches and a swim. The Great Eastern Drive has some incredible scenery, and you'll pass many beautiful beaches on the way.
Watch the Fairy Penguins waddling ashore at dusk in the summer months in Bicheno.
Don't miss beautiful Binalong Bay & the Bay of Fires where powder white sand, clear water and rocks covered with bright orange lichen create magical scenery.
Head inside the National Park to see lovely Humbug Point & Dora Point where there are gorgeous untouched beaches and free camping,
TIP: Access to the National Park is via a dirt road and a Tasmanian National Parks Pass is required.
Spend the afternoon relaxing on the beach or explore a bit further afield. I started driving towards Mount William National Park but found myself on a 50km stretch of dirt road. I decided it was too rough for my 2-wheel drive city car, so I turned back and found a pretty, short walk to do around St Helens Point instead.
Stop for the night at St Helens
Where to stay in St Helens
Budget: NRMA St. Helens Waterfront Holiday Park or Big 4 St Helens Holiday Park have a waterfront location with cabins and good facilities for campers.
Upper Mid Range: Queechy Motel St Helens gets exceptional reviews for its clean and comfortable accommodation in St Helens.
Sweetwater Villas offer excellent accommodation with a good location and are also very popular in St. Helens.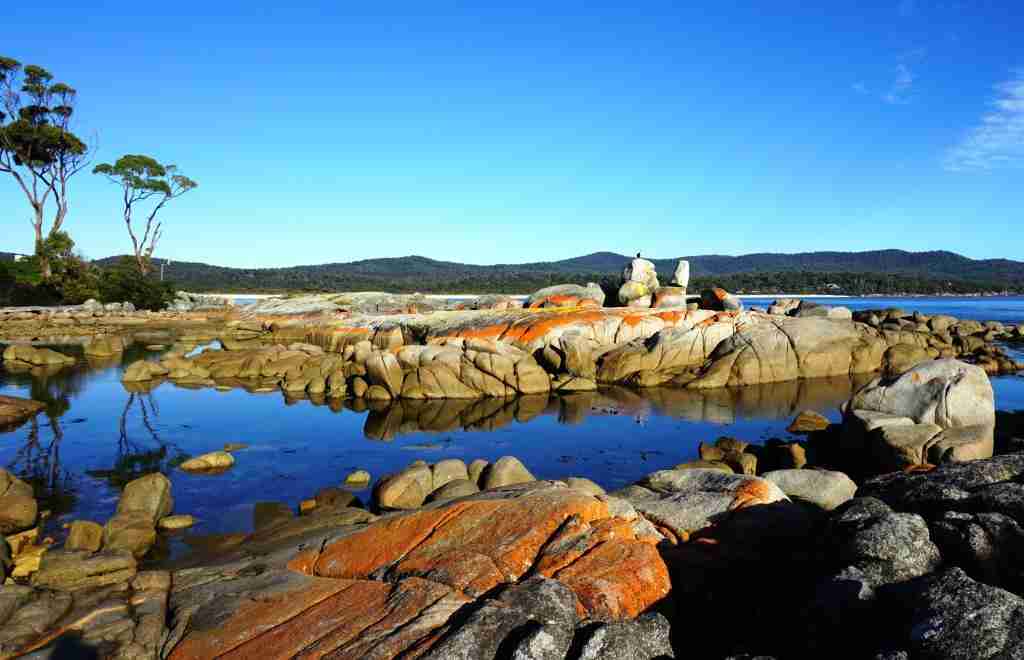 Day 8. Launceston via Tamar Valley
Travel time: 2.5 – 3.5 hours / B82 – 170 km
On Day 8 of this 10 day Tasmania itinerary, you'll drive to Launceston via the picturesque Tamar Valley, Tasmania's largest wine-producing region. Spend a relaxed afternoon wine tasting surrounded by lovely rural scenery. End the day in Launceston, Tasmania's second-largest city.
Wander through the scented, purple fields at the Bridestowe Lavender Farm and shop for sweet-smelling souvenirs and gifts.
In the Tamar Valley stop wherever you like for wine tasting at the many vineyards with open cellar doors. At the Holme Oak Winery, you'll find award-winning pinot noir and Chardonnay and the Josef Chromy Winery is best known for sparkling wine and serves exquisite food.
Brady Lookout has magical views across the Tamar River Valley and it's an easy roadside stop on the way to Launceston.
When you arrive in Launceston, head to the stunning Cataract Gorge. Take the chairlift across the gorge and walk back on the bush track across the suspension bridge. I spent an hour or 2 here enjoying the impressive scenery.
See the free exhibits at the Queen Victoria Museum & Art Gallery (QVMAG)
Visit Tasmania Zoo and see endangered Tasmanian Devils, koalas, wombats and other Australian wildlife.
Head to Lillico Beach near Devonport to watch the little Fairy Penguins waddling up the beach to their nests at dusk in the summer months, a highlight of a 10 day itinerary in Tasmania.
Shop at the Launceston Harvest Market on Saturday mornings from 08:30 to 12:30.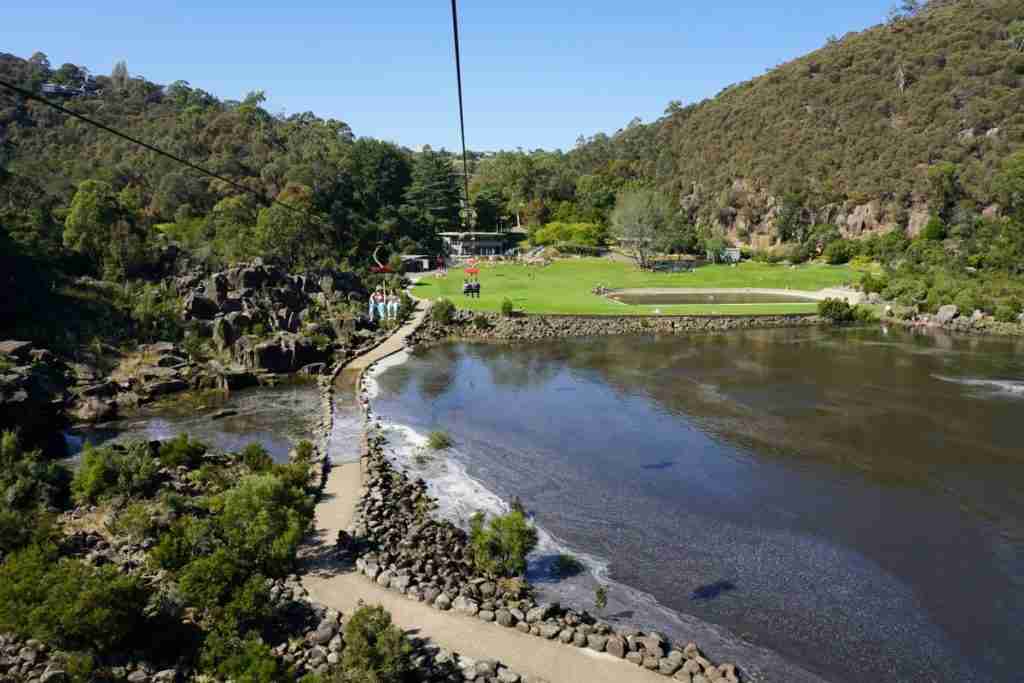 Where to Stay in Launceston
Launceston has a good selection of accommodation for all budgets. Here are some suggestions for where to stay:
Budget: If you're looking for a bunk bed try the friendly Launceston Backpackers hostel.
Mid-Range: Kurrajong House B&B gets exceptional reviews for its location, service and facilities.
Hotel Verge Launceston offers new, comfortable accommodation in a superb location convenient to the city and market.
Luxury: Peppers Silo Launceston offers comfortable, well-appointed rooms with a riverside location and beautiful views of the river and parklands.
Day 9. Cradle Mountain
Travel time: 2 – 2.5 hours, 150 km
Visiting Cradle Mountain is a highlight of this 10 day Tasmania itinerary. A UNESCO World Heritage-protected wilderness area, the Cradle Mountain National Park is one of Tasmania's most famous places. Be prepared for winding mountain roads, switchbacks, hairpin bends and poor Wi-Fi. Fill up with petrol and buy food supplies before you go.
Leave Launceston early. Stop for breakfast and stock up on fresh berries at the Christmas Hills Raspberry Farm near Deloraine.
Mole Creek is the last petrol stop before the National Park and there is a limestone cave system to explore there if you have time.
Spend the afternoon exploring the walking trails in the Cradle Mountain National Park. The peaceful Dove Lake circuit walk is one of the most popular hikes and takes 2 hours to complete.
Look for wombats and other wildlife at Ronny Creek
The short walk to Knyvet Falls takes you along a riverside path through a wonderland of green moss-covered trees.
The Marion's Lookout trail is steep, quite strenuous but rewarding and takes around 3 hours. There are fantastic views of Cradle Mountain and the crater lakes from the trail.
The Hansons Peak track has stunning views and takes around 4 hours.
The challenging track to the Cradle Mountain Summit takes around 7 hours.
The Devils@Cradle Wildlife Park is also worth visiting at Cradle Mountain to see Australia's unique and endangered Tasmanian Devils and Quolls.
Eat at the Restaurant and bar at the Cradle Mountain Lodge, the National Parks Centre Café, or self-cater.
TIP: Take your hiking boots, waterproof clothes and a warm jacket to Cradle Mountain and sleep in a warm cabin rather than camping in the cold. Choose walking trails that suit your fitness level for this 10 day Tasmania itinerary.
Where to Stay on Cradle Mountain
Budget: Discovery Parks Cradle Mountain has cabins and facilities for campers across the road from the Visitor's Centre at the Park entrance.
Mid-Range: Cradle Mountain Wilderness Village has cabins with a good location outside the National Park area.
or Cradle Mountain Hotel is close to the National Park and provides clean comfortable rooms.
Luxury: Peppers Cradle Mountain Lodge, offers comfortable accommodation with a restaurant and bar inside the National Park, surrounded by beautiful natural landscapes and wildlife.
Day 10. Launceston & Home
Travel time: 2 – 2.5 hours
Spend the morning hiking on beautiful Cradle Mountain and return to Launceston to end your 10 days in Tasmania.
What to Pack for 10 days in Tasmania
Pack layers and take clothes for warm sunny weather but be prepared for cold weather too, especially in the mountains. Tasmania's weather can be unpredictable, and it can snow in the mountains at any time of the year.
While Summers in Tasmania tend to be warm with average maximum temperatures ranging from 17°C – 23°C (62°F-73°F). Winters are cold with maximum temperatures from 3°C – 11°C (37°F – 51°F).
For a summer trip, December to February, pack your swimmers and lots of sunscreen and take a warm jacket, hiking boots, and wet weather gear too. In the shoulder seasons and in winter, take thermal underwear, warm hat & gloves.
FAQs
What is the best time to travel around Tasmania?
Summer, from December to February is the best time to travel around Tasmania. The weather is warm and sunny and there's less rain so it's the perfect time of year for a road trip, a beach holiday, hiking, camping and exploring Tasmania's beautiful National Parks.  
How long would it take to drive around Tasmania?
While you can drive around Tasmania in 7 days on a whirlwind trip, 2 – 3 weeks is an ideal amount of time to explore the island, visit the National Parks, meet the unique wildlife and experience the art galleries, markets, historic sites and wineries that Tasmania is famous for.
What is the best month to go to Tasmania?
February is the best month to go to Tasmania for the warmest and driest weather of the year. But December, January and March are also great months to visit Tasmania for hiking or for a beach holiday.
Is Freycinet closer to Hobart or Launceston?
The Freycinet Peninsula is slightly closer to Launceston. Hobart is 194 kilometres from the Freycinet Peninsula and it takes around 2.5 hours to drive there while Launceston is 176 kilometres away and the trip takes around 2.25 hours.
Final Thoughts – 10 Days in Tasmania Itinerary
10 days in Tasmania is enough time to travel around the island and see the main attractions, enjoy the historical sites, museums, and galleries, visit the remarkable wilderness areas and National Parks and enjoy some delicious local food and wine.
This 10 day Tasmania itinerary will show you the highlights but to really appreciate all that this small but beautiful island has to offer, consider allowing a bit more time.
With 2 weeks in Tasmania, you can extend this itinerary and spend more time exploring the gorgeous National Parks, Art galleries and historical sites. With 3 weeks or more, you'll have time to explore the western side of the island, Strahan, the Franklin Gordon Wild Rivers National Park, Stanley, the Edge of the World and the Tarkine. But 10 days in Tasmania is a great introduction and I think you will love this solo road trip itinerary!
You might also enjoy
Best Things to do in Hobart Without a Car
Why Port Arthur in Tasmania is So Fascinating
Fun Things to Do in Hobart Tasmania in 3 Days
Beautiful Tasmania Road Trip – 2-Week Itinerary
15 Things You'll LOVE to Do in & Around Launceston
12 Great Day Trips In & Around Hobart, Australia
The 3 Capes Walk in Tasmania – the Best Time to Go
Is Launceston or Hobart Better for a Holiday?
Why you'll Love Visiting Wineglass Bay & Freycinet in Tasmania
Pin It! If you enjoyed this post why not save it?