Beautiful Tasmania Road Trip – 2 week Itinerary
On this Tasmania road trip, you'll travel by car, taking in the best sights as you go. With 2 weeks in Tasmania, you'll discover stunning wilderness areas, UNESCO World Heritage Sites, National Parks, and a gorgeous coastline. There are ancient forests, mountains, waterfalls, unique wildlife and pristine beaches to explore. In the cities, there's a wealth of art and culture and a rich colonial history. Hobart and Launceston have some great historic houses and some of the best hotels in Tasmania with great food and local wine to enjoy.
Australia's smallest, most southern state has a wide variety of attractions to draw you in, and a 2 week Tasmania road trip is an ideal way to see them.
Tasmania 2 week itinerary – Trip Overview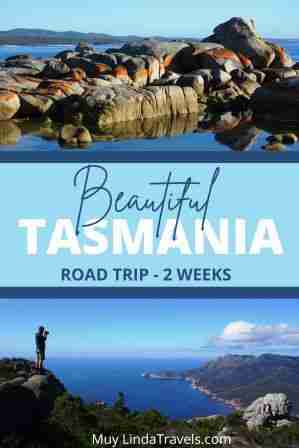 In this 2 week Tasmania itinerary, you'll be driving and the highlights come thick and fast, beginning with the impressive Cataract Gorge in Launceston. From there you'll make your way along the stunning east coast, visiting St. Helens, Bay of Fires, Wineglass Bay and Port Arthur on the spectacular Tasman Peninsula.
There will be plenty of opportunities to stop for wine tasting as you pass local vineyards along the way. In the capital Hobart, you'll be charmed by the historic surroundings, the famous Salamanca Market and MONA's modern art. From there it's a short trip to sparkling Russel Falls in Mount Field National Park and further on, the remote wilderness of the UNESCO World Heritage Cradle Mountain National Park.
Back at sea level in the northwest is quaint Stanley and the Nut. Here you can admire the dramatic coastal scenery with Fairy Penguins swimming ashore at night. Further west at Arthur River the coastline is wild and rugged at the "The Edge of the World".
Tasmania's unique wildlife will delight you, and you can expect to see pademelons, kangaroos, possums and wallabies as you explore. In 2 weeks in Tasmania, I saw wombats in the wild on Cradle Mountain, a quoll, and endangered Tasmanian Devils at the "Unzoo" in Port Arthur.
This Tasmania road trip includes visits to stunning UNESCO World Heritage-listed National Parks. You'll need to buy a Tasmanian National Parks Pass online or at a National Park Centre. I bought my 2-month holiday pass on the Spirit of Tasmania ($80). Day passes are also available ($24 per vehicle).
Covid-19 travel restrictions may apply for travel in Australia. Check with your local government for the latest information.
*Disclosure* – Some of the links on this page are affiliate links and I may make a small commission on sales that result from clicks on those links. This does not cost you any extra and helps to keep this website running. Thank you for your support!
Trip map created with
Wanderlog
, a trip planner app
Beautiful Tasmania 2 week itinerary
With 2 weeks in Tasmania, you can see the best of the island while comfortably driving from place to place. I had many new and special experiences and could easily have stayed another week or two as there's so much to see and do. I travelled solo in April and began my trip on the east coast where the autumn weather was warm, sunny and good for camping. But in my second week, the weather turned cold with heavy rain and snow in the mountains. In Hobart and further west, I stayed in hotels and was warm and comfortable.
On my Tasmania road trip, I loved the flexibility of driving and I took my car across the Bass Strait on the ferry. The Spirit of Tasmania sails from Melbourne to Devonport and takes about 9 hours to cross the Bass Strait from mainland Australia. I booked a cabin and slept comfortably through the night.
This road trip itinerary begins and ends in Devonport, but you could easily fly to Launceston or Hobart and hire a car and travel a similar route.
Day 1: Devonport to St Helen's via Tamar & Launceston
4 hours without stops
Highlights: Tamar Valley / Brady Lookout / Launceston / Cataract Gorge / St Helens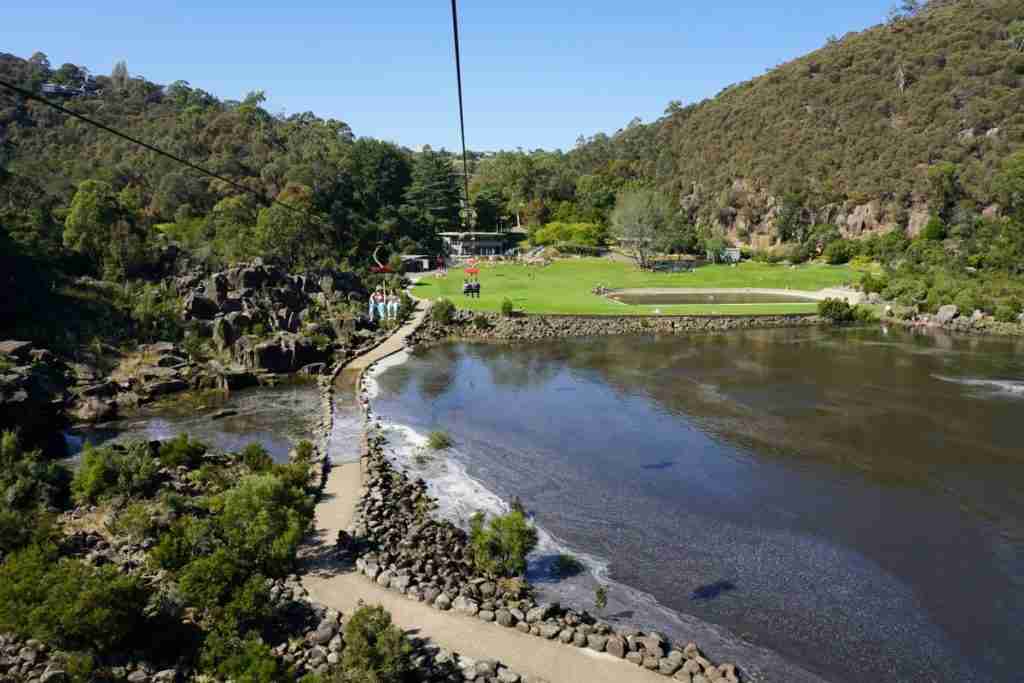 Your 2 weeks in Tasmania begin when the Spirit of Tasmania arrives in Devonport. On a night crossing, you'll arrive early in the morning. Take the scenic route to Launceston through the lovely Tamar Valley, one of Tasmania's major wine-growing regions. Around Tamar, there are many vineyards with open cellar doors so you can stop wherever you like for wine tasting and enjoy magical views across the Valley from Brady Lookout.
When you arrive in Launceston, head to Cataract Gorge for bushwalking and some impressive scenery. There's a chair lift across the gorge, a pretty picnic area with a pool, a walking track to a suspension bridge over the South Esk River, and a couple of lovely lookout points. On the other side of the gorge, there's a restaurant with resident peacocks. I spent an hour or 2 here before heading onwards to St. Helens on the east coast.
Lunch – Tamar bakery takeaway / Dinner – NRMA St Helens campsite restaurant
Where to Stay in St. Helens
Budget: NRMA St. Helens Waterfront Holiday Park or Big 4 St Helens Holiday Park
Upper Mid Range: Queechy Motel St Helens or Sweetwater Villas
Day 2: St Helens & Bay of Fires
Highlights: Bay of Fires, Binalong Bay, Humbug Point, Dora Point, St. Helens
On day 2 of my Tasmania road trip, I was up early driving to the gorgeous Bay of Fires and Binalong Bay. The coastal scenery is stunning with crystal clear water, powder white sand and rocks covered with bright orange lichen. Inside the National Park, there's free camping at exquisite Humbug Point & lovely Dora Point. Access to the National Park is via a dirt road and a Tasmanian National Parks Pass is required.
You can spend the afternoon relaxing on the beach or explore a bit further. I started driving towards Mount William National Park but found myself on a 50km stretch of dirt road. I didn't want to trash my 2-wheel drive city car so I turned back and found a pretty, short walk around St Helens Point instead.
Travel Day 3: St. Helens to Coles Bay
1.5 hours driving without stops
Highlights: Scamander / Bicheno / Freycinet National Park / Friendly Beaches / Honeymoon Bay / Muirs Beach
Day 3 of this Tasmania road trip takes you along The Great Eastern Drive to Coles Bay in Freycinet National Park on one of Tasmania's most scenic roads. The stunning coastal scenery is likely to be a highlight of your 2 weeks in Tasmania. You'll pass gorgeous Scamander Beach and Bicheno where you can stop for a picnic lunch on Redbill Beach and enjoy a swim with views of beautiful Diamond Island.
The powdery white sands, orange boulders and turquoise waters are absolutely stunning. Bicheno is home to a colony of Fairy Penguins and in the warmer months, you can watch the penguins coming ashore at dusk. Continuing on towards Freycinet National Park the drive is incredibly scenic. The road hugs the beautiful east coast and distant mountains frame the gorgeous coastal views.
After turning off the highway to Freycinet National Park, stop off at Friendly Beaches. There's a lookout point, a campsite with basic facilities for those interested in free camping and miles of beautiful untouched white sand to explore. The water is clear and cold and I was tempted to dive in.
Continue on past Coles Bay nestled beneath the Hazard Mountains on the Freycinet Peninsula. Head straight to the Freycinet National Park Centre for some local safety information before stopping to enjoy the clear waters of Honeymoon Bay. Muirs Beach and Honeymoon Bay are lovely places to watch the sunset. From Muirs Beach you can paddle a kayak around the point and watch the sun disappear over the water.
Lunch: Picnic at Bicheno / Dinner: Coles Bay Bar & Bistro
Where to Stay in Coles Bay & Freycinet National Park
Budget: Big4 Iluka on Freycinet
Upper Mid Range: Edge of the Bay Resort / Freycinet Lodge
Luxury: Eagle Peaks at Freycninet, Coles Bay
Day 4: Wineglass Bay & Freycinet National Park
Highlights: Freycinet National Park / Cape Tourville Lighthouse / Wineglass Bay / Mount Amos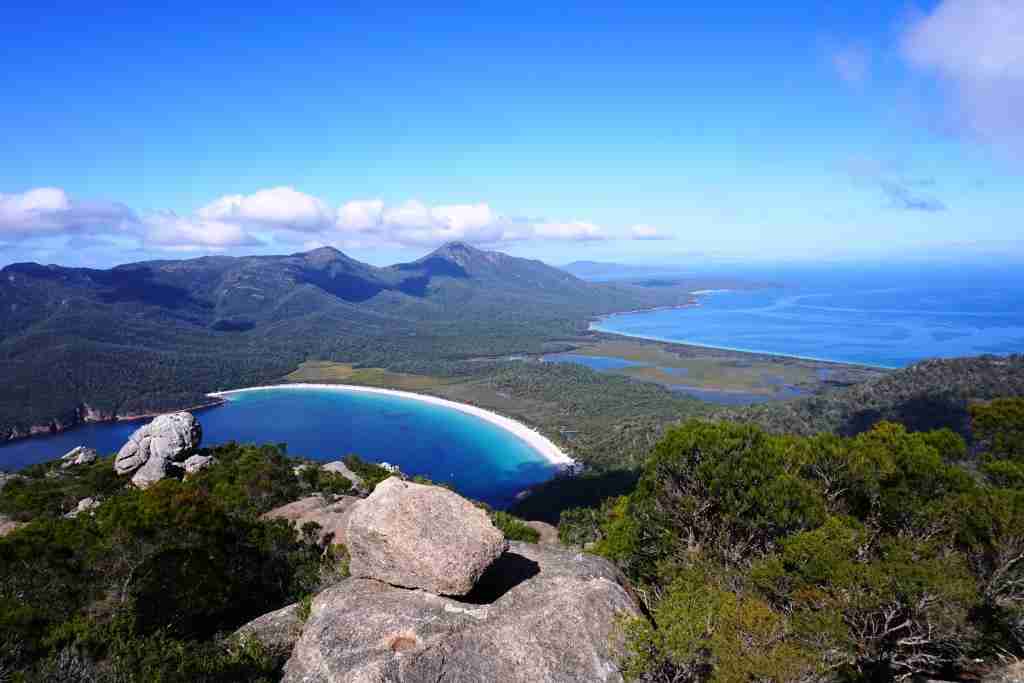 A highlight of your 2 weeks in Tasmania is seeing beautiful Wineglass Bay. I was up at first light and driving through the Freycinet National Park to Cape Tourville Lighthouse to watch the sunrise. Seeing such magnificent scenery in the golden early morning light was absolutely exhilarating.
From the lighthouse, it's a short drive to the car park at the start of the Wineglass Bay Lookout trail. Hike up the mountain to enjoy your first glimpse of picture-perfect Wineglass Bay. From the lookout, you can follow the track down to Wineglass Bay Beach or, if the weather is fine, climb (and scramble) to the top of Mount Amos. The trail is very steep and challenging but the panoramic 360° views from the top are simply breathtaking!
Dinner: Takeaway Fish & Chips, Coles Bay
Find out more about exploring Wineglass Bay and Freycinet National Park
Travel Day 5: Coles Bay to Port Arthur
3 hours of driving without stops
Highlights: Historic Richmond / Tasman Peninsula / Eagle Hawk Neck / Port Arthur
On your Tasmania road trip, you'll enjoy more lovely coastal scenery as you head back to the highway and south towards the Tasman Peninsula.
As you turn left onto the Tasman Highway you'll come across the Devil's Corner Winery. Here you can enjoy some wine tasting, a coffee or a meal and climb the viewing tower for a lovely view of Moulting Lagoon and the Freycinet Peninsula.
7 km south of pretty Swansea, look out for the convict-built Spiky Bridge. Continue on through Orford and stop off in historic Richmond for an hour or so to enjoy restored heritage buildings, pretty Georgian cottages, art galleries and antique shops.
Call in at the Richmond bakery for lunch and enjoy live harp music in the sunny courtyard. You can taste the local Tasmanian wine and gin, shop for souvenirs and gifts and visit the old colonial gaol, the oldest in Australia. Make sure you cross the river on the old Richmond Bridge, built by convicts and still in use today.
Continuing on to the Tasman Peninsula, there are many impressive natural rock formations to see, including the Tasman Arch and the Devil's Kitchen. It's a bit more driving to the Blowhole, the Tessellated Pavement and Eagle Hawk Neck where you can see the infamous dog line and enjoy sweeping views of Pirate Bay from the lookout before arriving in historic Port Arthur.
Lunch Richmond Bakery / Dinner Nubeena RSL
Optional: If you have a spare day, stop off in Triabunna and take the ferry to Maria Island to enjoy the beautiful scenery, native wildlife and convict history.
Find out more about visiting Port Arthur and hiking on the Tasman Peninsula in Tasmania
Lunch: Richmond Bakery / Dinner: Nubeena RSL Club
Where to Stay in Port Arthur
Budget: NRMA Port Arthur Holiday Park
Mid Range: Port Arthur Villas or Stuarts Bay Lodge
Day 6: Port Arthur Historic Site
Highlights: Port Arthur Historic Site / Remarkable Cave / Maingon Lookout & Blowhole / Crescent Bay
Port Arthur is one of Australia's most popular historic sites and one you should not miss in your 2 weeks in Tasmania. You'll learn about life as a convict in colonial Australia. It's best to visit the Port Arthur Historic Site in the morning as the site is quite big and there's a lot of walking. The entry ticket includes a short ferry ride around the harbour.
In the afternoon you'll have time to drive out to Remarkable Cave to marvel at the wild rugged coastline and the huge waves crashing against the sea cliffs. From the Maingon Lookout near the car park, I could see Cape Raoul and I finished the day with a scenic walk around the cliff tops to Crescent Bay past the impressive Maingon Blowhole.
Lunch: Port Arthur Historic Site café / Dinner: self-catering
Travel Day 7: Port Arthur to Hobart
1.5 hours driving without stops
Highlights: Port Arthur Lavender Farm / Unzoo / Tasmanian Devils / Devils Corner Winery / Hobart / Battery Point / Salamanca Place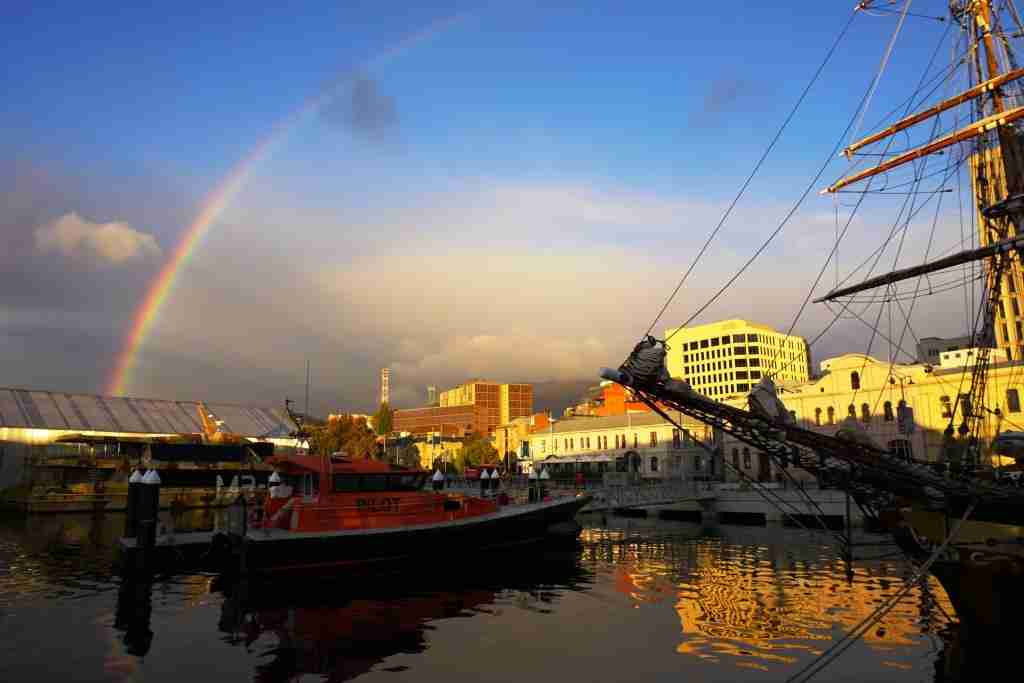 Start the day with breakfast at the Port Arthur Lavender Farm and enjoy the lovely scenery, stroll through the sweet-smelling fields of purple flowers and shop for souvenirs. The next stop on this road trip itinerary is a visit to the Unzoo on Arthur Road to see endangered Tasmanian Devils and hand-feed wild kangaroos and wallabies.
After about 90 minutes on the road, you'll arrive in Hobart, the Tasmanian capital. Spend the afternoon exploring historic Hobart, Battery Point, Salamanca Place and the Salamanca Art Centre. Stroll past pretty restored Georgian cottages in Arthurs Circus, climb the convict-built Kelly's Steps, and visit St. Georges Church on the hill and Princes Park.
Breakfast: Port Arthur Lavender Farm / Dinner: Shipwrights Arms
Where to stay in Hobart
Budget: Montacute Boutique Bunkhouse
Budget & Mid Range: Shipwright's Arms / Astor Private Hotel
Upper Mid Range: Moss Hotel
Luxury: Henry Jones Art Hotel
Day 8: Hobart
Highlights: Hobart Waterfront / Mount Wellington / Salamanca Market / MONA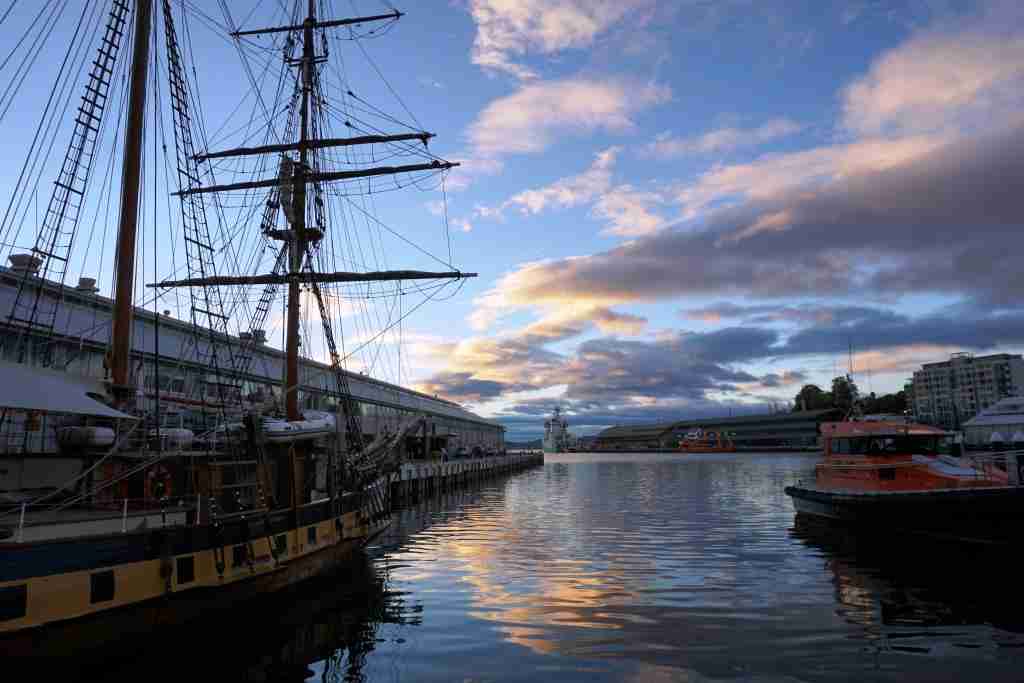 Hobart is full of history and will be a highlight of your 2 weeks in Tasmania. Enjoy a brisk sunrise at the Hobart Waterfront or, if the weather's good, watch the sunrise over Hobart from the top of Mount Wellington. There are panoramic views from the lookout. Unfortunately, I didn't make it all the way to the top of Mount Wellington because the road was closed after the recent snow.
Plan your 2 week Tasmania itinerary so that you're in Hobart on a Saturday morning to visit the famous Salamanca Market. I spent a lovely morning shopping and enjoying the stalls filled with gifts and souvenirs, local crafts, produce and lots of street food.
In the afternoon catch the ferry (or drive) to MONA and enjoy the weird and wonderful modern art in the museum on the banks of the Derwent River. The beautiful Hobart Botanical Gardens are near MONA and worth visiting if you have time.
Lunch: Salamanca Market / Dinner: Shipwright's Arms – Try the roast (weekend special)
Day 9: Hobart to Mount Field National Park – Day Trip
1.5 hours without stops (one-way)
Highlights: Mount Field National Park / Russel Falls / Salmon Ponds / Royal Botanical Gardens
This Tasmania road trip includes a visit to lovely Mount Field National Park. It's an easy drive and a perfect day trip from Hobart. It takes around 90 minutes to get there. A great place to stop along the way is the Westerway Raspberry Farm. You can stock up on fresh berries before arriving at the National Park Visitor's Centre.
From there it's a short walk to the lovely Russel Falls, the Tall Trees and the Three Falls circuit trail. Unfortunately, snowy weather meant the roads were closed and I was unable to drive further into the National Park when I was there. I hoped to camp at Mount Field but, with freezing temperatures, snow and pouring rain I decided a day trip from Hobart was a better option.
Break the drive home by stopping off for a bite to eat at the Salmon Ponds. Enjoy the lovely gardens, and the heritage buildings and feed the huge fish in the ponds. As you near Hobart you'll pass the beautiful Royal Botanical Gardens again and you can stroll through the lovely grounds if you have time.
Lunch: The Salmon Ponds / Dinner: The Shamrock Hotel
Travel Day 10: Hobart to Deloraine via Launceston
3 hours without stops
Highlights: Launceston / QVMAG / Deloraine
The next stop on this 2 week Tasmania itinerary is Launceston, the island's second-largest city. From Hobart to Launceston is an easy, unexciting 3-hour drive. In Launceston, you can see the free exhibits at the Queen Victoria Museum & Art Gallery (QVMAG) or visit Tasmania Zoo before stocking up on food supplies and petrol for the trip to Cradle Mountain.
I decided to spend the night in the tiny town of Deloraine about half an hour outside Launceston on the way to Cradle Mountain.
Lunch: Picnic in Launceston / Dinner: The Empire hotel Deloraine
Where to Stay in Deloraine
Budget: The Deloraine Hotel
Mid Range: The Empire Hotel.
Luxury: The Chapel
Day: 11: Deloraine to Cradle Mountain
2 hours of driving without stops
Highlights: Christmas Hills Raspberry Farm / Cradle Mountain National Park / Dove Lake
Leaving Deloraine early, make sure you stop off at the Christmas Hills Raspberry Farm for a delicious raspberry-themed breakfast. Buy some fresh berries for the drive to Cradle Mountain. Mole Creek is the last petrol stop before the National Park and there is a limestone cave system to explore if you have time. Drive carefully along the narrow, windy road to Cradle Mountain around the switchbacks and hairpin bends. I arrived around midday and spent the afternoon exploring the walking trails around peaceful Dove Lake.
Breakfast: Christmas Hills Raspberry Farm / Lunch: Cradle Mountain National Park Centre Café / Dinner – self-catered
Day 12: Cradle Mountain
Highlights: Cradle Mountain National Park / Marion's Lookout / Knyvet Falls / Ronny Creek
Visiting Cradle Mountain is one of the highlights of this Tasmania road trip itinerary. My day on Cradle Mountain in the Tasmanian wilderness was very wet but still very special.
There was snow in the mountains and heavy rain when I was there in April. Unfortunately clouds I didn't actually see Cradle Mountain as there was so much cloud and I found myself climbing through snow and mist to Marion's Lookout. But I did enjoy the moody atmosphere at Dove Lake. The rivers were full of fresh rain and snowmelt and Knyvet Falls was powering down. I saw wild wombats near Ronny Creek and the Fagus was starting to turn to autumn colours.
While the weather was not ideal, I still had a memorable experience on Cradle Mountain.
Cradle Mountain has many walking trails to choose from for all abilities and levels of fitness. I left my car in the car park at the National Park Centre and took the shuttle bus into the park where I started my walks.
** My advice** Rug up, take waterproof clothes, and thermal underwear and sleep in a warm cabin rather than camping in the cold.
Lunch/ Dinner: Restaurant & Bar at Cradle Mountain Lodge / National Parks Centre Café / self-catering
Where to Stay on Cradle Mountain
Budget: Discovery Parks Cradle Mountain
Mid Range: Cradle Mountain Wilderness Village or Cradle Mountain Hotel
Luxury: Peppers Cradle Mountain Lodge
Day 13: Cradle Mountain to Stanley
2.5 hours driving without stops
Highlights: Stanley / The Nut / Fairy Penguins
The next stop on this 2 week Tasmania road trip is Stanley and it's a pleasant drive from Cradle Mountain to the quaint heritage village nestled beneath a huge rocky outcrop known as The Nut. From Stanley, you can drive around the cliff tops and enjoy the stunning coastal scenery. There's a cable car to the top of The Nut or you can climb the very steep path. Look out for pademelons near the path.
In the evening you can watch the delightful Fairy Penguins swim ashore at dusk and waddle up the beach to their nests. Penguin season is from September to March and I caught the tail end of the season in April. I put on every bit of warm clothing I had with me and went to the penguin viewing platform and found that most of the colony had swum out to sea, but there were a few stragglers who were malting and still in their nests.
Lunch: Bruce's café near the beach at Wynyard / Dinner: Hursey Seafood / Stanley Hotel **book ahead
Where to Stay in Stanley
Budget: Stanley Cabin & Tourist Park
Mid Range: Bayview Guesthouse or Stanley Hotel & Apartments
Luxury: Noah's Luxury Bed & Breakfast
Day 14: Stanley to Devonport via Arthur River
3.5 hours without stops
Highlights: The Edge of the World Lookout / Boat Harbour Beach / Fairy Penguins / Lillico Beach Devonport
I climbed the steep path to the top of The Nut to admire the view before driving out to Arthur River. At The Edge of the World Lookout, the river meets the Southern Ocean and there's wild, white water as far as the eye can see and lots of driftwood. After marvelling at the power of nature, head on through the Tarkine wilderness towards Devonport. Along the way, stop at Burney, Penguin or stunning Boat Harbour Beach, one of the prettiest little beaches in the world (and voted number 8 according to the café owner).
Continue on to Devonport where your Tasmania road trip ends. Catch the night ferry back to mainland Australia or take the day ferry in the morning.
I chose a day crossing this time and spent the night very comfortably in nearby Ulverstone at the Lighthouse Hotel. This meant I was able to see the delightful Fairy Penguins again from the viewing platform at the Lillico Beach conservation area near Devonport. The next day it was a short 20-minute drive to the ferry and the end of a wonderful 2 weeks in Tasmania.
Lunch: Boat Harbour Beach Cafe / Dinner: Lighthouse Hotel
Where to stay in Devonport / Ulverstone
Budget: Discovery Parks Devonport
Mid Range: The Lighthouse Hotel Ulverstone / The Argosy Motor Inn Devonport
Luxury: Views Forever Devonport
What to Pack
While travelling light is always the best idea, Tasmania's weather can be very changeable so it's best to be prepared for both warm and cold weather on this Tasmania road trip. In the first week of April, I experienced glorious sunny weather with tops of 24°C on the east coast, ideal for camping. The following week there was snow in the mountains and it was bitterly cold, wet and wintery in Hobart and on the west coast.
Tasmanian Summer temperatures usually range from 17°C – 23°C (63°F- 73°F) and in winter 3°C – 11°C (37°F – 52°F) but it can snow in the mountains even in summer.
Pack Layers – even in winter it can be warm in the sun and summer can sometimes be quite cold.
Warm fleece or jumper
Down jacket
Waterproof Gore-Tex Raincoat
Thermal Underwear / Leggings
Hiking Boots with good grip & ankle support
Daypack
Refillable Water Bottle
Sunscreen & Sun Hat
Strong Mosquito Repellent with DEET
Camera
Travel Essentials
#1. A Travel Guide for Tasmania or Australia is so useful for planning your trip. I rarely travel without my trusted Lonely Planet Guide.
#2. Travel Insurance is essential on any overseas trip. I use and can recommend World Nomads. I know I'm covered for overseas medical and lost or stolen baggage and more so I can concentrate on enjoying my trip without worrying about something going wrong.
Pin It! If you enjoyed this article why not save it for later?
Related Articles
15 Things You'll LOVE to do In & Around Launceston
How to Spend 3 Days or more in Historic Hobart
8 Great Day Trips In & Around Hobart, Australia
The Best Hotels in Tasmania Australia
Why Port Arthur in Tasmania is So Fascinating
Why you'll Love Visiting Wineglass Bay & Freycinet in Tasmania