Why You'll Love Visiting Wineglass Bay in Tasmania (2023)
Idyllic Wineglass Bay in Tasmania is one of Australia's most beautiful beaches. Imagine crystal clear, turquoise waters, an arc of untouched white sand with tall rugged mountains as a backdrop and you'll understand why it's known as the jewel of Tasmania's beautiful east coast.
The mountains, known as the Hazards, are visible for miles as you approach Wineglass Bay on the Great Eastern Drive. The road hugs the scenic east coast and you'll notice the pink granite peaks of the Hazards in the distance and some lovely coastal scenery as you travel south.
Driving through the peaceful rural countryside, you'll pass a selection of wineries with open cellar doors where you can stop and sample the local wines and other produce. Fresh seafood is a specialty along the coast so make sure you try some local salmon & oysters.
One of the best ways to experience Wineglass Bay is by hiking to the lookout points. The hikes offer stunning views of the bay and surrounding mountains. I was awed by the natural beauty of Wineglass Bay in the Freycinet National Park and highly recommend visiting for a few days to explore this stunning corner of Australia.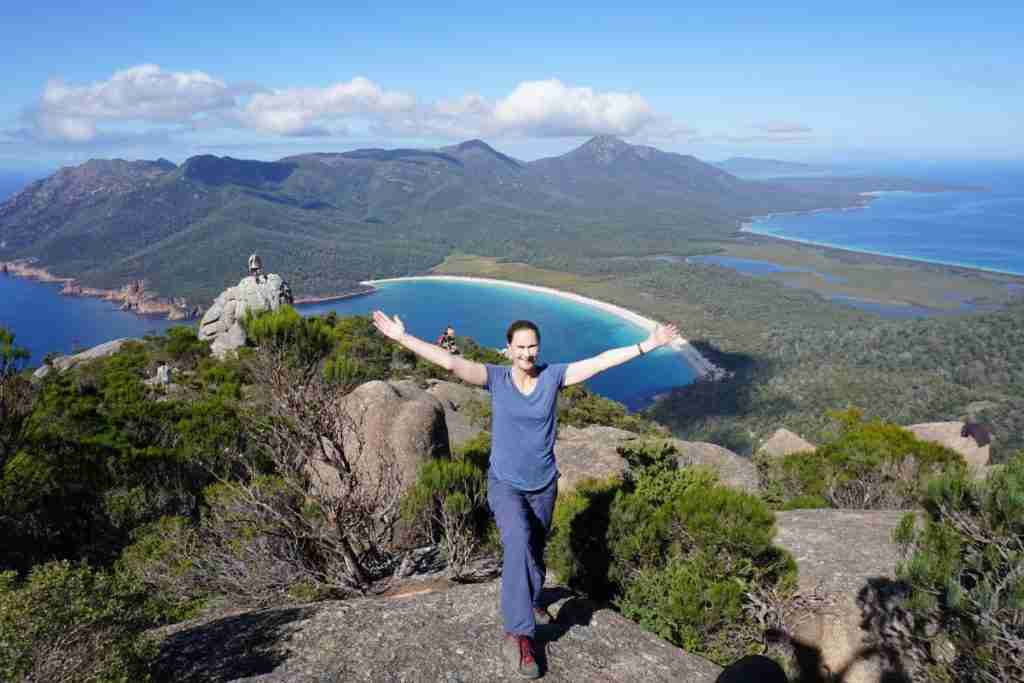 **Check with your local government for the latest information on travel in Australia.
This page contains affiliate links which means I make a small commission on any sales that result from clicks on those links. This does not cost you any extra and helps to keep this website running. Thank you for your support!"
TIP: Take a day trip from Hobart and see Wineglass Bay, Freycinet National Park and Historic Richmond all on the same day.
Where is Wineglass Bay located?
Beautiful Wineglass Bay is located in Australia in the Freycinet National Park on the east coast of Tasmania. It's 193 kilometres from Hobart and around 175 kilometres from Launceston and it takes between 2 and 2.5 hours to drive there from either Hobart or Launceston, Tasmania's two largest cities.
The nearest town to Wineglass Bay is Coles Bay, which sits just outside the Freycinet National Park beneath the Hazard Mountains.
TIP: A great way to see Wineglass Bay is on a 10 Day Road Trip Itinerary in Tasmania
About Wineglass Bay in Tasmania
For 30,000 years The Freycinet peninsula was the home of the local indigenous people, the Pydairrerme people of the Oyster Bay tribe who lived off the land near Wineglass Bay.
In 1802, the Freycinet brothers took part in an expedition to map the southern coast of Australia and the Peninsula is named after the 2 French explorers Louis Claude and Louis Henri Freycinet.
In the 1820s, whalers came to the area harpooning whales and dragging the bloody carcasses back to the shore for butchering and extracting oil for export back to Britain. The blue waters of Wineglass Bay were often stained red and the colour resembled red wine. As a result, the Bay took on the name Wineglass Bay.
By the 1850s the whalers had moved on and the land was used for farming and grazing.
In 1916 the Freycinet Peninsula became a National Park.
Why You'll Love Wineglass Bay in Tasmania
Idyllic Wineglass Bay is one of the best beaches in Tasmania and the coastal scenery is simply breathtaking. The Freycinet Peninsula is relatively remote and people come here to enjoy outdoor activities like bushwalking, swimming, snorkelling, kayaking and fishing.
Relax with a picnic at Honeymoon Bay, watch a stunning sunset or choose a more adventurous activity like rock climbing, scuba diving or mountain biking. Or if you prefer, you can try some local wine or whiskey tasting and harvest your own oysters for dinner.
Walk to Wineglass Bay
Wineglass Bay Lookout
Moderate, 1-1.5 hours return
The short walk to Wineglass Bay Lookout is the most popular walk in the Freycinet National Park. You can drive into the National Park to the start of the trail but you'll have to leave your car in the car park and from there you follow the path up the mountain. It's a moderate-grade walk to the lookout. There are some steep sections but the track is well-maintained.
PHOTO TIP: Wait until the sun is reasonably high in the sky before you visit the Wineglass Bay lookout. The mountains cause a shadow in the early morning and you'll get a better photo later in the day when the foreground is not in shadow.
Walk to Wineglass Bay Beach
Moderate, 2.5 -3 hours
Near the Wineglass Bay lookout, the trail continues down to the pristine Wineglass Bay Beach. The path is very steep and you can return to the car park the way you came.
Wineglass Bay & Hazards Beach Walk
Moderate, 5-hour circuit
From Wineglass Bay Beach you can continue walking across the isthmus to Hazards Beach and through the forest on a circuit path back to the car park. This is a full-day walk that takes around 5 hours so pack food and water as you'll be hiking for 11 km on a moderate-grade trail.
Freycinet National Park Guided Walk – This 5.5-hour walk leaves from Freycinet Lodge and includes uninterrupted views of Wineglass Bay and the Freycinet Peninsula from the lookout, morning tea on Wineglass Bay Beach and a picnic lunch in a secluded Bay with an expert guide.
How to see Wineglass Bay without hiking
If you're not keen on hiking you can book a popular Wineglass Bay Cruise. From the boat, you'll enjoy the spectacular coastal scenery of the Freycinet National Park with clear, turquoise water and sheer granite cliffs.
You'll see the lovely arc of Wineglass Bay from the water and see a different perspective than you'll get from hiking to the Lookout. While cruising, you'll pass hidden coves, sea caves and lots of wildlife. Birds, penguins dolphins and seals can all be seen from the water in the right season.
TIP: Wineglass Bay cruises leave from Coles Bay and take passengers on a 4-hour boat trip into the Freycinet National Park. It's a spectacular way to enjoy the stunning scenery and wildlife in the area.
Other Walks in Freycinet National Park
Cape Tourville Lighthouse
An easy 20-minute stroll
Rise early to see the sunrise at Cape Tourville Lighthouse and enjoy a short stroll around the clifftops. There's a boardwalk that's well-maintained and the scenery is truly spectacular. Just after sunrise, the cliffs catch the golden early morning sunlight and few people are around. I got such a thrill when I first saw the dramatic view and realized I was the only person there!
Sleepy Bay
Easy, 10 minutes return
Sleepy Bay is a pretty, secluded cove with azure waters and a small beach surrounded by orange, lichen-covered rocks.
Sleepy Bay Beach
Easy, 20 minutes return
This short, steep path offers lovely coastal views. There's a steep descent to a small rocky beach where you can swim. Experienced snorkelers will love exploring here.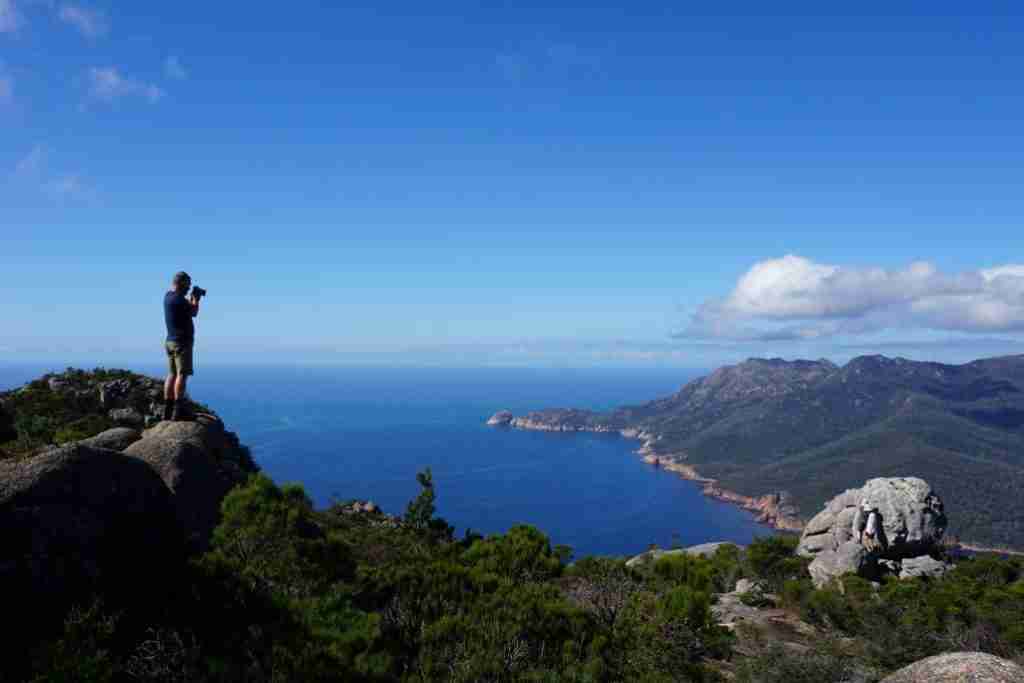 Mt Amos
Difficult, 3 hours return
Climbing Mount Amos is an amazing experience. There are incredible views over Coles Bay and Hazards Beach as you climb with absolutely stunning 360° views from the top including the best possible view of Wineglass Bay on the other side of the mountain. But don't underestimate the difficulty of this trail! It's extremely steep and requires some serious climbing and scrambling over rocks and boulders.
Make sure you're walking in fine weather and wearing good footwear that has excellent grip. These hiking boots & shoes are a good choice and will help to keep you safe. Don't attempt this trail if it's wet, damp or dark as it could be quite treacherous. Parts of the trail are pretty slippery even when it's dry and much of the track involves walking up steep, bare rock faces. I got lost at one point as the trail was hard to follow.
Climbing Mount Amos is the most challenging of the Wineglass Bay walks and the most difficult bushwalk I've ever done but the panoramic views are unbeatable and absolutely worth the effort!
Read Next: Hiking the Stunning Three Capes Track in Tasmania
Wildlife & nature
The Freycinet National Park is home to a wide variety of native Australian wildlife like wallabies, quolls, possums, echidnas, wombats, black swans, sea eagles, seals, and if you're lucky, Tasmanian Devils. Unfortunately, the population of Tasmanian Devils has been decimated by Devil Facial Tumour Disease and numbers are severely reduced.
In winter, whales swim past the coast and there are some great lookout points for whale watching.
Beach Activities
The beach at Wineglass Bay is perfect for swimming and kayaking is a popular way to explore the Freycinet National Park from Coles Bay. The calm waters and picturesque scenery make it a popular spot for tourists and locals alike, especially in the summer months.
Wine Tasting
Tasmania is known for its wine, and visitors to Wineglass Bay can take advantage of the nearby wineries for tastings and tours. The region is particularly known for its Pinot Noir, Reisling and Chardonnay.
On the East Coast wine trail, you can't miss the Devil's Corner Winery. You can stop for lunch here and admire the stunning view of Moulting Lagoon from the lookout. The Spring Vale Vineyard and Gala Estate are a half hour's drive from Coles Bay and the Milton Vinyard is another great place for wine tasting near Wineglass Bay.
Scenic Flights
For a truly breathtaking view of Wineglass Bay and the surrounding area, visitors can take a scenic flight over the Freycinet Peninsula. A scenic flight offers a unique perspective of lovely Wineglass Bay and the stunning coastline and mountains in the area.
Add some excitement to your trip on a Wineglass Bay & Maria Island Scenic flight. Experience the spectacular scenery of Tasmania's east coast from the air and fly in a small plane over Wineglass Bay and Maria Island (This tour departs from Cambridge)
When to visit
The warmer summer months from December to February, are the most popular for visiting Tasmania. But the shoulder seasons in spring (October / November) and autumn (March / April) are also great times to visit.
In summer Freycinet is overrun with tourists but off-season there are far fewer visitors to Wineglass Bay in Tasmania. In winter it's entirely possible to visit Wineglass Bay Beach and be the only person there. The winter weather is cooler with top temperatures of 14°C or 15°C (57°F – 59°F) and there's less rain.
I was at Wineglass Bay in early April. I had glorious sunny days and cool nights, ideal for hiking and not too cold for camping on the East Coast.
TIP: In April the weather was perfect in Wineglass Bay and on Tasmania's east coast. But it was cold and wet on the western side of the island at Cradle Mountain & Mount Field National Park and not good for camping.
Coles Bay Tasmania
The small town of Coles Bay in Tasmania nestles beneath the Hazards mountains just outside the Freycinet National Park. Coles Bay has a few local shops, hotels, restaurants and a campsite. It's a very small town and is the main entry point for Wineglass Bay and the Freycinet National Park.
You can drive into the National Park but stick to the slow speed limits and watch out for wildlife. I was saddened to see so many native animals hit by cars on my road trip through Tasmania. It's such an unnecessary waste of life. So take care and avoid driving at night if possible.
Where & what to eat
Seafood is a local specialty in Tasmania and crayfish, scallops, and fresh oysters are harvested from the pristine waters of the Freycinet Peninsula. The local seafood can be perfectly paired with a local Tasmanian wine and enjoyed along with a spectacular sunset.
Some popular places to eat on the Freycinet Peninsula are The Bay restaurant, the Freycinet Marine Farm and Freycinet Lodge inside the National Park. The Devil's Corner Winery has an open cellar door for wine tasting and an onsite restaurant with a lovely view.
Accommodation near Wineglass Bay
There are a variety of options for accommodation in Coles Bay near Wineglass Bay in Tasmania. But the Freycinet National Park is a popular spot so book ahead in peak periods like Summer, Easter and school holidays.
Budget: Next to the National Park, the Big4 Iluka on Freycinet has cabins and good camping facilities with hot showers for tent campers and caravans. YHA dormitory accommodation is also available. My unpowered tent site was flat, sheltered, shady and near the camp kitchen. There's a small general store, takeaway fish & chips and a bar & bistro next to the campsite.
Camping is also available inside the Freycinet National Park. There are designated camping areas with basic facilities that can be booked through the National Parks Centre.
Upper Mid Range: Freycinet Lodge is located inside the National Park and is easily accessible to all the lovely lookouts and walks. Guests love the mountain, sea and sunset views, easy beach access, the awesome rooms, the wallabies and other wildlife nearby. It's "like an oasis in the National Park".
Edge of the Bay Resort is located in a peaceful & private spot 5 minutes from the centre of town. There are stunning views with birds and wallabies on the doorstep.
Luxury: For a memorable experience consider staying at the Freycinet Resort. The reviews are exceptional. Guests love the location, the privacy of these well-appointed studio apartments and the superb views.
Travelling from Hobart to Wineglass Bay
To travel from Hobart to Wineglass Bay you'll need to drive, catch a bus or book a tour. It takes about 2.5 hours by road from Hobart and it's a similar distance from Launceston.
Car
Diving a car is the easiest way to get from Hobart to Wineglass Bay. You can drive directly into the Freycinet National Park to the start of the Wineglass Bay Lookout walk. Leave your car in the car park while you explore the walking trails and lookout points inside the National Park.
Fly to either Hobart or Launceston and hire a car at the airport or take your car on the ferry from mainland Australia to Tasmania.
I drove from Sydney to Tasmania and took my car across the Bass Strait with me. The Spirit of Tasmania sails from Geelong to Devonport and the trip takes around 9 hours with day and overnight sailings. You can expect a bit of queuing and waiting around while the ferry loads and unloads all the cars and passengers. It's a comfortable trip, especially if you book a cabin, although the seas can sometimes be rough in the Bass Strait.
From Devonport, it takes about 3 hours to drive to Wineglass Bay.
Bus
If you're visiting Hobart without a car, the bus trip from Hobart to Wineglass Bay takes approximately 3 hours. It takes 3.5 hours from Launceston and costs $210-$260. The bus will drop you at Coles Bay and access to the National Park is by car, bicycle or on foot.
The car park for the Wineglass Bay walks is around 5 kilometres from Coles Bay (1 hour of walking each way).
Water taxis also run from Coles Bay with daily sailings and they are a popular way to access the walking tracks in Freycinet National Park.
Wineglass Bay Tours & Activities
Freycinet Adventures – Paddle a sea kayak into Freycinet National Park and experience a beautiful sunset on the water.
Oyster Bay Tours – Wade out to the Freycinet Marine Farm & harvest, shuck & eat fresh oysters and deliciously cooked mussels. Wash it all down with a glass of Tasmanian Riesling.
Tours from Hobart to Wineglass Bay in Tasmania
If you don't have your own transport, booking a tour from Hobart to Wineglass Bay is a great option and you won't have to worry about how you'll access the National Park and the Wineglass Bay Lookout and walking trails.
Explore the must-see sites of Tasmanian's stunning east coast on a full-day tour to Wineglass Bay and Freycinet National Park from Hobart. Discover white sandy beaches, serene bays, rugged coastline and much more, with an expert guide.
Book a 5-day tour of the east & west coast of Tasmania and see all highlights including Freycinet National Park & Wineglass Bay Lookout, Cradle Mountain and the Bay of Fires. Marvel at the stunning coastline, waterfalls, rainforest and wildlife and enjoy the highlights of Tasmania.
Freycinet National Park
Friendly Beaches
Friendly Beaches are a lovely stop-off on your way to or from Coles Bay and Freycinet National Park. With powder white sand, turquoise waters and nesting shorebirds, Friendly Beaches will draw you in and invite you to explore and swim in the cool, clear water.
I loved wandering along the beautiful beach and you could easily walk for miles on this pristine coastline. There is a lookout near the car park and a campsite with free camping at Isaac's Point inside the National Park. The campsite facilities are very basic and access is via an unsealed road. A National Parks Pass is required.
National Parks Centre
When you arrive at the Freycinet National Park, call in at the National Parks Centre near the entrance to the park to buy your National Parks Pass and collect maps & local advice about hiking in the area. The friendly staff will help you work out the best activities to do safely as some of the bushwalks are weather-dependent and should not be attempted if it's raining or damp. They'll take bookings for camping inside the National Park and give advice about the local wildlife and any health risks in the area.
Ross River Virus is sometimes active on the Freycinet Peninsula so it's best to avoid being bitten by mosquitos. Use a strong mosquito repellent containing DEET, and wear long-sleeved, light-coloured shirts and trousers.
A National Parks Pass costs $24 per car per day. I bought a Holiday Vehicle Parks pass on the Spirit of Tasmania ($82). If you plan to visit more than a few National Parks in Tasmania, then the Holiday Pass is the way to go. It's valid for 2 months from the time of purchase.
Honeymoon Bay
Visit gorgeous Honeymoon Bay for swimming, snorkelling and beautiful scenery. This is a great spot for beginner snorkellers but the water is cold. If swimming is not on the agenda, the scenery is stunning, especially around sunset when the rocks take on an orange glow.
What to Take to Wineglass Bay in Tasmania
Hiking Boots with good grip & ankle support
Daypack – lightweight and easy to carry
Refillable Water Bottle
Sunscreen & Hat
Strong Mosquito Repellent with DEET
Camera – to capture those special moments
Travel Essentials
#1. A Travel Guide for Tasmania or Australia is sure to come in handy when you're away. I rarely travel without my trusted Lonely Planet Guide.
#2. Travel Insurance is another essential when you're away. I always use Travel Insurance when I travel overseas so I can concentrate on enjoying my trip without worrying about something going wrong.
Pin It! If you enjoyed this article why not save it for later?
Tasmania Travel Tips
10 Days in Tasmania – The Perfect Solo Road Trip Itinerary
15 Things You'll LOVE to Do in & Around Launceston
Why Port Arthur in Tasmania is So Fascinating
Best Things to Do in Hobart Without a Car
Is Hobart or Launceston Better for a Holiday in Tasmania?
Three Capes Walk in Tasmania – The Best Time of Year to Go
Fun Things to Do in Hobart Tasmania – in 3 Days
Beautiful Tasmania Road Trip – 2-Week Itinerary