Have you ever wanted to visit Angkor Wat in Cambodia? Well, why not plan a solo trip? Solo travel in Cambodia is an amazing experience and this guide will help you to plan an incredible trip and avoid some of the pitfalls along the way.
Angkor Wat in Cambodia should not be missed. The sheer size and majesty of this amazing temple complex will leave you awe-struck. Angkor Wat is the largest religious monument in the world and consists of many temples that can be found deep in the jungle.
Cambodia has an incredible history, a unique culture and friendly people. There's an abundance of natural beauty from dense jungles to tropical islands with lovely beaches and magical sunsets. Colourful, safe and relatively cheap to visit, Angkor Wat in Cambodia should be on everyone's bucket list.
But there are some things you should know before you go especially if you're travelling alone.
Covid-19 travel restrictions may apply for travel in Cambodia. Check with your local government for the latest information.
Disclosure: This page may contain affiliate links. If you make a purchase through a link I may earn a small commission. There is no extra cost to you and it helps to keep this website running. Thank you for your support!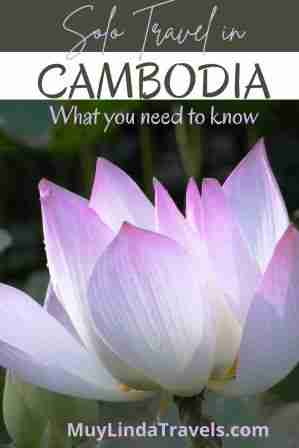 How to Travel in Cambodia
Solo travel in Cambodia is relatively easy and there are many options to choose from when you travel around the country including air, train, bus, boat, or taxi. I found getting around pretty easy & I loved riding around in tuk-tuks.
Buses and trains can be booked online with 12Go Asia.
Mini-buses were cramped and uncomfortable on longer trips but distances between tourist destinations are not so long. Expect delays and changes of schedule so don't book things too tightly.
Train routes are limited in Cambodia but you can catch a train from Phnom Penh to Kampot and Sihanoukville or from Phnom Penh to Poipet on the Thai border.
Alternatively, you can book tours and transfers ahead to take the hassle out of planning your Cambodia visit. It will help you to feel more confident when you arrive in Cambodia, especially if it's your first solo trip.
If you're arriving in the capital you can book your Phnom Penh International Airport transfer here.
Book your Siem Reap International Airport Transfer here.
Skip the airport taxi queue and head straight to your hotel in Cambodia. You'll want to head out to see the majestic Angkor Wat, the largest religious monument in the world.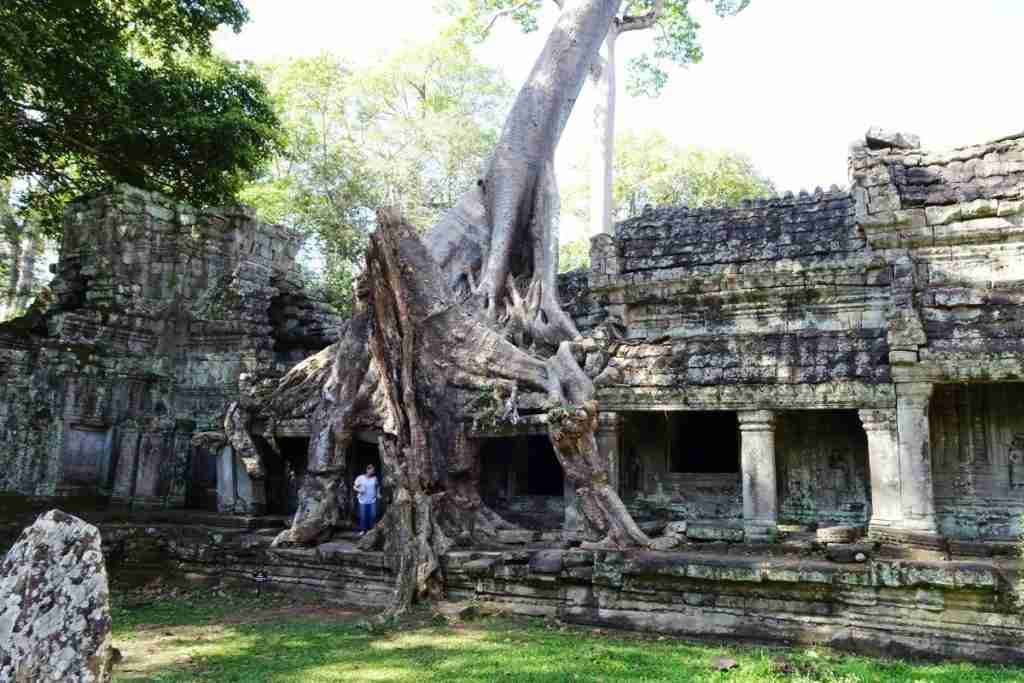 Angkor Temple Tours
The best time to see Angkor Wat in Cambodia is at sunrise and you can book ahead with the Angkor Wat Sunrise Tour from Siem Reap.
Or if you're not an early riser, take the Angkor Wat Temple Hopping Tour with sunset, instead.
On a Private 2 Day Tour, you'll be at all the best places for both sunrise and sunset with a local guide so you learn all about the history of Angkor Wat and the Khmer Kingdom.
Do they speak English in Cambodia?
Yes. Khmer is the official language in Cambodia but English is widely spoken in tourist areas and cities. This makes solo travel in Cambodia easy.
When should I go to Angkor Wat in Cambodia?
November to February is the best time to visit Angor Wat in Cambodia but try to avoid peak season in December / January as there are more than 2 million visitors annually.
April / May is extremely hot,
June to October is the wet season and Siem Reap sometimes floods in October.
July /August can be a rewarding time to visit away from peak season as the landscape is green and the rivers are full.
Cambodia is near the equator with a usual temperature range of 21 – 35 degrees Celcius ( 70 – 95 degrees Fahrenheit). I was there in January and it was extremely hot! It's the peak tourist season and the weather is typically sunny and dry.
Be prepared for sweltering heat so book a hotel with a pool and a room with air-conditioning. There's nothing better than a swim to cool off after a long day exploring temples.
To see the Best of Cambodia follow my fascinating 18-day itinerary
Can I use US$ in Cambodia?
Yes. On your Cambodia visit you'll find that US Dollars are widely accepted but the local currency, the Cambodian Riel, is most commonly used. You can change money easily at banks, money changers and hotels
If you take US$ in cash, make sure your notes are new and unmarked or they may not be accepted. I took an older US$50 bill and had trouble using it. I got a lot of odd looks and the money was handed back to me several times.
You can use US dollars rather than local currency but you will be charged more if you pay in US dollars.
Credit Cards are widely accepted and ATMs are easy to find. Many ATMs will give you US$.
Do I need a visa for Cambodia?
Yes, most nationalities need a visa to visit Cambodia.
Prior to Covid -19 travel restrictions, the visa options below were available:
A visa on arrival is issued at International airports in Phnom Penh and Siem Reap, at seaports and land border crossings from Vietnam, Thailand and Laos.
To apply for a visa on arrival You need:
 a recent passport photo
 a passport that is valid for at least 6 months
 2 empty pages in your passport
 a completed visa application form is supplied on the plane or at the airport on arrival
visa fee in US dollars cash.
Australian citizens need a visa to enter Cambodia and you can apply for an e-visa online from the Cambodian Ministry of Foreign Affairs or get a Visa on Arrival.
Is there Free wi-fi?
While free wi-fi is easy to find, I recommend buying a SIM card to stay connected if you want reliable internet access. I bought my SIM card easily in Siem Reap and it was not expensive. Your hotel in Cambodia will probably have free Wifi but I found it slow and unreliable so I used my SIM card in preference throughout my stay.
Dress & Etiquette at Angkor Wat in Cambodia
When you visit Angkor Wat in Cambodia make sure you cover your knees and shoulders or you may cause offence. The Temples at Angkor Wat are important religious sites and inappropriate dress is not allowed.
Carrying a sarong to tie around your waist or shoulders before entering a temple is a good idea.
As a tourist, you can wear shorts and a T-shirt when sightseeing but people dress conservatively in Cambodia and locals will probably be wearing long sleeves and pants. Avoid very revealing clothes like mini-skirts and tight yoga pants as they may make people feel uncomfortable.
For solo travel in Cambodia, I suggest dressing conservatively. For safety reasons, it's best not to draw too much attention to yourself.
Don't forget to pack a sun hat, sunglasses and sunscreen
When you solo travel in Cambodia you'll probably find lots of opportunities to meet other people. You'll find that local people are friendly and are genuinely want to talk to you. Monks often look for Western tourists to practice their English and they'll probably be happy to pose for photos also. It's still polite to ask their permission first. I was lucky enough to be shown around one of the monasteries in Phnom Penh by a monk who lived there.
What NOT to do on a Cambodia Visit
Never point your feet towards the Buddha when sitting at Angkor Wat in Cambodia or at other temples. This is considered VERY rude and you will probably be told to sit respectfully. Instead, sit on your legs with your feet pointing behind you. If you're not sure how to sit, copy the locals.
Women should never touch a monk or his robes or hand something directly to him.
Is Cambodia Safe to Visit?
Yes. Solo travel in Cambodia is pretty safe. While there is a lot of poverty in rural areas, the strict Buddhist religion prohibits violence or crime so Cambodia is generally very safe for solo travellers. As a woman travelling alone, I felt quite safe throughout my Cambodia visit but you should still take the usual safety precautions and watch out for petty crime and scams. Be even more cautious and always keep your bag close and your valuables out of sight.
Can I Drink the Water?
No. Don't drink the water. Buy bottled water or boil & purify your water and be careful of ice cubes and don't eat salads that may have been washed in tap water.
See your doctor for medical advice before your Cambodia visit and get the necessary vaccinations. This should be done a month or two before you leave home. Anti-malarial tablets will probably be recommended especially if you are visiting jungle areas.
For peace of mind make sure you buy travel insurance for your Cambodia visit, especially if you are travelling solo. I always use World Nomads travel insurance because it's designed for adventurous travellers with cover for overseas medical, evacuation, baggage and a range of adventure sports and activities so I can concentrate on enjoying my trip without worrying about something going wrong.
Where to Stay in Cambodia
Cambodia has a variety of accommodations available for budget, mid-range and luxury travellers. Hotels are very well set up for tourists and these are some good options.
Where to stay in Siem Reap
Budget: Onederz Hostel / Mid-Range: The Kingfisher Angkor Hotel / Luxury: The Night Hotel.
Where to stay in Phnom Penh
Budget: RS111 Location Hostel / Mid-Range: Red Hibiscus Hotel / Luxury: The Frangipani Royal Palace Hotel
My Cambodia Itineraries have reviews and suggestions to help you find a hotel in Cambodia. Click here if you're looking to stay in Sihanoukville, Kampot or Kep or just want some more information.
Travel essentials
#1. I rarely travel without a trusted Lonely Planet Guide and can recommend the Cambodia guide. It will help you plan an amazing trip and always comes in handy when you're away.
#2. I use and recommend World Nomads Travel Insurance for my overseas travel, especially if I'm travelling solo. I can relax knowing I'm covered if something unexpected happens while I'm away.
Pin It! If you enjoyed this article why not save it for later?
Related Articles
Vibrant Phnom Penh in Cambodia – 8+ HIghlights
Best 10 Days in Cambodia – Highlights and Tips
The Best of Cambodia in 18 Fascinating Days
Cambodia Travel: Why Angkor Wat is So Special
How to Visit Charming Battambang in Cambodia