In this Vietnam itinerary, you'll see beautiful Vietnam in 2 weeks travelling from the centre of the country to Hanoi in the north. You'll visit the historic old town of Hoi An and the royal citadel in Hue. You'll travel inland to the largest cave system in the world at Phong Nha Ke Bang and end your trip in Vietnam's bustling capital, Hanoi. A highlight is cruising on Halong Bay surrounded by stunning karst scenery in this beautiful UNESCO World Heritage National Park.
2 weeks in Vietnam is enough time to take in the highlights in the north of this fascinating country. I loved visiting Vietnam and I think you'll enjoy this trip.
Disclosure: This article may contain affiliate links. If you make a booking through my link, I may receive a small commission. There is no extra cost to you and it helps to keep this website running. Thank you for your support!
North Vietnam in 2 weeks from Hoi An to Hanoi
This Vietnam itinerary begins in Hoi An in central Vietnam and finishes in the capital Hanoi.
Your international flight will arrive in Hanoi and you'll need to book a domestic flight from Hanoi to Danang. You'll transfer directly to Hoi-An from Danang airport, around 45 minutes away from Danang by car.
Take the stress out of your arrival in Vietnam and book an airport transfer here or take a taxi from Danang airport to Hoi An.
Buses and trains can be booked in advance with 12Go Asia.
Hoi An
Hoi An is a lovely start to this Vietnam itinerary. The historical town is brimming with old-world charm. It's a favourite destination for sightseeing, shopping, and tailoring. At night the Old town lights up with colourful lanterns and during the day you can visit beautiful traditional houses and temples, shop for souvenirs or buy clothing made to measure. You could easily spend 4 or 5 days in Hoi An so you'll have to choose carefully how you spend your time here.
Day 1 & 2
In the Ancient Town of Hoi-An, you can visit the Chinese Assembly rooms, Chinese temples & wooden shophouses. Wander the laneways, walk through the pretty Japanese Covered Bridge and enjoy the French colonial architecture.
Much of Hoi An's charm comes from the Vietnamese houses that are decorated with strings of colourful lanterns and at night they are especially pretty. You can take a boat out on the river to see the old town lit up by lanterns at night.
Hoi An is a great place for shopping. There's a bustling night market across the river where you'll find a good choice of souvenirs. And while you're in Hoi An, why not have some clothing made to order by one of the local tailors? This can take a couple of days so it's best to visit your tailor as soon as you arrive.
Another fun thing to do during your 2 weeks in Vietnam is to shop at the fresh food markets and learn how to cook Vietnamese food. I enjoyed the Green Bamboo cooking class with Van and can recommend it as a fun day out in Hoi An. This course is popular so you'll need to book in advance and it costs around US$50 for the day.
Some other good day trips from Hoi An include visiting the ruined Hindu temples at My Son or cycling to An Bang Beach a few kilometres away.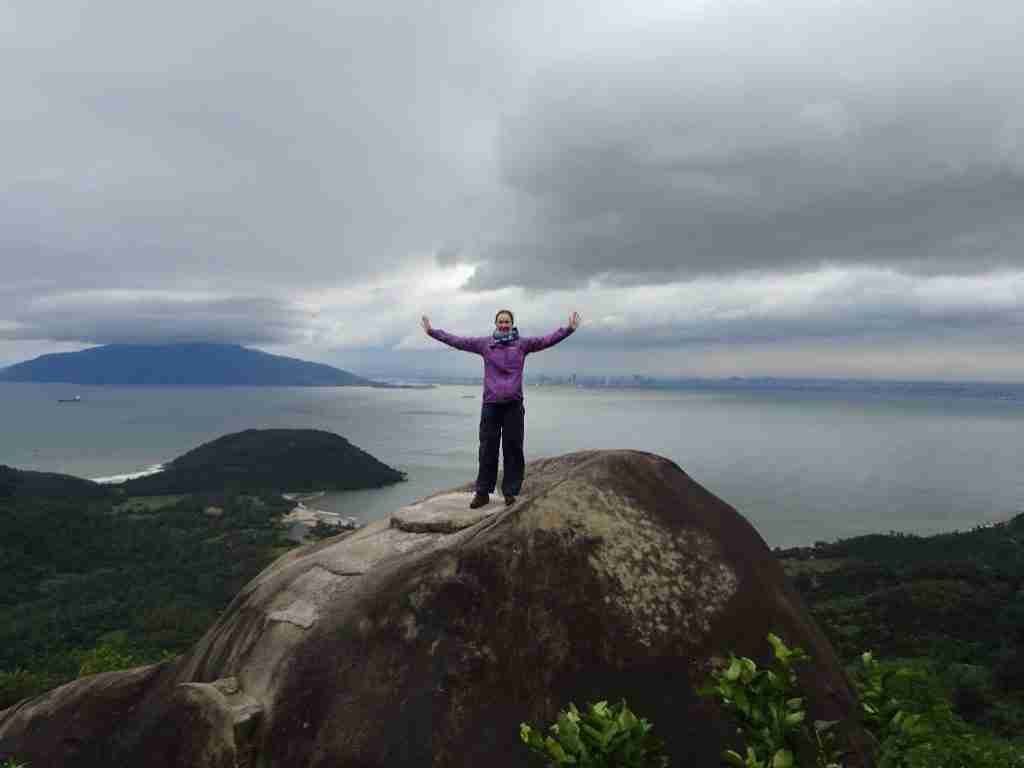 Where to stay in Hoi An
Mid-Range: Green Apple Hotel I loved staying here and especially enjoyed the wonderful service. The rooms are new and spotless though perhaps the decor is a bit clinical. I enjoyed the pool and the shuttle service to the old town. Bike hire is also available here.
Luxury: If you're after something more upmarket try the Allegro Hoi An. A Little Luxury Hotel & Spa It has exceptional reviews for its stunning rooms, building and decor, and wonderful service.
Travel Day 3
Hoi-An to Hue
There's a lot to see between Hoi-An and Hue so try to see the sights as you travel. An Easy Rider Motorbike Tour is a great way to do this and will give you an adventure South East Asia style. It will definitely add some spice to your 2 weeks in Vietnam.
If you're not keen to ride on the back of a motorbike you can travel by train, bus, or taxi between Danang and Hue but you'll drive through a tunnel and miss the lovely scenery on the Hai Van Pass.
Make sure you stop off at Marble Mountain near Danang on the way. Follow the trails to the top of the mountain. There are stunning views of the surrounding countryside with pagodas, caves, and statues to enjoy.
I booked my Easy Rider tour through my hotel and the driver strapped my luggage on the back of his bike. I rode behind him on a separate seat on the back of the bike. I was surprised by how spacious and comfortable the motorbike was and how easily my backpack went on the back. Vietnamese are experts with motorbikes.
An Easy Rider motorbike tour is a lot of fun for US$55. On a motorbike, you can ride over the Hai Van Pass and enjoy the stunning coastal scenery and you'll be delivered directly to your hotel in Hue. On the way, you'll visit Marble Mountain, Danang beach, Dragon Bridge, and Elephant Falls, and stop at all the viewpoints.
Day 4
Hue
In this Vietnam itinerary, you'll stop for a day in Hue, the ancient Royal capital in central Vietnam. Hue is known for its 19th-century citadel. It's a UNESCO World Heritage historic site surrounded by a moat and thick walls Inside the Imperial city of Hue, there are palaces royal tombs, and shrines to visit.
With just one day in Hue, it's best to book a tour so that you'll see all the sights of the ancient royal capital of Vietnam.
On a day tour, you'll visit the Hue Royal Palace, and the Royal Tombs and you'll cruise on the Perfume River.
Where to stay in Hue
Mid-Range: Serene Shining Hotel and Spa This comfortable hotel is located right on the river and I enjoyed my stay here.
Luxury: Try the Melia Vinpearl Hotel Hue It has an exceptional location and spectacular city views.
Travel Day 5
Hue to Phong Nha
The next stop in this Vietnam itinerary is incredible Phong Nha and to get there you'll catch a bus. From Hue to Phong Nha Ke Bang takes around 5 hours.
TIP: The bus passes right past the Lake House in Phong Nha and it's a great place to stay. The bus driver was happy to drop me off at the Lake House which is on the main road on the way into town. Make sure you arrange this in advance with your driver.
Day 6 & 7
Phong Nha Ke Bang
One of the highlights of your 2 weeks in Vietnam will be the stunning karst scenery and phenomenal limestone caves at Phong Nha Ke Bang. This UNESCO World Heritage National Park is less visited than other parts of Vietnam. It's a superb place to see and a great addition to any Vietnam itinerary.
Exploring Phong Nha Cave by boat is the first thing to do when you arrive. If you're in town, head down to the wharf. You can hire a boat here and travel up the river to Phong Nha Cave. The scenery is spectacular along the river and your oarsman (or woman) will row your boat silently through the Phong Nha Cave. It's a magical experience to float past the formations that are lit up inside the cave.
There are other caves to visit around Phong Nha like the spectacular Paradise Cave and Dark cave. If you're looking for an adventure, book a multi-day caving tour and get right off the beaten track.
Another fun experience is a trek through the Botanical Gardens. These botanical gardens are a series of jungle trails and require some serious walking so don't expect a walk in the park and wear you're hiking boots.
Find out more about Phong Nha Ke Bang and why you'll love visiting.
Where to stay in Phong Nha
Mid-Range: Lake House Resort has a scenic location on a lake and I loved staying here. My bungalow was huge. It had a private balcony right on the water and the service was wonderful. It's a bit out of town but the bus stops right at the front door.
Upper Mid-Range: Victory Road Villas gets exceptional reviews for its beautiful surroundings. It's a gorgeous villa with amazing views.
Travel Day 8
Phong Nha to Hanoi
From Phong Nha take a bus to Dong Hoi to meet the overnight sleeper train to Hanoi. It's best to book your train ticket in advance. I booked an e-ticket online with 12Go Asia and it all went smoothly.
If you have some time to spare it's worth staying a bit longer in Phong Nha. You could book a tour and spend several days hiking and exploring the more inaccessible caves in Phong Nha Ke Bang National Park.
Another alternative is to break the trip to Hanoi with a night or two in Ninh Bin and Tam Coc for more stunning scenery on the way.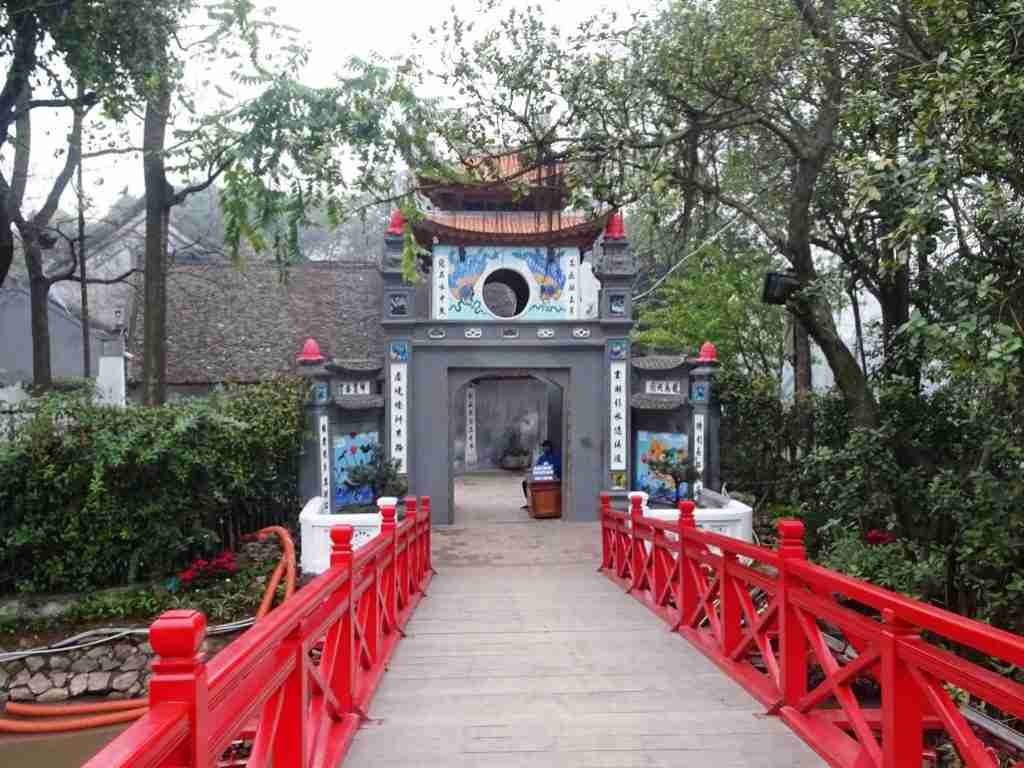 Hanoi
No Vietnam itinerary would be complete without visiting Hanoi, the capital of Vietnam. It's a fascinating place to visit with ancient temples and unique museums, right in the city centre. French architecture brings colonial charm to the city and the historic Old Quarter is a great place to base yourself in Hanoi.
Getting around Hanoi can be a lot of fun. Jump on the back of a motorbike taxi, and take a tuk-tuk or a green Mai Linh metred taxi.
Make sure you try some Pho (soup) for breakfast and some Vietnamese coffee while you're there.
Day 9 & 10
Start your Hanoi visit at the Hoan Kiem Lake in the city centre and don't miss the colourful Ngoc Son Temple. It's the most visited temple in Hanoi. Then make your way to the lovely Temple of Literature.
One of the most interesting things to do in Hanoi is to visit the Ho Chi Minh Mausoleum. You'll join crowds of local Vietnamese people and groups of school children as they queue at the entrance. And once inside the mausoleum you'll file past the embalmed body of the dead Vietnamese leader Ho Chi Minh. Visitors are closely supervised by military guards. It's a bizarre and unique cultural experience to add to your Vietnam itinerary.
Nearby is the presidential Palace and you can walk or take a tuk-tuk to the One Pillar Pagoda and the Tran Quoc Pagoda.
Train street is another cultural experience that you will enjoy in Hanoi. The train squeezes between houses in a tiny street on a single-track railway.
Hanoi's streets are alive at night and there's a night market in the Old Quarter where you can shop for souvenirs and try some street food.
Watching a circus performance is another fun way to spend an evening in Hanoi. The performance I saw was quite dazzling.
Where to stay in Hanoi
Mid-Range: I stayed in the old quarter at the Hanoi Graceful Hotel I loved the intricately carved bedhead and the quaint balcony.
Luxury: The Oriental Jade Hotel might be more your style. It's a smaller hotel with a personal touch and a rooftop pool. The location in the Old quarter is exceptional and so are the reviews.
Day 11 & 12
Ha Long Bay Cruise
A great way to end your 2 weeks in Vietnam is with a cruise on stunning Ha Long Bay. if you're short of time book your Halong Bay Cruise in advance. But you can also wait until you arrive in Hanoi to make your arrangements.
An overnight cruise is enough time to appreciate the lovely scenery of Halong Bay. But you can spend an extra night or two enjoying the emerald waters and visit nearby islands and villages as well.
I booked with La Fairy Sails and was very happy with my choice.
Overnight cruises usually include a 4-hour bus trip to Halong Bay, all meals & activities, sightseeing stops, and activities like Kayaking, cooking classes & morning Tai Chi
TIP: Leave your luggage in storage at your hotel in Hanoi and take a small overnight bag on the cruise.
Find out more about cruising on Stunning Halong Bay
Day 13 & 14
Return to Hanoi
This Vietnam itinerary ends back in the capital, Hanoi with some more sightseeing before your flight home.
If you have some more time to spend why not extend your 2 weeks in Vietnam. Book an extra night or two cruising on Halong Bay and visit the islands and villages nearby.
Another great way to extend your Vietnam itinerary is with a trip to Sapa in the mountains. Take an overnight sleeper train to Sapa for hiking amongst the beautiful rice fields with stunning scenery and colourful markets.
Travel Essentials
#1. For a trip to Vietnam and on any overseas holiday, travel insurance is essential for peace of mind. I use and recommend World Nomads so I'm covered for overseas medical expenses, baggage and more. I can relax and enjoy my trip without worrying that something might go wrong.
#2. A Travel Guide book for Vietnam is also essential. I rarely travel without a trusted Lonely Planet Guide.
Pin It? If you enjoyed this itinerary save it for later!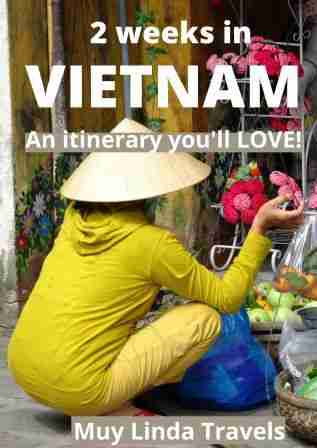 Vietnam Itineraries & travel tips
An Exciting 10-Day itinerary in Vietnam's Tropical South
Beautiful Vietnam in 3 weeks from Top to Toe
Cruising on stunning Halong Bay in Vietnam
Solo Travel in Vietnam – What you Need to Know
Why You'll Love spectacular Phong Nha-Ke Bang in Vietnam
[do_widget id=blog_subscription-11]