Is Bondi or Manly Beach Better in 2024?
Are you trying to decide whether Bondi or Manly Beach is better to visit? Both are beautiful surf beaches in Sydney, Australia and both are perfect for a day at the beach or a holiday in Sydney. Visit Bondi or Manly and you'll find a gorgeous beach within easy reach of the city. There are a lot of similarities between the two but there are some differences too.
Having lived in Sydney most of my life, I've been to Bondi and Manly many times. I love the ferry ride to Manly and the relaxed lifestyle, but Bondi Beach on a sunny day is breathtaking and there's a buzzing beach vibe in Bondi too.
In the end, it's a matter of personal preference which one you choose. To help you decide whether Bondi or Manly Beach is better to visit, I've compiled this guide that looks at the pros and cons, location, the best things to do and more.
Maybe you'll have time to go to both.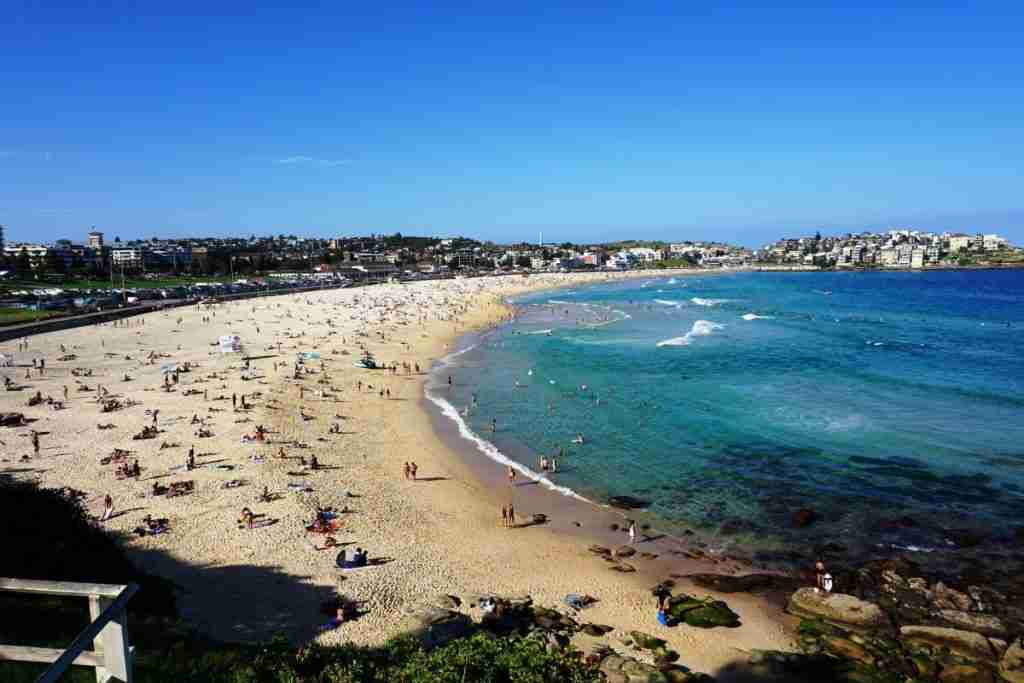 Some of the links on this page are affiliate links which means I may make a small commission on sales that result from clicks on those links. This does not cost you any extra and helps to keep this website running. I appreciate your support!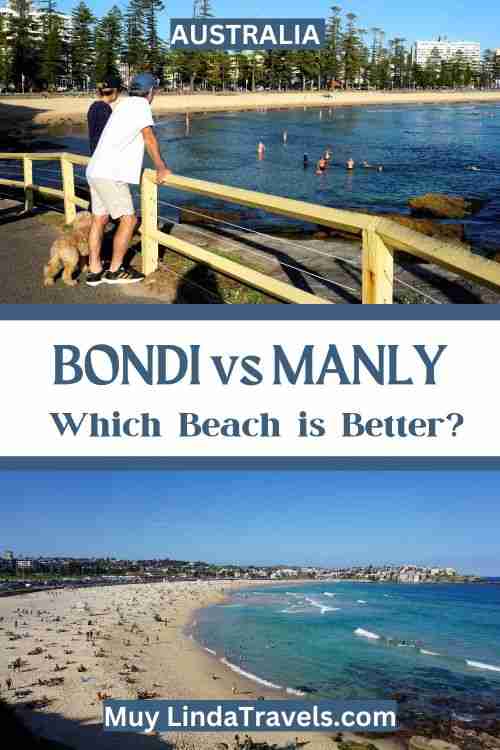 Is Bondi or Manly Beach Better?
Bondi Beach is Sydney's most famous surf beach and it's very popular. There's a thriving backpacker and surf scene that draws a trendy young crowd, but there's also an outdoor, health and wellness culture.
Manly Beach is also very beautiful and is known internationally as a surfing destination. Manly also attracts a lot of visitors but if you're looking for a beautiful beach with a relaxed vibe that's less crowded than Bondi then Manly may be a better choice for you.
The TV shows Bondi Rescue and Bondi Vet were filmed in Bondi and this has increased the popularity of Bondi Beach with visitors. The scenic Bondi to Coogee coastal walk is another drawcard and Bondi has colourful street art and weekend markets that give the suburb a unique feel.
Bondi Beach is stunning but Manly Beach has a gorgeous surf beach and attractive park areas with tall pine trees that provide shade on a hot sunny day. It's also worth visiting Manly for the picturesque ferry ride from the city. Catching the Manly ferry is the perfect way to enjoy Sydney's beautiful harbour.
But is Bondi or Manly better? Well, that's a matter of opinion. If you ask a local, they'll say that Bondi is full of tourists and Manly is full of yuppies. Tourists prefer Bondi and Sydneysiders like Manly.
Let's look a bit more closely at what you can expect from Bond or Manly Beach.
Bondi Beach vs Manly Beach Pros & Cons
| | |
| --- | --- |
| Bondi Beach Pros | Manly Beach Pros |
| Wow factor – Stunning Beach | Scenic Ferry ride from the city |
| Great surf & & Bondi Baths | Less crowded than Bondi |
| Known internationally as a surfing destination | Known internationally as a surfing destination |
| Trendy vibe & surf culture | A relaxed & upmarket with a surf scene |
| Good for professional & beginner surfers | Good for professional & beginner surfers |
| Close to the CBD | Shaded parks near the beach |
| Closer to the airport | The Fairy Bower Sea Pool |
| Bondi to Coogee Coastal Walk | Coastal walk & ocean swims to Shelly Beach |
| Famous as a TV set for Bondi Rescue & Bondi Vet | North Head & Fairfax Lookout |
| Bondi Icebergs Club & Ocean Pools | Manly Wharf Restaurants & Bars |
| Trendy cafes, bars, restaurants and clubs | Trendy beachside cafes, bars & restaurants |
| Local Markets: Farmers Market & Bondi Market fresh produce, artisan products & fashion | Manly Corso shops & weekend markets: Fresh produce & Art & Craft |
| Good choice of accommodation for all budgets | Accommodation for all budgets |
| Fitness & wellness scene | Fitness & wellness scene |
| Street Art | Not quite as expensive as Bondi |
| | |
| --- | --- |
| Bondi Beach Cons | Manly Beach Cons |
| Overcrowded with tourists and backpackers | Further away from the city |
| More famous internationally | Further away from the airport |
| More expensive: Australia's most expensive seaside destination | Weekend crowds |
| An overflowing car park with metres & traffic jams | Limited parking with metres |
| Exposed beach area with no trees or shade | |
Manly or Bondi Beach: Location
Manly Beach and Bondi Beach are both located in Sydney and you can stay in either Manly or Bondi for a beachside holiday and have easy access to the city. Bondi Beach is 7 kilometres from the CBD while Manly is 14 kilometres from the city centre and both are easily accessible for a day trip.
Getting There
Ferry to Manly Beach
Travelling by ferry to Manly Beach is a pleasure. From Circular Quay Wharf 3, the ferry to Manly Cove passes the iconic Sydney Opera House, the Harbour Bridge and the entrance to Sydney Harbour. The Manly ferry takes around 30 minutes (20 minutes on the fast ferry).
TIP: Visiting Manly is a fun day out and one of the best day trips in Sydney.
How to get to Bondi Beach
The easiest way to get to Bondi Beach from the city is to catch the Express 333 bus from Circular Quay. The trip takes around 30 – 40 minutes but the bus gets pretty crowded.
Alternatively, you can catch a train from the city to Bondi Junction and a bus to Bondi Beach. The trip takes 30 – 40 minutes.
Or catch the ferry from Circular Quay to Watsons Bay and a bus from Watsons Bay to Bondi Beach. It's a much more scenic route but it's a bit more expensive and takes around 45 – 60 minutes.
TIP: The Hop-on-hop-off bus is an easy way to get to Bondi Beach from the city and see the main attractions on a day out in Sydney.
While Bondi is easy to reach by public transport, the spectacular ferry ride to Manly Beach is a winner here.
Winner: Manly
Bondi vs Manly Beach for Things to do
There are lots of fun things to do in both Bondi and Manly. Here are some suggestions:
Things to do in Bondi
Enjoy Bondi Beach – Swim, surf and sunbathe
The Bondi to Coogee Coastal Walk
Enjoy the Cafes & restaurants by the beach like the iconic Hard Rock Café
Enjoy cozy bars and pubs or party at trendy nightclubs
Shop at the local weekend Markets
Shop at the trendy Boutiques on Gould Street
Enjoy the local Street art at the Bondi Beach Graffiti Wall
Visit the Bondi Pavilion for exhibitions, live performances
Stop for a cocktail at Bucket List, a bright, buzzy bar in the Bondi Pavilion
Take a Yoga or fitness class
Visit the Lookout at Ben Buckler Point
Explore the South Head at Watson's Bay
Things to do in Manly
Enjoy Manly Beach – Swim, surf, sunbathe
Relax by the beach with an ice cream, a coffee and a good book
Swim at the rockpool at Queenscliff at the other end of Manly Beach
Kayak, paddleboard or sail in Manly Cove.
Walk to Shelly Beach on the coastal path.
Snorkel in the Marine Reserve at Shelly Beach
Enjoy a sunrise & sunset at the beach.
Take a dip in the lovely Fairy Bower Sea Pool on Marine Parade Manly
Ocean swim with "The Bold and the Beautiful" around Manly Point to Shelly Beach
Relax with a drink and watch the sunset from Manly Wharf Bar.
Enjoy harbour and city views from Fairfax Lookout at North Head
Relax with a Yoga class by the Beach
Browse the stalls at the weekend markets for arts and crafts, fresh produce & artisan food
Enjoy the cafes & restaurants by the beach in Manly! The Bower cafe near the Fair Bower Sea Pool has waterside outdoor seating with a sea view
Manly to Spit Bridge Walk
You can choose Bondi or Manly Beach and find a long list of things to do but which beach is better is a matter of opinion. The markets and street art at Bondi offer a unique beachside experience but Manly has an ocean beach, a Bay beach, an Aquatic Reserve, weekend markets and a wider range of water activities for a beach holiday.
Winner: Manly
Manly or Bondi Beach for Coastal walks
You can visit both Manly and Bondi for coastal walks and stunning ocean views.
Bondi walks
The very popular 6-kilometre Bondi to Coogee Coastal Walk takes around 2 hours and follows a gorgeous cliffside path offering stunning ocean views. The path begins on Notts Avenue near the Bondi Iceberg's Club and passes by beautiful beaches, parks, rock pools and the cliffside Waverley Cemetery along the way.
In March each year, the coastal path is decorated with artworks from the Sculpture by the Sea exhibition. It's a lovely time to walk from Bondi to Coogee but it can be very crowded.
The walk from Bondi Beach to Watson's Bay takes 2-3 hours and offers stunning cliff views, but the 9-kilometre path travels across parks and residential streets. Along the way, there are superb sunset views from Dudley Page Reserve and the trail follows the clifftops past the historic Macquarie Lighthouse to The Gap in Watsons Bay.
Manly Walks
On the north side of the harbour, the 1.5-kilometre Manly to Shelly Beach path is a very pretty walk around the coast to the Aquatic Reserve in Cabbage Tree Bay. Shelly Beach is a popular spot for swimming and snorkelling and the walking track continues to lookout points and the military barracks on the North Head of Sydney Harbour.
There's also a steep 45-minute walk from the Manly Ferry Wharf to North Head and Fairfax Lookout with lovely views of the city across the water.
The Manly to Spit Bridge coastal hike takes around 4 hours and delivers bush ocean and harbour views
While Manly offers some lovely walks and viewpoints, the epic Bondi to Coogee coastal walk is the pick of these walking trails.
Winner: Bondi
Beach Sunrise & Sunset
There are lovely sunrise views at either Manly or Bondi Beach, but Manly has easterly views that are perfect for watching the sunrise over the waves. And for sunsets, Manly Cove Beach near the ferry wharf has a perfect west-facing aspect. The Fairfax lookout on Manly's North Head is also a popular spot for watching the sunset with distant city views over Sydney Harbour.
At Bondi, the sun rises over the headland and sets over the city. Sunrises are best at Bondi and although the Grassy Knoll at Bondi Beach is a popular sunset spot, you won't see the sunset over the water at Bondi Beach.
The best Bondi sunset viewpoint is at Dudley Page Reserve in Dover Heights a 10-15 minute walk from Bondi Beach. Take a picnic and relax on the grass with the backpackers and tourists watching the sunset over Sydney.
Winner: Manly
Bondi or Manly for Nightlife
If you're looking for nightlife, you'll find a good selection of bars, restaurants and cafes at both beaches.
At Bondi Beach, sip cocktails with friends at Bondi Hardware, relax and unwind at the Speakeasy Bar or enjoy a meal and a drink at the Bondi Icebergs Club.
In Manly, head to the Wharf Bar to watch the sunset over the bay, stop for a drink at Donny's Bar, the Steyne Hotel or enjoy live music and a meal at Tropikana on Manly Beach.
While Manly Beach has a good selection of bars, cafés and restaurants, the atmosphere is more chilled. Bondi is the place to be if you like to party with more clubs, bars and discos to choose from.
Winner: Bondi
Bondi vs Manly Beach for Accommodation
There's a good choice of accommodation for all budgets at either Bondi or Manly Beach.
Bondi has hostels, budget hotels, luxury apartments and resort-style hotels but Bondi is Australia's most expensive beach destination.
Manly also has a range of accommodation but there's less choice than at Bondi. The backpacker and budget options are limited, and mid-range accommodation also tends to be expensive in Manly.
Winner: Bondi
Where to Stay at Bondi Beach
Budget: Wake Up! Bondi Beach Is a small hostel with a stunning rooftop view. The location is perfect, right on Bondi Beach.
Mid Range: Hotel Bondi Across the road from famous Bondi Beach, this 3-star hotel is a great choice for a beach holiday in Sydney with comfortable rooms and excellent service.
Luxury: QT Bondi is a 5-star hotel with spacious and beautifully decorated rooms just 200 metres from the beach.
Where to Stay in Manly
Budget: Manly Lodge Boutique Hotel has a good location just a stone's throw from the ferry and the beach with nice people and a cafe downstairs.
Board Rider Backpackers and Budget Motel offers cheap, basic accommodation overlooking Manly Corso a short walk from shops, the beach and the ferry. The location can be noisy on weekends.
Mid Range: Manly Paradise Motel and Apartments is located across the road from Manly Beach. Guests choose this hotel for a beach escape and love the rooftop pool and the views.
Upper Mid Range: Quest Manly is an exceptional choice located near the ferry wharf for handy access to the city. It's a short walk to beaches, shops, pubs and restaurants.
TIP: Find the best places to stay in Sydney in the CBD, inner city suburbs or at the beach.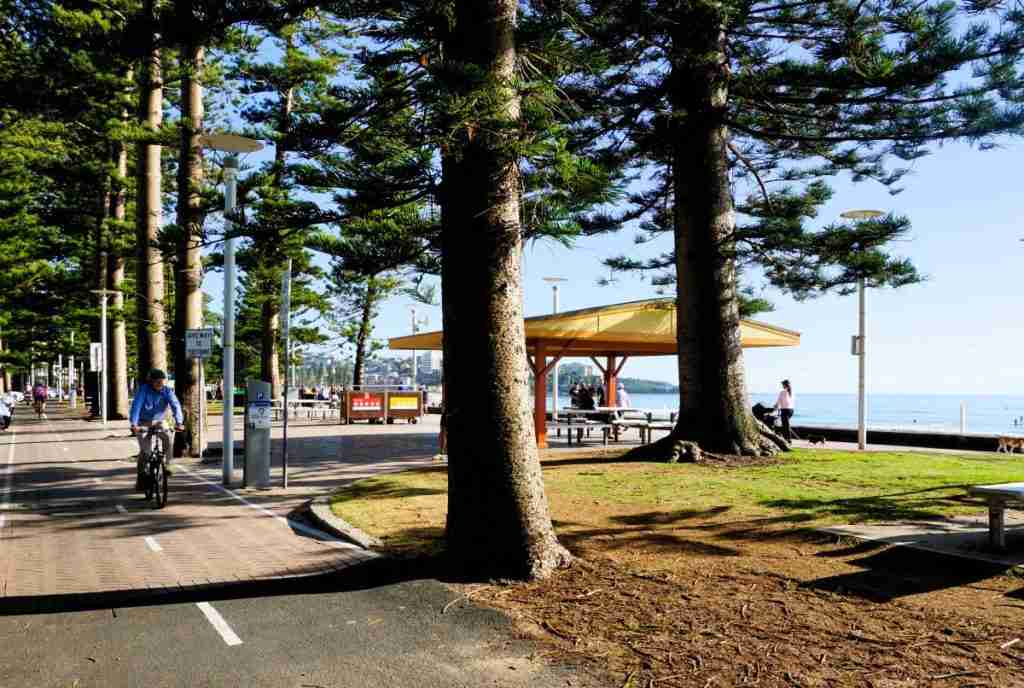 FAQs
Is it worth going to Manly Beach?
Yes, it's worth going to Manly Beach for the ferry ride on the spectacular Sydney Harbour. The ferry passes between the Sydney Harbour Bridge and the Opera House and sails past the heads to Manly Cove. Once you're in Manly there's a beautiful surf beach that's perfect for swimming, surfing, and sunbathing, scenic coastal walks and a selection of cafes, restaurants and bars to enjoy.
Is Bondi bigger than Manly?
Bondi Beach is around 1 kilometre long and 50 – 100 metres wide. It's a huge beach and forms a perfect crescent shape but still gets very crowded. Manly Beach is twice as long at around 2 kilometres from end to end. It's a narrower beach than Bondi but it feels less crowded.
Is Bondi Beach worth going to?
Yes, Bondi Beach is worth going to for swimming, surfing and sunbathing. The beach is gorgeous with golden sand and deep blue water and there's a cosmopolitan feel but it's very popular and often crowded. Bondi Beach has been made famous by the TV shows Bondi Rescue and Bondi Vet. Backpackers and tourists flock to Bondi so if you don't like crowds, perhaps choose another of Sydney's many beautiful beaches such as Bronte, Coogee or Cur Curl instead.  
Is Manly a good swimming beach?
Manly has an excellent swimming beach with patrolled areas for swimming in the surf. Manly is also the home of the Bold and the Beautiful Ocean Swimming Club with a large community of ocean swimmers who gather early in the morning to swim around the point. Swimming is also popular in the calm waters of Manly Cove and Shelly Beach.
TIP: If you prefer to avoid crowded beaches, Sydney has lots of other options. Bronte, Coogee, Cronulla, Curl Curl, Dee Why and Palm Beach are just a few stunning Sydney beaches that are less hip and less crowded than either Manly or Bondi.
Final Thoughts – Is Bondi or Manly Beach better?
Both Bondi and Manly offer the relaxed beach lifestyle that Sydney is so famous for. But which is better? In this comparison, it's very close but Manly has the edge.
Iconic Bondi Beach is the top beach destination in Sydney and has the WOW factor with a stunning seaside location. Bondi is more lively and draws a younger crowd who like to party. But Bondi Beach gets very crowded and is the most expensive beach holiday destination in Australia.
Manly is also incredibly beautiful and has a more relaxed beach vibe than Bondi. Although Manly can be very busy, there are fewer tourists and backpackers and more locals. It's a bit further away from the city but getting there by ferry is one of the best things to do in Sydney. Manly is a great choice for a beach holiday and wins this Bondi vs Manly Beach comparison.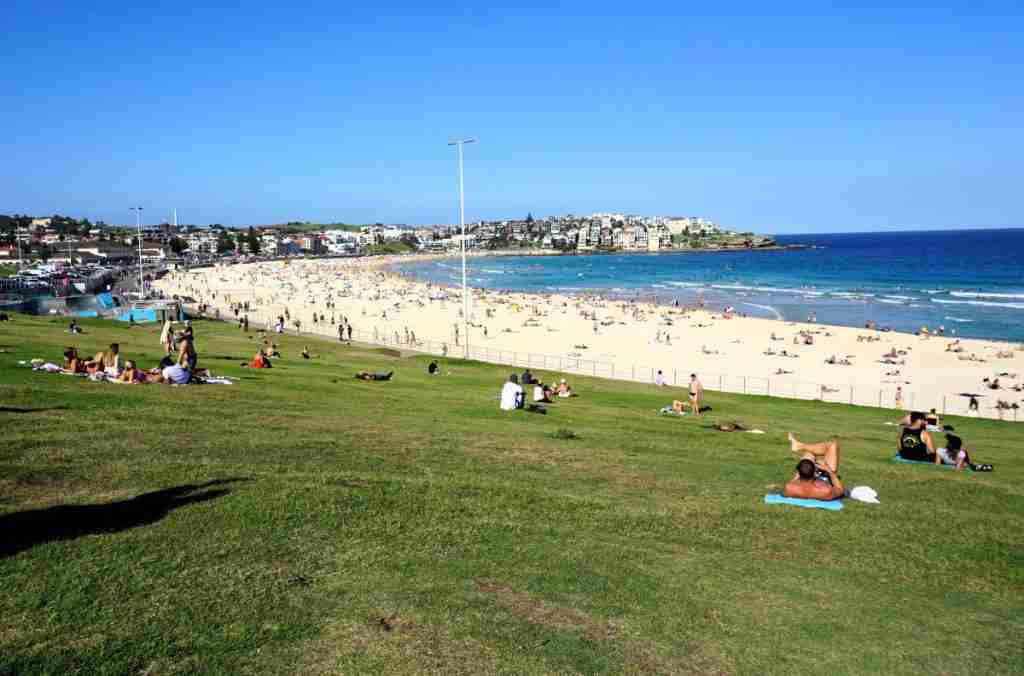 You might also enjoy
Scenic Self-Guided Walking Tour of The Rocks Sydney
15+ Best Sunrise Spots in Sydney
15 of the Best Sunset Spots in Sydney
The Best Places to Stay in Sydney
15+ of the Best Things to Do in Sydney
10 Great Day Trips in & Around Sydney, Australia
The Beautiful Blue Mountains in Australia
10 Things to Love about Byron Bay in Australia
15 Best Reasons to Visit Brisbane in Australia
Hugging a Koala in Australia – It's Unforgettable!
Pin It! & save it for later…