20 Best Things to do in Hoi An Vietnam
The Old Town of Hoi An is full of charm and a highlight of a visit to Vietnam. There are some wonderful things to do in Hoi An such as exploring the UNESCO World-heritage sites, wandering the laneways, and relaxing on the nearby beaches.
Is Hoi An worth Visiting?
YES! You won't regret taking the time to visit Hoi An. The historical Old Town is brimming with character. Traditional lanterns line the streets and colourful boats are moored at the riverside. Canals run through the former port town and heritage bridges cross the canals. Hoi An has bustling markets, delicious food and friendly locals. It's a real gem in South-East Asia and a delight to visit.
What is Hoi An Vietnam known for?
Hoi An's Old Town is a perfect example of a traditional trading port from the 15th to the 19th Century. The well-preserved heritage architecture is a mixture of styles and eras with French colonial buildings, wooden Chinese shops & Assembly Halls sitting next to classic ornate Vietnamese houses and temples. Hoi An is captivating and it's easy to see why it's a favourite destination for visitors to Vietnam.
Hoi An is also a great destination for female solo travel and these 30 tips will help you to have a successful solo travel experience in Vietnam, even if it's your first time travelling alone.
** Check with your local government for the latest information on travel to Vietnam.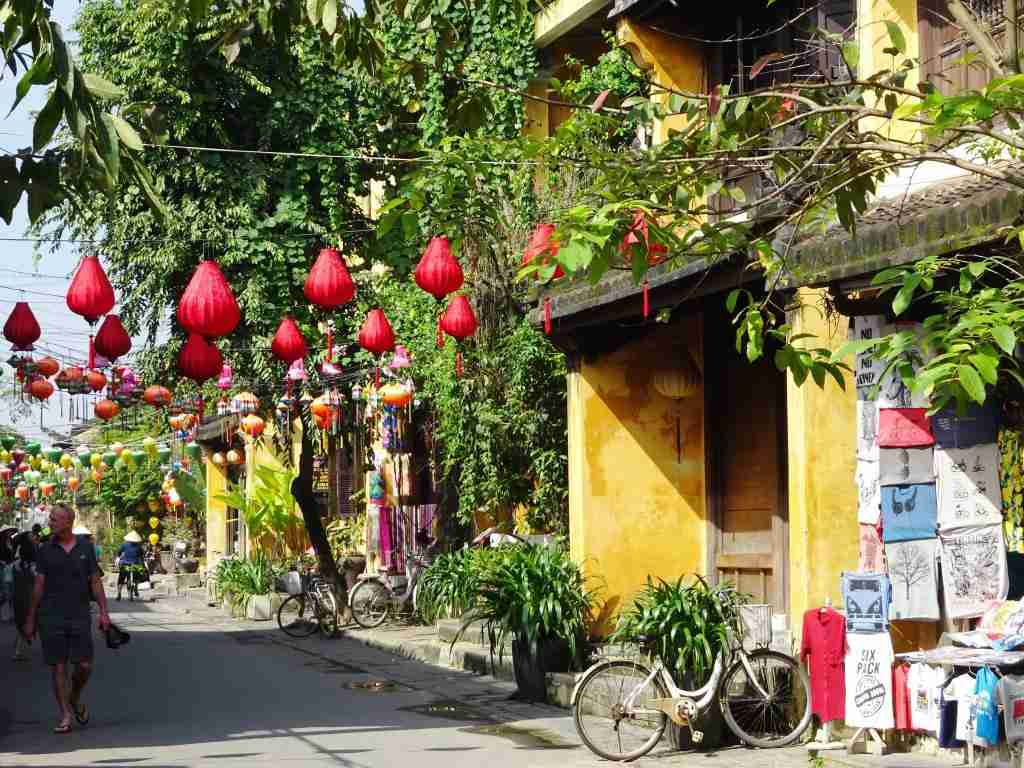 Disclosure: This article contains affiliate links. If you make a booking through a link on this page I may receive a small commission. There is no extra cost to you and it helps to keep this website running. I appreciate your support!
Where is Hoi An in Vietnam?
Hoi An is located in Central Vietnam, 29 kilometres from Danang, approximately 800 kilometres south of the capital Hanoi, and a similar distance north of Ho Chi Minh City.
The Old Town of Hoi An sits at the mouth of the Thu Bon River and is just a few kilometres from several lovely ocean beaches. An Bang, Cua Dai, and Ha My Beach are all within easy reach of the ancient town of Hoi An.
How to reach Hoi An
The quickest and easiest way to get to Hoi An is to fly to Danang Airport. Domestic flights from Hanoi and Ho Chi Minh City are cheap and plentiful but not always reliable. Flight delays and schedule changes are common so allow plenty of time for travel.
You can also arrive in Danang by train or bus and tickets are easy to book online with 12Go Asia
The transfer from Danang Airport to Hoi An takes around 45 minutes and it's easiest to take a taxi but there is a public bus and an express bus that take around 1.5 hours.
How many days in Hoi An is enough?
Three days or more is a good amount of time to spend in Hoi An. The Old town has many attractions and there are lots of things to do in and around Hoi An. But, if you plan to have some clothing made to measure you'll need to have several days to choose your fabrics and have fittings done before the tailor can finish making your clothes.
Here are some of the best things to do in Hoi An.
20 Best things to do in Hoi An Vietnam
1. Wander the laneways
One of the best things to do in Hoi An Vietnam is to wander the laneways and enjoy the atmosphere of the Ancient Town. Walk or hire a bicycle to get around the narrow streets. People-watching is fun in Hoi An and you're sure to see lovers and newlyweds in photogenic spots throughout the Old Town. Hoi An is a favourite place for local Vietnamese holidaymakers and overseas visitors are completely charmed by the old-world ambience of this lovely heritage town.
2. Visit the Japanese Covered Bridge
At the Western end of the Old Town of Hoi An, you'll find a historic Japanese Covered Bridge. Built in the 18th century the pedestrian bridge is 18 metres long and crosses the Thu Bon River, connecting the Chinese and the Japanese quarters of the Town.
The quaint wooden bridge is a combination of Chinese, Japanese & Vietnamese architecture and inside the structure, there is a temple. The Japanese Bridge is also known as Cau Pagoda. A thin wooden rail separates the temple from the small corridors and benches inside the covered bridge.
The roof of the bridge is Japanese in style and the Bridge was recognized as a Vietnamese cultural heritage site in 1990. A picture of Hoi An's Japanese Covered Bridge can be found on the back of the 20,000 VND banknote. The Japanese Covered Bridge is thought to bring peace and prosperity to Hoi An. It's open 24 hours a day and free to visit.
3. The Chinese Quarter
In the Chinese Quarter of the Ancient Town, there are a number of historic Chinese buildings and you'll find them easily as you wander along Tran Phu Street. To see these historic sites you'll need to buy a pass which gives you entry to 5 sites.
Near the Japanese Bridge, is the Assembly Hall of the Cantonese Chinese Congregation, a place of worship, and further along the street is the impressive Chinese Assembly Hall. Brilliant red doors open into the Assembly Hall and temple. Hanging from the ceiling are large coils of red incense and in the back courtyard, there's a grand dragon fountain and a goat statue.
Nearby is a centuries-old Buddhist Pagoda and shrine Hoi Quan Phuoc Kien, and further along the street is the historic Chinese Guan Di Temple and the 19th Century Hai Nan Assembly Hall and memorial.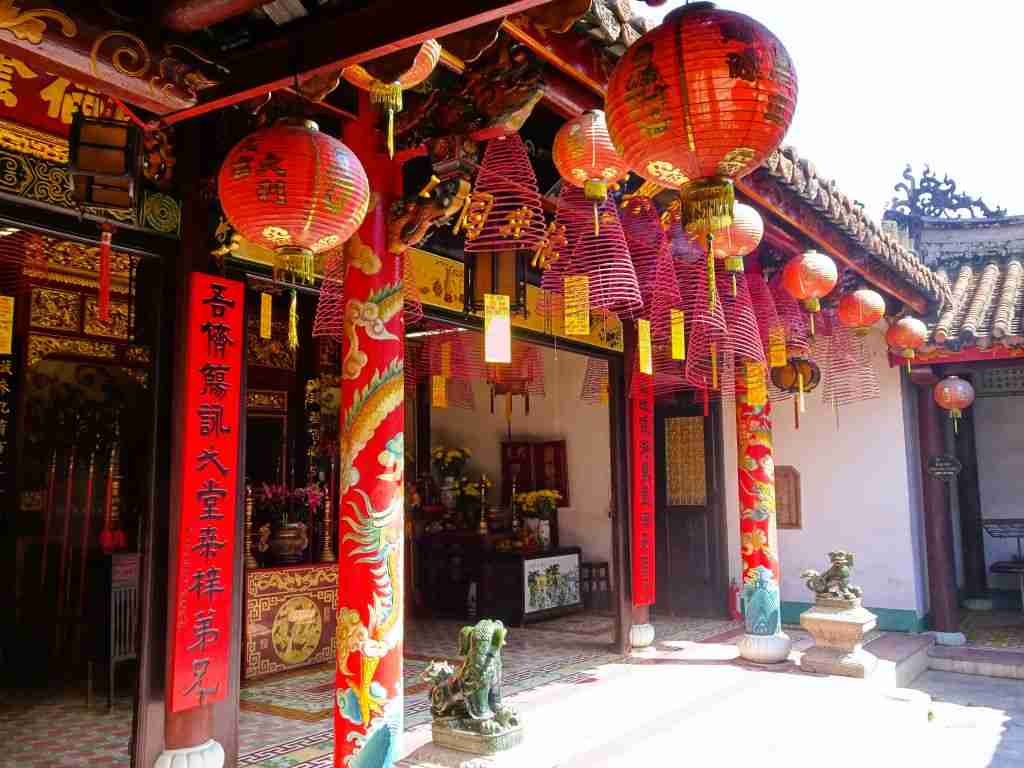 4. Colonial French & Vietnamese houses
The yellow terrace houses found throughout Hoi An's Old Town are a remnant of French colonial days and there are some traditional Vietnamese wooden houses like Duc An House that you can visit in Hoi An. Duc An House is an antique shop near the Japanese Bridge Pagoda and you can also visit the Old House of Tan Ky by the river
5. Museums & Art Galleries
Museums & Art Galleries such as the Traditional Art Performance House can also be found near the riverfront in Hoi An's Old Town and the Museum of Ceramics is also nearby.
6. Shop at the Night market
Visiting the Night Market is a fun way to spend an evening in Hoi An. The Night Market is located on an island on the river and you'll join the throngs of people crossing the footbridge. At the market, there are lots of stalls selling street food, clothing, artwork, crafts, and popular souvenirs for tourists.
I bought gift cards that open revealing intricate cut paper decorations with colourful flowers, birds, and paper ships. I also loved the food stalls and enjoyed a street food meal at Hoi An's Night Market.
7. Take a rowboat out on the river at night
There's nowhere prettier than Hoi An at night. Colourful lanterns line the streets and decorate the houses. The river reflects the night lights and the lanterns from the rowboats on the water.
One of the most romantic things to do in Hoi An is to hire a boat with an oarsman and row on the river. It's one of the best ways to enjoy the lovely atmosphere of Hoi An at night and a romantic treat if you're there with someone special.
If you're a solo traveller, it's still a pleasure to watch the boats moving slowly in the darkness and the lantern light reflected on the water.
8. Shopping in Hoi An Vietnam
Shops line the streets and laneways of Hoi An in Vietnam and it's a delight to stroll the streets, stopping to browse when something takes your fancy. You'll find everything from silk scarves, jewellery and traditional lanterns. It's easy to while away hours shopping in Hoi An. And when you're tired of browsing there are tea rooms, cafes, and restaurants where you can rest your weary legs and recharge.
Chinese and Vietnamese silks are luxurious and traditional items to buy in Hoi An along with China tea sets. A trading town for hundreds of years, silk scarves, clothing, and china cups and plates can be found in the small shops in Hoi An Old town.
Art shops are everywhere and local artists sell their artwork to Vietnamese visitors and tourists. But there are some real gems to be found if you take the time to sift through the cheap tacky works created for tourists.
9. Clothing made-to-measure
A popular thing to do in Hoi An is to order some made-to-measure clothing. Everything from suits, trousers, jackets, blouses, and shirts can be tailored to your specific requirements. Made-to-measure clothes can take several days to sew so make sure you put your order in as soon as you arrive in Hoi An and plan to have at least one fitting for tailored items of clothing.
I ordered a silk blouse and chose the fabric at a tailor shop recommended by my hotel. It was a fun experience and a very practical souvenir to bring home from Vietnam.
10. Visit the Central Market
The Central Market in Hoi An is a bustling marketplace on the riverfront at the edge of the Old Town. It's a large sprawling market with hundreds of stalls selling everything from fresh fruit and vegetables, clothing, souvenirs, and street food, to motorbikes.
The Central Market is a busy place and fun to visit. Lots of tourists shop here but prices are always negotiable so bargain hard to get the best price and be prepared to walk away,
11. Try the local Vietnamese food
Taking a street food tour in Hoi An is a fun way to discover the local Vietnamese food and culture. My favourite place to eat in Hoi An was in the bustling food Hall at the Central Market on Tran Phu Street and I also enjoyed a street food meal at the Night Market across the river.
Hoi An's coastal location means that fresh seafood is plentiful and it's a staple in the diet of the local Vietnamese people. So why not try a local seafood dish while you're in Hoi An?
12. Dine at a restaurant in Hoi An Vietnam
Hoi An's Old Town has many restaurants to choose from if you feel like a sit-down meal. Many of Hoi An's restaurants are inside historic shophouses and the restaurants are lit by colourful traditional lanterns The Ancient Town is full of old-world charm and it's the perfect place for a romantic dinner.
Here are some popular Hoi An restaurants:
Quan Dau Bac serves affordable Vietnamese meals and is located in the Old Town near the Japanese Bridge
Ms Ly is a popular restaurant that serves authentic Vietnamese food at a reasonable price in a great location surrounded by traditional shophouses.
Mango Mango Restaurant serves Vietnamese food and cocktails by the river overlooking the night market
Morning Glory offers traditional Vietnamese food in a lovely setting in a colonial building decorated with strings of colourful lanterns
Ancient Faifo is a more upmarket restaurant and café that serves Central Vietnamese cuisine.
13. Take a Vietnamese Cooking Class
Spending a day in a Vietnamese cooking class is a very enjoyable way to immerse yourself in the local culture. Vietnam is known for its fresh, delicious food and it's interesting to learn to cook traditional, Vietnamese dishes.
I enjoyed the Green Bamboo cooking class with Van and can recommend it as a good day out in Hoi An. The day began at the local Central Market where we bought the ingredients for our chosen Vietnamese dishes.
It was a small group and we had a lot of fun in Van's kitchen learning to cook dishes like stuffed squid and stir-fried chicken and cashews. Watching and eating were a big part of the day. Van's course is popular, so you'll need to book in advance and it costs around US$50 for the day.
Alternatively, you can discover Vietnamese culture and enjoy a cooking class with a traditional bamboo basket boat ride and a market tour.
Day Trips from Hoi An Vietnam
When you've spent a few days enjoying the heritage sites in Hoi An, shopping, and soaking in the atmosphere of this delightful historic town, it's time to venture out into the countryside. There are many great day trips from Hoi An and here are some suggestions.
14. Visit the Beaches near Hoi An
Just a few kilometres away from Hoi An are several beautiful ocean beaches with hotels, resorts, and beachside restaurants. I hired a bicycle from my hotel and spent an afternoon cycling past the rice paddies to An Bang Beach. Cua Dai and Ha My Beach are also within easy reach of Hoi An.
15. Marble Mountain
Marble Mountain is a delightful day trip from Hoi An. It was the first stop on my Easy Rider motorbike tour to Hue and I spent a couple of hours exploring the shaded pathways, caves, and temples on Marble Mountain. From the top of the mountain, there are sweeping views of the coastline and the city of Danang.
Visit Marble Mountain on a day trip from Hoi An
16. My Son Ruins
Not far from Hoi An is the ancient Hindu temple ruins of My Son. A UNESCO World-heritage site, My Son is one of Vietnam's most important religious sites, rich in history and cultural significance. The easiest way to visit My Son is on a day tour from Hoi An.
17. Danang city & beaches
Fringed by open ocean surf beaches, Danang is the largest city in Central Vietnam and is located approximately 40 kilometres away from Hoi An. It takes around 45 minutes to drive there. Danang is a modern Asian city and there's plenty to keep you entertained. Visit the Dragon Bridge, relax on the beach or visit the Lady Buddha, You can book a private tour from Hoi An to explore Danang.
18. The Golden Bridge
Near Danang in the Ba Ha Hills is the stunning Golden Bridge, a popular tourist attraction and an Instagram sensation. Two giant hands support the Golden pedestrian bridge, 400 metres above sea level. From the bridge, there are panoramic views over the lush green countryside of the Ba Ha Hills. The stunning Golden Bridge is very photogenic and you can visit it on a day tour from Hoi An.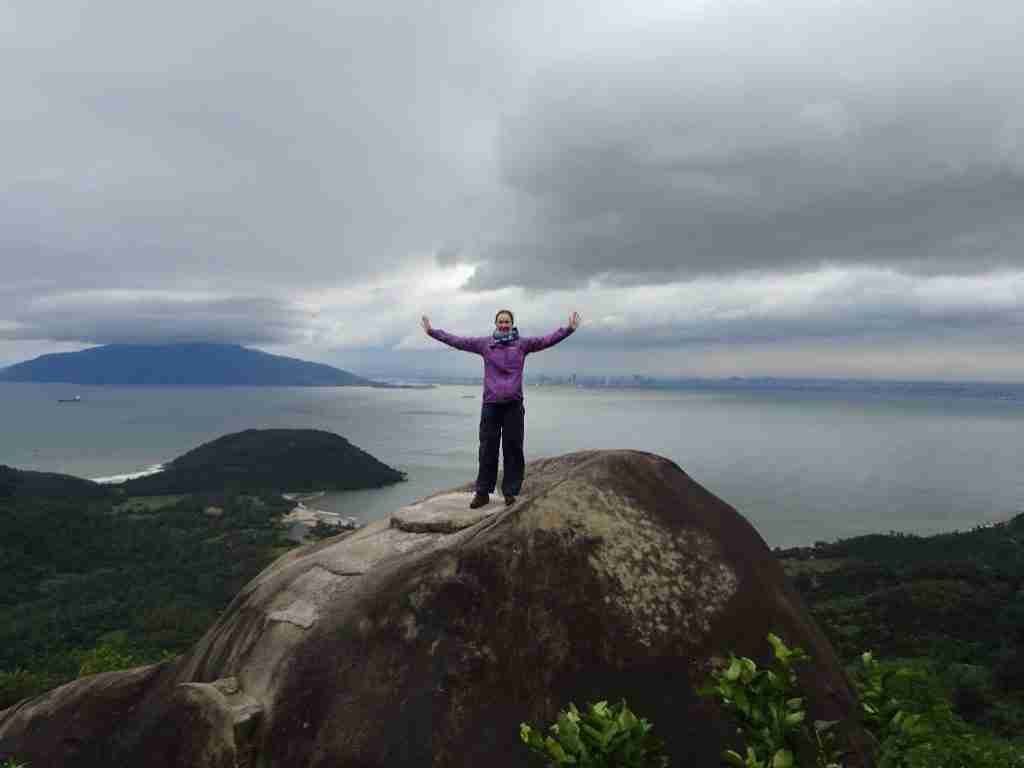 19. Hoi An to Hue over the Hai Van Pass
The coastal road from Danang to Hue is one of the most scenic drives in Vietnam and a motorbike trip is a great way to see it. But you can also travel the same route by car with a private transfer from Hoi An to Hue.
I travelled from Hoi An to Hue on an Easy Rider motorbike tour. Henry, my driver, strapped my backpack to his Honda bike and I rode behind him. It was surprisingly comfortable and a lot of fun. The route over the Hai Van Pass has sweeping coastal views and there are ruins of a military post to explore at the top of the Pass.
We stopped at all the sites between Hoi An and Hue including Marble Mountain, the Danang Dragon Bridge, Danang Beach, Elephant Falls, stunning viewpoints and military checkpoints on the Hai Van Pass, and a fishing village on a lovely lake outside Hue.
Travelling Vietnamese style between Hoi An and Hue on a motorbike ride over the Hai Van Pass is an adventure and it's one of the best things to do in Hoi An and Central Vietnam.
20. Visit Imperial Hue
Hue is Vietnam's former capital and there are some stunning UNESCO world-heritage-listed historical sites to see. The Imperial City, the Emperor's Residence, and several impressive royal tombs are at the top of the list and a cruise on the Perfume River is often included if you take a day tour.
How far is Hoi An from Hue?
Hoi An is around 125 kilometres from the royal city of Hue and it's easy to get there by car, bus or taxi. A great way to see the UNESCO World Heritage-listed sites of Hue is to book a day tour from Hoi An.
Places to stay in Hoi An
Hoi An has a good selection of accommodations for visitors. Here are some suggestions for places to say in Hoi An.
Mid-Range: Green Apple Hotel I enjoyed staying at the Green Apple and especially liked the wonderful service. The rooms are new and spotless although the decor is a bit clinical. I enjoyed the pool, the shuttle service to the Old Town, and the onsite bicycle hire. The staff at reception were very helpful and recommended a tailor in Hoi An and an Easy Rider Motorbike tour to Hue.
Luxury: If you're after something more upmarket try the Allegro Hoi An. A Little Luxury Hotel & Spa It has exceptional reviews for its stunning rooms, building and decor, and wonderful service.
Final Thoughts
Hoi An is a real gem in Vietnam and a favourite place to visit. I was charmed by the character and ambience of the Ancient Town and happily spent several days enjoying the heritage sites, the busy markets, shopping, and eating.
Van's Vietnamese cooking class was a highlight and so was the Easy Rider Motorbike ride to Hue. I would love to go back to Hoi An and spend some more time exploring Danang and enjoying the lovely beaches in the area.
For peace of mind make sure you buy travel insurance before you go, especially if you are travelling solo. I use Travel Insurance that covers me for overseas medical, lost baggage, and other expenses and I can concentrate on enjoying my trip without worrying about something going wrong.
Pin this post & save it for later!
Vietnam Itineraries &Travel Tips
Beautiful Vietnam in 3 weeks from Top to Toe
North Vietnam in 2 weeks – A Trip You'll Love
Cruising on stunning Halong Bay in Vietnam
Solo Travel in Vietnam – What You Need to Know