An Exciting 10-day Itinerary in Vietnam's Tropical South
With 10 days in Vietnam, you'll see the highlights of the tropical south. This exciting itinerary in Vietnam begins and ends in busy Ho Chi Minh City. After a day of exploring you'll escape from the craziness of the city and spend a few days relaxing in a tropical paradise on Phu Quoc island. Then take the Superdong Ferry to Can Tho in the Mekong River Delta for an early morning tour of the colourful floating markets. See wild gibbons swinging through the trees in Cat Tien National Park before returning once again to Ho Chi Minh City to end this exciting South Vietnam Itinerary.
** Check with your local government for the latest information on travel to Vietnam.
Disclosure: This article contains affiliate links. If you make a booking through a link on this page I may receive a small commission. There is no extra cost to you and it helps to keep this website running. I appreciate your support!
10 Day itinerary in Vietnam's tropical south
Before you begin your 10 days in Vietnam you'll need to book return flights to Ho Chi Minh City and a one-way domestic flight from Ho Chi Minh City to Phu Quoc Island.
To reduce the stress of your arrival in Vietnam you can book a transfer from the airport to your hotel in Ho Chi Minh City.
Book buses and trains in advance with 12Go Asia
Day 1
Ho Chi Minh City
This Vietnam itinerary begins in bustling Ho Chi Minh City. It can be a bit overwhelming when you first arrive but you'll quickly get your travel legs. The traffic in Ho Chi Minh is a bit crazy and crossing the road can be challenging. You'll discover there's an art to it. My advice – choose your moment and walk across the road without stopping. If in doubt, watch a local and follow closely behind them. The traffic will magically part as you walk and the motorbikes will simply ride around you. Whatever you do, don't stop walking!
You'll spend the first of your 10 days in Vietnam sightseeing in Ho Chi Minh City. Visit the Taoist Jade Emperor Temple, the Museum of Vietnamese History and escape from the craziness of the city into the lush Botanical Gardens. When you're hungry grab a bite at the Ben Thanh street food market.
Where to stay in Ho Chi Minh City
Mid-Range: Duc Vuong Hotel ** I enjoyed the fabulous service, the central location and the rooftop bar decorated with colourful lanterns.
Luxury: For an upmarket option try the Hotel Majestic This hotel gets exceptional reviews for its prime location near the river and restaurants and its excellent service
The next stop in your Vietnam itinerary is beautiful Phu Quoc Island. If you book an early morning flight with Vietnam Airways, you'll arrive late morning. It's easy to find a taxi at the airport to take you to your hotel.
Day 2-4
Phu Quoc Island
After hectic Ho Chi Minh City, you'll enjoy a relaxing change of pace on lovely Phu Quoc Island in this Vietnam itinerary. Chill out on the stunning beaches and enjoy perfect sunsets in a tropical paradise.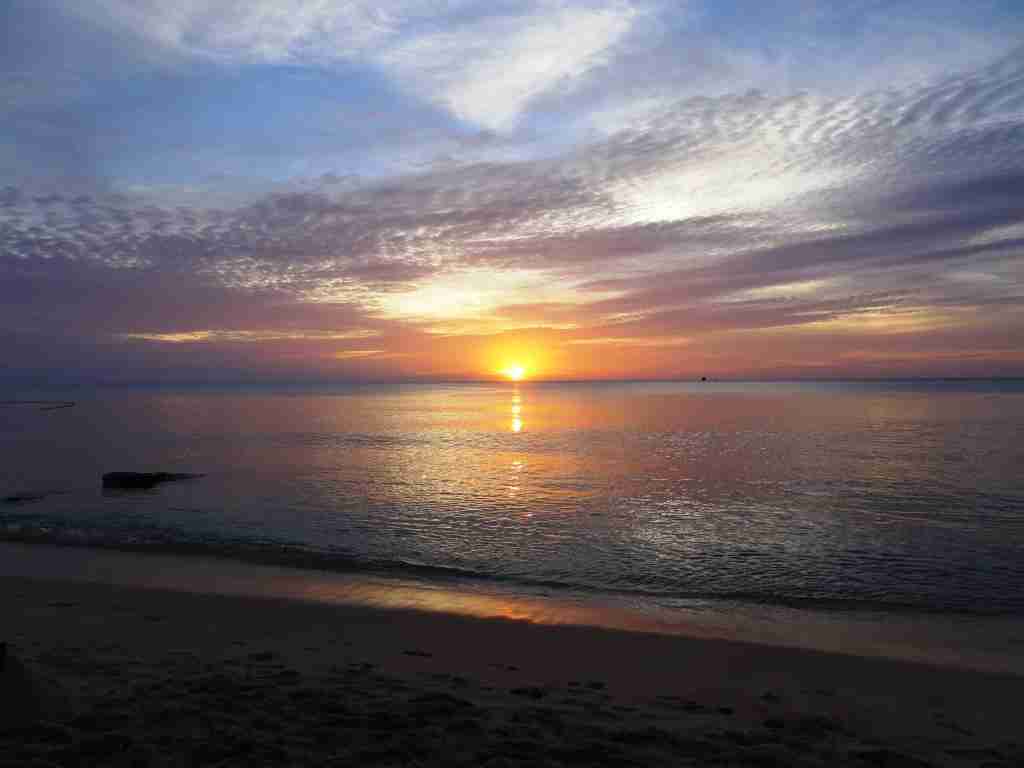 You'll get a taste of local life on Phu Quoc Island as you explore. The island is quite big so it's best to hire a motorbike to get around or book an island tour. There are some beautiful tropical beaches to discover and you can also visit the Duong Dong market and call in at the Phu Quoc prison to learn about the war history of the island.
In Phu Quoc harbour colourful fishing boats come and go and you'll have time to book a boat trip and snorkel on the coral reefs around the island. In the evening, visit the busy night market where you can try street food and shop for souvenirs.
Where to stay on Phu Quoc Island
Mid-Range: Sunshine Bungalows These basic bungalows are set in a pretty tropical garden a short walk from the beach. They have everything you need and will arrange onward travel and tours.
Luxury: If you're after more luxury try the Shells Resort & Spa With a pool & its own private beach it gets excellent reviews.
Can Tho, the largest city in the Mekong Delta is next on your itinerary in Vietnam. You'll spend most of the day travelling on the Superdong Ferry to Rach Gia on the mainland and then travel by bus to Can Tho. The fare includes all transfers and connections so it's an easy trip to make although the ferry crossing can be rough at times.
Day 5
Can Tho
With only 10 days in Vietnam, you'll spend just one night in Can Tho. The main attraction here is the floating markets on the Mekong River. Book an early morning boat tour to see the local markets in full swing for an interesting insight into life on the river.
Travel Day 6
No itinerary in Vietnam is complete without a visit to the colourful markets. Today you'll rise before dawn for your boat tour of the floating fruit and vegetable markets and you'll stop for breakfast on the river. I can recommend Itieu Tour and I booked at their office in Can Tho.
Call in at the Chinese Can Tho Ong Temple and the Buddhist Truc Lam Temple & monastery.
Then take an afternoon Futa bus back to Ho Chi Minh City (3 – 4 hours)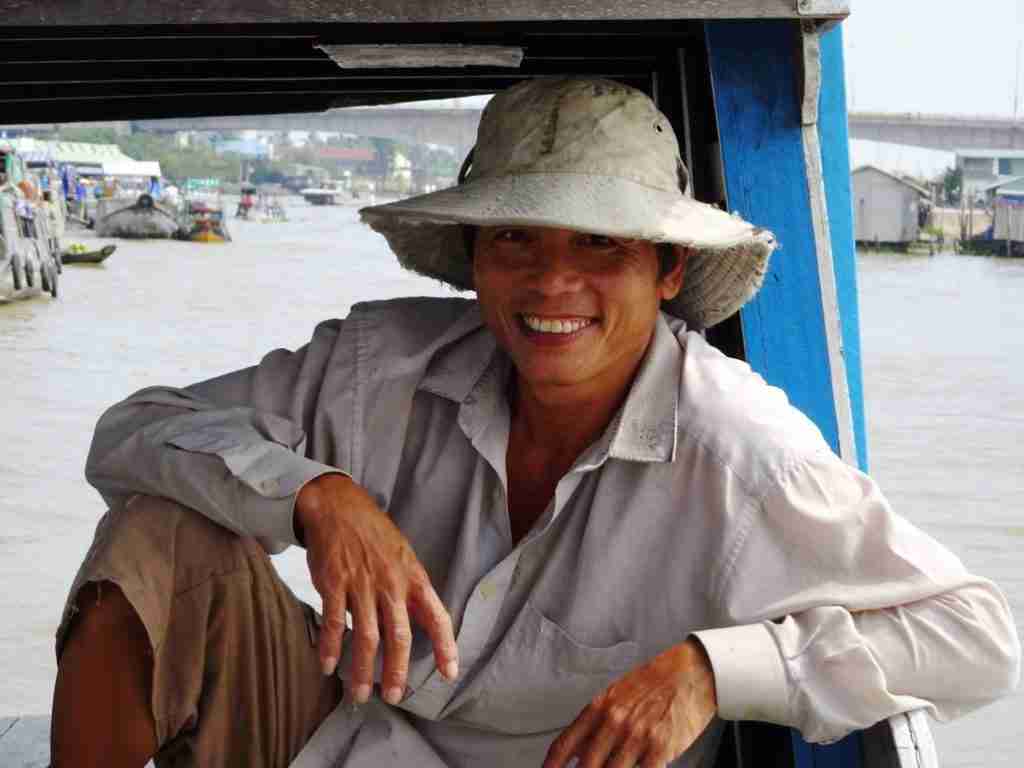 Where to stay in Can Tho
Mid-Range: Holiday One Hotel This comfortable hotel is a little bit out of town in a street that floods with the King tides.
Luxury: The five-star Sheraton Can Tho offers luxurious accommodations with spectacular river views and amazing service.
Day 7
Ho Chi Minh City
On this itinerary in Vietnam, you'll return to Ho Chi Minh City and spend a couple of days seeing the sights, dodging the traffic and enjoying the delicious Vietnamese food.
Back in Ho Chi Minh City, you'll spend the day exploring. Visit the impressive Independence Palace and learn about the tragic Vietnam War at the War Remnants Museum. Some of the exhibits at the museum are quite distressing but it's worth taking time to learn how the civil war has shaped the country and the people of Vietnam.
Buy a Banh Mi and enjoy the crispy bread roll with a savoury filling for breakfast or lunch and visit the Notre Dame Cathedral of Saigon. Then head to the Ben Thanh street food market for an evening meal.
Day 8
On this Vietnam itinerary, you'll have time to book a day trip to the stunning Cao Dai Great Temple and the Cu Chi Tunnels. They are both well worth visiting but it takes several hours to get there from Ho Chi Minh City. I booked a tour and our visit was timed so that we could watch a Cao Dai mass in progress. There were hundreds of worshippers dressed in white kneeling and praying in the beautiful temple. It was a fascinating glimpse into a very different culture and way of life.
In the afternoon we visited the Cui Chi Tunnels and learnt how people survived during the civil war.
Where to stay in Ho Chi Minh City
Back in Ho Chi Minh City you can return to the same hotel or choose another one.
Mid Range: Try the new Zazz Urban Ho Chi Minh Hotel in District 5
or
Luxury: Opt for some luxury at the Myst Don Quoi, a five-star hotel with stunning river views and spacious, comfortable rooms. It gets exceptional reviews for its great location and service.
Next, on this 10-day itinerary in Vietnam, you'll catch a bus to Cat Tien National Park, 3 hours west of Ho Chi Minh City. The direct bus leaves from Ben Xe Mien Dong bus station in Ho Chi Minh City.
Travel Day 9
Cat Tien National Park
Cat Thien National Park is a huge tropical lowland forest and one of the largest nature reserves in Vietnam. There are ancient trees, wildlife and walking trails to discover. Endangered wild gibbons, crocodiles and bird watching are popular reasons to visit.
If you stay overnight inside the National Park at the Green Cat Tien you'll be able to join a night safari for wildlife spotting. The animals are most active at night and the wild gibbon tracking groups leave very early in the morning. On a 4-hour wild gibbon trek, you'll see and hear the gibbons swinging in the trees. The wild gibbon trek also includes a visit to the Endangered Primate Species Centre in the National Park.
TIPS: Book your Cat Tien accommodation and tours in advance through the Cat Tien National Park office.
**For the Wild Gibbon trek you must sleep inside the National Park.
Travel Day 10
Rise early for the wild gibbon tracking and explore the walking trails in Cat Tien National Park. Then take an afternoon bus back to Ho Chi Minh City.
Ho Chi Minh City
End your 10 days in Vietnam with some more sightseeing in Ho Chi Minh City and connect with your flight home.
Travel Essentials
#1. A Travel Guide book for Vietnam is a worthy travel companion and will help you to plan your trip. I rarely travel without a trusted Lonely Planet Guide.
#2. Travel Insurance is another essential for any overseas travel. Rest easy knowing that you're covered in case something goes wrong.
Pin this post & save it for later!
Vietnam Itinerary options &Travel Tips
Beautiful Vietnam in 3 weeks from Top to Toe
North Vietnam in 2 weeks – A Trip You'll Love
Cruising on stunning Halong Bay in Vietnam
Travelling in Vietnam? What You Need to Know
Why You'll Love spectacular Phong Nha-Ke Bang in Vietnam